Collectively, those studios released 70 movies in 2013 and 2014—and, according to a new report from the Director's Guild of America (DGA), every single one of them was directed by a man.
Then again, none of the Hollywood studios came out looking good in the DGA's first-ever Feature Film Diversity Report, which analyzed movies released in 2013 and 2014. Of the 376 directors of those films, 82.4 percent were white men. (For context, white men make up just 31 percent of the American population.)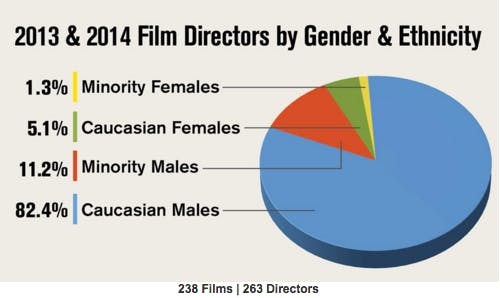 While some of those studios did a little bit better in 2015 (as Manohla Dargis pointed out today, at least five Warner Brothers movies this year had a female director), the overall picture is no less depressing. In October, the Equal Opportunity Employment Commission opened a federal investigation into the industry's gender discrimination.
The stats are bleak, but according to The New York Times, the DGA may not have had the purest of motivations:
By releasing the report—its first on the matter—the guild is clearly trying to deflect criticism from the A.C.L.U. that it had done little to promote increased hiring of women directors.