At first, Pastor Sherman McCathern didn't pay much attention. But after a state-appointed emergency manager switched Flint, Michigan from its Detroit water source to the untreated river, it corroded the city's pipes. Foul-smelling water began spewing from faucets around the city in April 2014. "Most people, believe it or not, still don't talk about it," McCathern says. "It's still hard to wrap your mind around the fact that we're in a Third World situation." McCathern remembers residents opening fire hydrants on the street during the summer. "The water was coming out, dark as coffee, for hours. Something is wrong here."
But both state and city officials "said everything was all right and you could drink it, so people did," he adds. "They kept saying it was okay, you just needed to flush (the water) out first." And whatever their senses told them, whatever the whispers around town, whatever Flint's troubled history with powerful institutions, this wasn't actually hard to believe. After all, as McCathern puts it, "This is America!"
Even now, 23 months after the switch, when those same public officials tell residents that the water was poisoning them all along, it is difficult to compute. Lead poisoning, which causes permanent developmental damage, is insidious, its effects often hidden for years, so it's easy for people to forget what's actually happening to their children. These days, people might drink the donated water that's coming into Flint by the truckload, but they still fill their ice trays with water from the tap. They keep bottled water in the fridge, but they cook with water from the sink, even though boiling lead-contaminated water only intensifies its danger.
"If people really understood the impact of this," McCathern says, "we'd be on the point of hysteria, out in the streets. We'd be in a panic."
For many Flint residents, the water crisis was especially jarring because the long-troubled city had been on an upward swing. The momentum was palpable. McCathern didn't just see it; he helped make it. A tall man with a thin mustache and a scratchy rasp in his voice, McCathern has led the Joy Tabernacle Church for 15 years. The church found a permanent home in the once-thriving Civic Park neighborhood in 2009. By then, the tidy houses built by General Motors and the Dupont Corporation along curving, tree-lined boulevards in 1919 were scarred by vacancy, their inhabitants long gone after the jobs dried up—"a desert of deserted historically significant homes," as McCathern puts it. When the sound of shootings on the street outside interrupted services, he asked the church musicians to play louder.

It wasn't just Civic Park. The whole city of Flint had struggled for decades after General Motors, the company that had been its lifeblood, closed plants and eliminated tens of thousands of jobs. Nearly half the population fled for the suburbs and other cities, leaving behind abandoned houses that became a danger to those who remained. When GM and Chrysler faced bankruptcy in 2008 and 2009, they received an emergency federal bailout that essentially kept the U.S. auto industry alive. Both companies are now profitable. But for Flint, no such support came. The people had no choice but to fix the city from within. So that's what they set out to do.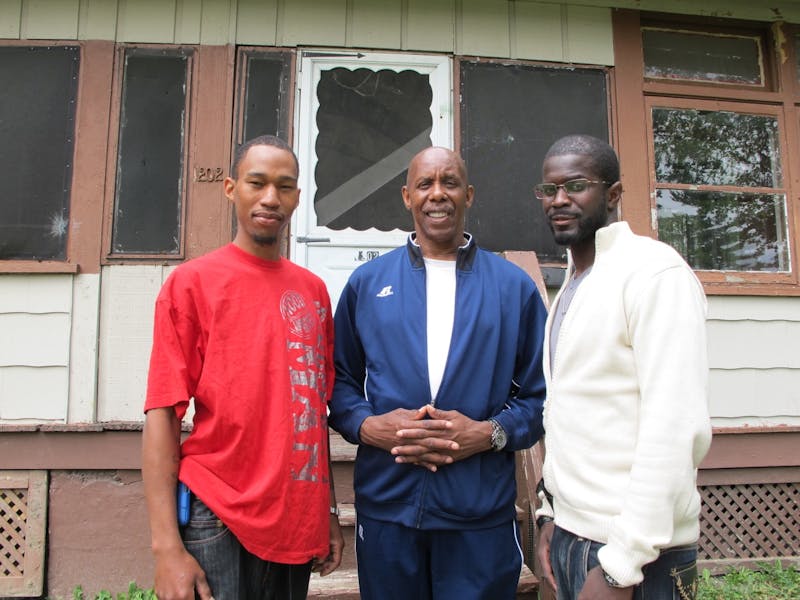 When McCathern realized that there were no plans for Civic Park's future, he and his congregation paid young men to mow lawns and board vacant windows "to take the abandonment look away." It gave people an opportunity to imagine what a healthier Civic Park could look like, he said, while also re-calibrating how others in the community perceived the teenagers. As a result, young men who never dreamed of owning a home moved into the neighborhood houses. Inspired by these efforts, local institutions, like the University of Michigan-Flint and Habitat for Humanity, pitched in and worked alongside them in Civic Park. "The community was at one time totally ignored by everybody," McCathern says. "But because young people stood up, now everybody is on board."
Neighborhood efforts transcended the anecdotal in 2013, when the city adopted "Imagine Flint." The first master plan in more than 50 years, it was a clear-eyed acknowledgment that the city was shrinking and had to plan its future accordingly. The planning team held more than a thousand community meetings and workshops to solicit ideas from residents like McCathern, resulting in a blueprint to invigorate Flint's economy, environment, and culture. A top priority is eliminating blight by 2020. The city has already begun a $107 million project to tear down or repurpose nearly 20,000 derelict homes, commercial properties, and lots. It doesn't have all the money it needs to complete the project, but it's beginning with funds leveraged by U.S. Representative Dan Kildee, a Flint Democrat, and local philanthropists.
Elsewhere in town, the University of Michigan-Flint built its first-ever dorm downtown, and a second residence hall on the riverfront is earmarked to attract international students. Flint's only bed and breakfast opened two years ago. The Flint Farmers Market moved to the city center, too, and doubled its space for indoor vendors; in its first year, foot traffic tripled. A year ago, Flint's first brewery opened its doors in an old fire station downtown, and the Flint Institute of Arts
has undergone a massive renovation of its 85,000-square-foot museum and school over the last decade.
Back in Civic Park, the renewed spirit of collectivity was evident when two new neighborhood associations formed. "People were really beginning to see the difference," McCathern said. "It was a different Flint that was coming."
Then the water turned bad.
---
If there's one thing long-time Flint residents are accustomed to, it's being abandoned by powerful institutions. For decades, the city was one of the best places in the country for African Americans to build a middle class life. General Motors was founded here in 1908 and transformed the town into the nexus of the industry, bringing a middle-class renaissance to "Vehicle City." Flint's reputation for well-paid jobs drew tens of thousands of African Americans from the South, where, despite segregation, they became one of the richest communities of color in the country. By the 1950s, with GM holding 54 percent of the market share, Flint residents had one of the highest per-capita incomes in the nation. A song was written to celebrate GM's anniversary in 1958: The city of Flint salutes you / for the goal you've reached today / We are proud to be your neighbor / and we're glad that you came to stay! About 77,000 residents worked for the company then. By 1978, that number reached 78,000—about half the population of the entire city—and GM's local payroll topped $2 billion.
Since then, about 72,500 of those jobs have vanished. A series of mass layoffs and plant closures slowly decimated the company town. GM remains the largest employer in Flint today, but its payroll is about one-fourteenth of what it was a generation ago. The genteel paternalism that once made Flint thrive abandoned them, bit by bit, year after year.
The state only accelerated Flint's decline. Since 2001, the state has diverted $6.2 billion in planned revenue sharing from cities to plug holes in its own budget. For Flint, that means a 32 percent loss of its revenue sharing since 2000, just as 25 percent of its income and property tax revenue vanished. If the legislature hadn't disinvested, Flint would have had more than $55 million over the last fifteen years.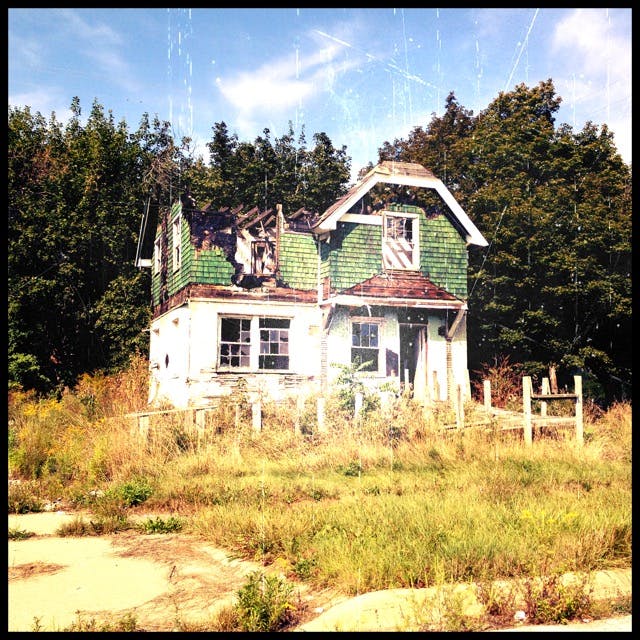 Left to fend for itself, poverty encroached on Flint. It developed a reputation for being unusually crime-ridden. Last year, the FBI named it the third most violent city in America. Today, the average income of residents is two-thirds lower than in the rest of the county. Despite being the home of four higher education institutions, only 11 percent of the city has a bachelor's degree—less than half the state average. Even though the city was built for a population twice its current size, people still live along the lines drawn by twentieth-century segregation, and nearly half are renters. With epidemic underemployment, those empty homes are a draw for scrappers who surgically remove their metal—wiring, pipes, water heaters, faucets from kitchen sinks.
"There was just this expectation that the city could recover on its own from this economic body blow," said Gordon Young, the author of Teardown: Memoir of a Vanishing City who grew up in Civic Park. "That is just ridiculous. No city is going to recover from that. If San Francisco lost 35 percent of its jobs tomorrow, it would be just as much of a disaster, despite having a widely diversified economy. But somehow everyone expected Flint and local leaders to just pull themselves out of this."
For years, they tried. But in 2002, with the city's deficit at a crippling $30 million, the first of a series of emergency managers appointed by two different governors was dispatched to Flint to cope with its finances. The emergency managers reduced the city's deficit by $11 million in the past three years, but, unlike in Detroit, where an emergency manager ushered the city through bankruptcy over a single 18-month term, state oversight in Flint seemed perpetual. Five different emergency managers served a total of six terms over 13 years, each one promising to leave Flint better than they found it. And in a sense, it was nothing new. Emergency management was just the latest in a series of institutions that approached Flint with endless paternalism. That includes General Motors, which sustained the city for decades only to abandon it, and the C.S. Mott Foundation, a local philanthropy named after a wealthy GM industrialist who, even during his life, had been nicknamed "Charlie Sugar" for his relationship with Flint.

In her 34 years of living in the city, writer Jan Worth-Nelson has seen one authority after another acting as if "these people in Flint, they can't run their own business." Too often, she said, that approach has destructive consequences—like the crumbling industrial buildings around town—that the institutions didn't stick around to clean up.
Paternalism implies genuine care, but it also implies condescension—the quiet expectation that those on the receiving end should be grateful for what they get. Asking for anything more, or anything different, raises eyebrows. McCathern has sensed the suspicion from public officials, "especially the Republican ones," that residents complaining about problems or asking for state support "just want to get something out of this."
---
The untreated river water that began pouring from Flint taps in April 2014 was meant to be a short-term fix. After nearly 50 years on the Detroit water system, the city opted to join a new independent water authority. Not only was this supposed to save money and improve water security, it was celebrated as another sign of Flint's revived spirit of self-sufficiency. An editorial in the local paper heralded the change: "Switch to Flint River water represents a new era in Flint."
About seven months after the switch, the GM engine plant in Flint stopped using the city water because it was corroding its equipment. Still, it took a band of outsiders—citizen activists, a scientist, a pediatrician, and a few determined Michigan journalists—to prove the presence of lead in Flint's water in September. Weeks later, on October 8, the Michigan government finally announced that it would help reconnect Flint back to Detroit water. But Governor Rick Snyder waited another three months before declaring a state of emergency and leveraging every state and federal resource possible to aid a community that still can't trust its taps.
The water is still not safe for drinking. By now, not only the 100,000 residents of Flint have been exposed to the contaminated water, but also the many hundreds of thousands of people who worked in the city or traveled to it since April 2014. No amount of lead exposure is safe, and there is no cure. Children are the most vulnerable—the World Health Organization says that lead attacks their brains and central nervous systems, leading to mental retardation and more aggressive and anti-social behaviors. At lower levels, lead causes anemia, hypertension, kidney damage, and serious reproductive problems, including miscarriages, stillbirths, premature births, and low birth rates. In Flint, locals also blame the water for painful skin rashes, ear infections, and hair loss. Flint's new mayor, Karen Weaver, has called for funding for added social services—including foster care and juvenile detention programs—that she expects the city will need in the future, once the long-term effects of lead poisoning show themselves. Investigators are already looking into whether an outbreak of Legionnaire's disease, a severe form of pneumonia that sickened at least 87 people and killed nine between July 2014 and October 2015, is connected to the poisoned water.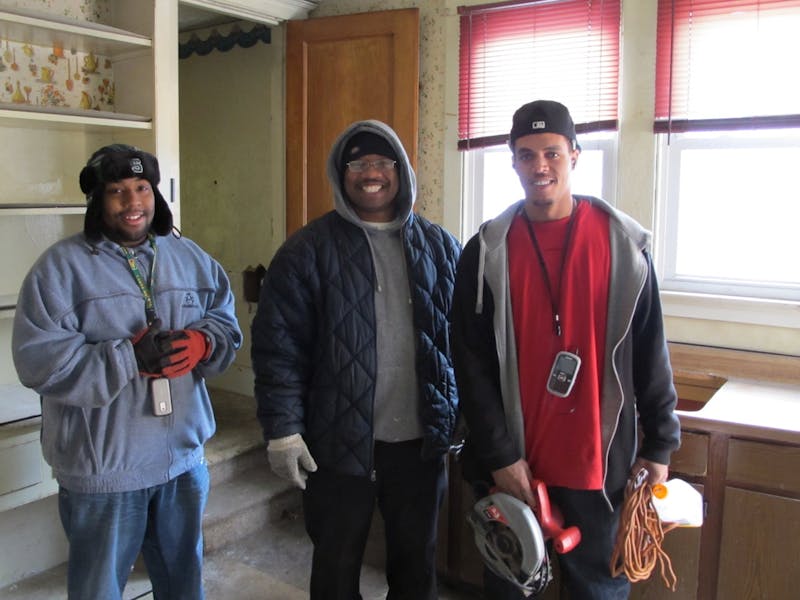 When national media picked up on the crisis in January, public officials could no longer dismiss Flint like they have in the past. That month, Snyder spent the bulk of his State of the State address apologizing for the crisis, and, unusually, he directly addressed Flint residents. "I'm sorry, and I will fix it," he said. "No citizen of this great state should endure this kind of catastrophe. Government failed you—federal, state and local leaders—by breaking the trust you place in us."
Snyder has thus far been true to his word. The budget he announced last month includes $195.4 million for the Flint emergency response and $165 million more for a new statewide infrastructure fund. A portion of the Flint money would replace 5,000 known lead lines that run from city streets to houses. The GOP-dominated legislature also unanimously approved spending $28 million on support services for Flint, including filters, bottled water, nurses, and National Guard members, and approved another $30 million appropriation to repay Flint residents for charging them for water they can't drink—though a Flint administrator has said it will actually take $90 million to cover the bills.
In Washington, Michigan Senators Debbie Stabenow and Gary Peters and Oklahoma Senator Jim Inhofe are among the co-sponsors on a bipartisan proposal to make up to $100 million available to Flint and other cities facing a "public health threat from lead or other contaminants in a public drinking water system." In the House, Michigan Representative Candice Miller introduced an ambitious bill in February asking for $1 billion in federal funding to pay for replaced service pipes and other infrastructure in Flint.

Meanwhile, Imagine Flint continues to work towards its goal of eliminating blight and developing neighborhood-specific revival strategies. Imagine Flint and the Flint Police Foundation are also using over $1 million in philanthropic grants to increase public safety in North Flint, while community preservationists are pushing to revitalize the city's historic buildings. Worth-Nelson feels hopeful when she sees young families moving into her beloved community. "This is not a dying neighborhood," she says. "There are kids here."

Despite the money and resources flowing to Flint now as part of the emergency response, individuals both inside and outside the city are still organizing independent water delivery efforts. McCathern can guess why: "It's hard to believe anybody," he says. "It's hard to trust anybody right now." The free-floating anger that has simmered for several decades has, at long last, a focal point. "It's hard to get mad at GM, a faceless corporation, and it's hard to get mad at off-shoring, which is so esoteric," Young says. "Even the speculators who hurt the city by buying and flipping houses while living in Nevada: You don't know who they are. There's anger about what's happening, but you can't place it anywhere, or express it to anyone." But now, the people of Flint know that the state is to blame.
For McCathern, the national spotlight of the water crisis has elevated that focused anger: It feels validating that so many people around the world, including President Obama and the presidential candidates, seem to be on their side. The city will again take center stage this Sunday when the Democratic presidential candidates meet for their seventh debate, just two days before Michigan votes in its primary election. Hillary Clinton frequently brings up Flint in debates, describing the water crisis as "immoral" and "a civil rights issue," while Bernie Sanders has called on Governor Snyder to resign.
But now that Flint residents know they've been poisoned by state officials, they're afraid that after Clinton, Sanders, and the national media that follows them depart, the city will be left behind once more, the poisonous water only the beginning of its problems. McCathern wonders about industrial waste left behind by the auto plants that may have seeped into the ground: "Is the river at a normal level for all river water, or was this really a dumping site for General Motors, who did not follow all of the EPA requirements, and then got the hell out of here?" He wonders about the thousands of empty homes in Flint with lead-based paint and pipes that jobless people scrapped on a daily basis to survive, unmasked and unprotected. He wonders how lead exposure, which can exacerbate aggression, connects to Flint's struggles with violent crime.
"Just come to Flint and watch the young men, three or four generations removed from one of the most prosperous African American communities in the country, living abandoned and hopeless," he said. They are the descendants of people who left their rural farms in the South to work in "the nation's greatest industry" so that they could build a better life for their children.
"It pisses me off to know that their children's children were left here at the end [of the journey] to be poisoned," McCathern said, his voice rising in anger. "Imagine them in their graves if they saw what happened. They'd think this is the biggest mistake we've ever made to bring our descendants here and leave them in this industrial wasteland."