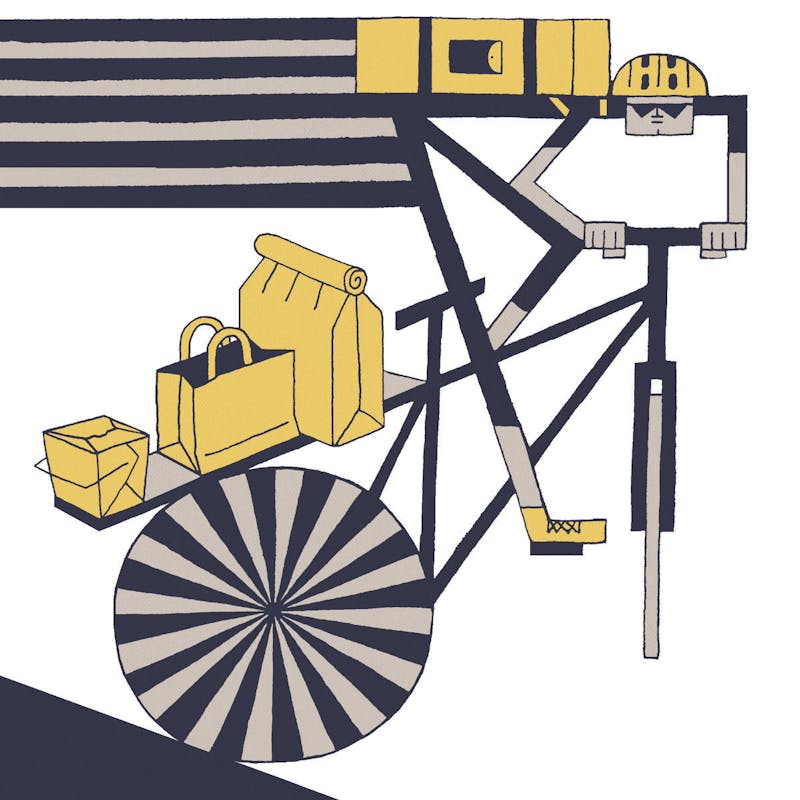 Light streams into large windows on three sides of the lower Manhattan loft space where Maple, a meal-delivery company that started last year with no less an icon than David Chang as chief culinary officer and investor, has its offices. It looks like the very well-funded tech startup it is: It launched in April 2015 backed by $29 million. Using a "bundling algorithm" of which the company's tech-minded founders are inordinately proud, 50 bike couriers, all full-time employees, collect lunch and dinner orders and speed to reach customers in lower and midtown Manhattan within a fairly narrow promised window. Maple is a vertical service: It plans menus, cooks them in a central commissary, takes orders on its apps, and assembles and sends out meals from its four satellite kitchens. There is no table service. There are no tables.
The food is good—a good bit better than it needs to be when your marketing promise is reasonable prices (a straight $12 for lunch, $15 for dinner), ease of ordering, and sticking to a delivery time. It's not the pork-fat umami bliss regulars at Chang's Momofuku empire of restaurants might expect. In fact, there are few traces of his Asian fusion trademarks, and he doesn't write menus. Instead the food is overseen by Soa Davies, who worked for six years at Le Bernardin, a restaurant about as far from quick-serve or takeout as can be imagined. Much of what Maple delivers fits the genre the critic Jonathan Gold has called Things in a Bowl, meaning healthful grains, vegetables, and zippy sauces—what you find at the hugely successful Sweetgreen, Lyfe Kitchen, even Chipotle, all of them making careful sourcing and everyday food-with-a-conscience part of their value proposition.
Maple aims to provide meals you would eat every night or run across the street for if you had time. Thus the flavors are clean, not amped up as restaurants feel obligated to do for a you-can't-get-this-at-home experience. Chunks of chicken with a light, gingery tomato sauce; spicy broccoli that has been fashionably charred before being glossed with a Thai chili pesto; cool, appealing shrimp with a cucumber-dominated Asian-themed salad—everything the founder, Caleb Merkl, and Davies gave me to try from the day's offerings on an early spring afternoon tasted fresh and carefully, simply prepared. I could tell from the dressings on the side and thickish sauces in sparing quantities that everything was engineered to withstand a delivery person who "pops a wheelie," as Merkl says. So far no cars, no delivery in Brooklyn, or even above 42nd Street. But all that is in Maple's plans—as well as expanding into key cities across America and then other countries. Maple is the most visible of a new model of online meal-delivery services that underprices the restaurants whose fixed costs it bypasses. It's the logical next step in the evolution of online ordering.
---
Few restaurateurs, particularly small-scale owners, have the time or expertise to build apps and find fulfillment services, let alone hire people to make the deliveries and hope they don't rob or murder customers. Nor are they wise to the ways of SEO, Google AdWords, social media, and the other ways to make themselves visible—and therefore profitable—online. So most restaurants turn to the main players in the market: GrubHub, Seamless, and Caviar. Seamless started very early, in 1999, before smartphones, to give big law firms and banks a way to expense meals delivered to employees working late at the office. In 2005, when those corporate customers wanted similar service on the weekend, Seamless added home delivery. GrubHub started in Chicago in 2004 as an online menu service, expanded into delivery orders, and gobbled competitors until it merged with Seamless in 2013 (although they still maintain separate sites).
GrubHub and Seamless are straight marketplace services: They deliver customers to restaurants, which still need to deliver the food. As their market power has increased, so have their commissions: 20 to 30 percent according to restaurant owners I spoke with (the company doesn't disclose its business practices). The higher the commission, the better the search ranking, which can make all the difference in what a hungry, distracted diner sees and orders. But restaurants have complained that high fees won't guarantee a visible spot in search results. "Even by paying over 30 percent," one restaurant owner told the Tribeca Citizen recently, "we're only on the second or third page." The problem? "Thirty percent is our break-even point." Restaurants also complain of having no control over the information in their listings, saying they need to wait on customer-service lines to change their own menu and prices or even announce they're closed for the night, and they, not GrubHub, get blamed for glitches.
Caviar, like DoorDash, PostMates, and others, caters to restaurant owners: Not only does the company take all the menu photographs, it supplies restaurants with iPads to accept and track orders and allows restaurants to instantly update their own listings and prices. Most important, they provide deliverers who, using Uber-like software, are notified of and accept orders according to how near they are to a restaurant. This can give customers sticker shock. Like me: Delivery fees and the 15 percent tip, which DoorDash adds at the end (you can opt out of a tip, but that would be churlish), brought a $29.95 dinner I recently ordered to a quick $42.95.
---
Outside of densely packed cities like New York and San Francisco, you can tell these businesses are still finding their feet. When I recently searched for something to eat in Atlanta, where I divide my time with Boston, the restaurants on offer were instructive. Caviar, which began in 2012 with $15 million in financing and was sold to Square in 2014, markets itself as a curator of exclusive restaurants, but I'd heard of none of the ones I saw, and I'm the restaurant critic for Atlanta Magazine. We settled for an Italian place whose menu and pictures looked decent. Seamless and GrubHub offered a nearly identical selection of restaurants that were C-list at best, with a taco chain and a California Pizza Kitchen ranked high, along with Indian restaurants that shouldn't have gotten through the filters I set. DoorDash, by contrast, offered by far and away the most restaurants I recognized, including several quite high-end restaurants I had reviewed favorably. The $29.95 meal I ordered was the "Sunday Supper" from JCT Kitchen, which friends said was among the most genuinely Southern meals in Atlanta.
The results? What came to the door in the promised 45- to 60-minute time frame was ... OK. Kind of. The Italian meal was colorless and flavorless, if warm. The Sunday Supper had identity and integrity: You could sense the vision of the chef. But both meals had too much restaurant goosing: slicks of butter in the sautéed trout from the Italian restaurant; liquid smoke and way too much salt from JCT Kitchen. These are absolutely standard restaurant-food tricks. They're noisy and unwelcome at home. A comparison in Boston yielded similarly uneven results, though octopus, salmon, and garlicky wilted greens from a neighborhood favorite, Fairsted Kitchen, arrived via Caviar not just hot but somehow appealingly presented in their plain brown boxes. That felt closest to a restaurant experience—maybe because the restaurant was down the street from the friend's house I ordered from.
My mixed experience aside, is the deal worth it for a mom-and-pop? Not according to restaurant owners I spoke with, many of whom feared being named lest they fall in the GrubHub and Seamless rankings they depend on. One Manhattan restaurant saw its orders immediately go up 400 to 500 percent when they went on Seamless. But its profit margin was 20 percent, and soon enough that's what they found Seamless was asking them to pay, as they "changed their structure and offered different levels of service." And this was in addition to the money the restaurant paid for its own deliverers, which Seamless didn't provide. A pilot delivery service it tried was a disaster. Drivers weren't able to navigate Manhattan traffic, causing their quoted wait times to be as much as 150 minutes. "Do you think anyone would order delivery if it said two and a half hours?" the still-steaming owner asked.
As an eater who wants a decent delivered meal, what to do? First, call the restaurant directly using the number from their web site, not the middleman number GrubHub posts; that way they can save the commission. But for healthful alternatives to the Whole Foods prepared-foods aisle and salad bar, I'd go with a service like Maple and Savory in New York, or its San Francisco analogues and likely future competitors Munchery and Sprig. The food is made from the start to be delivered and to be, or at least seem, healthful.
As for independent restaurants, I'll always want to visit one first (even if it's a simple Sweetgreen, where I'm a lunchtime regular), as I hope other diners will too. Unless you have whiny kids, or are stormbound, or recovering from a hospital stay—all good reasons to order in—going out is always the best way to try a chef's food. For the food presented as the chefs and owners want, yes. But most of all for the community and communing that only bricks-and-mortar restaurants can supply.