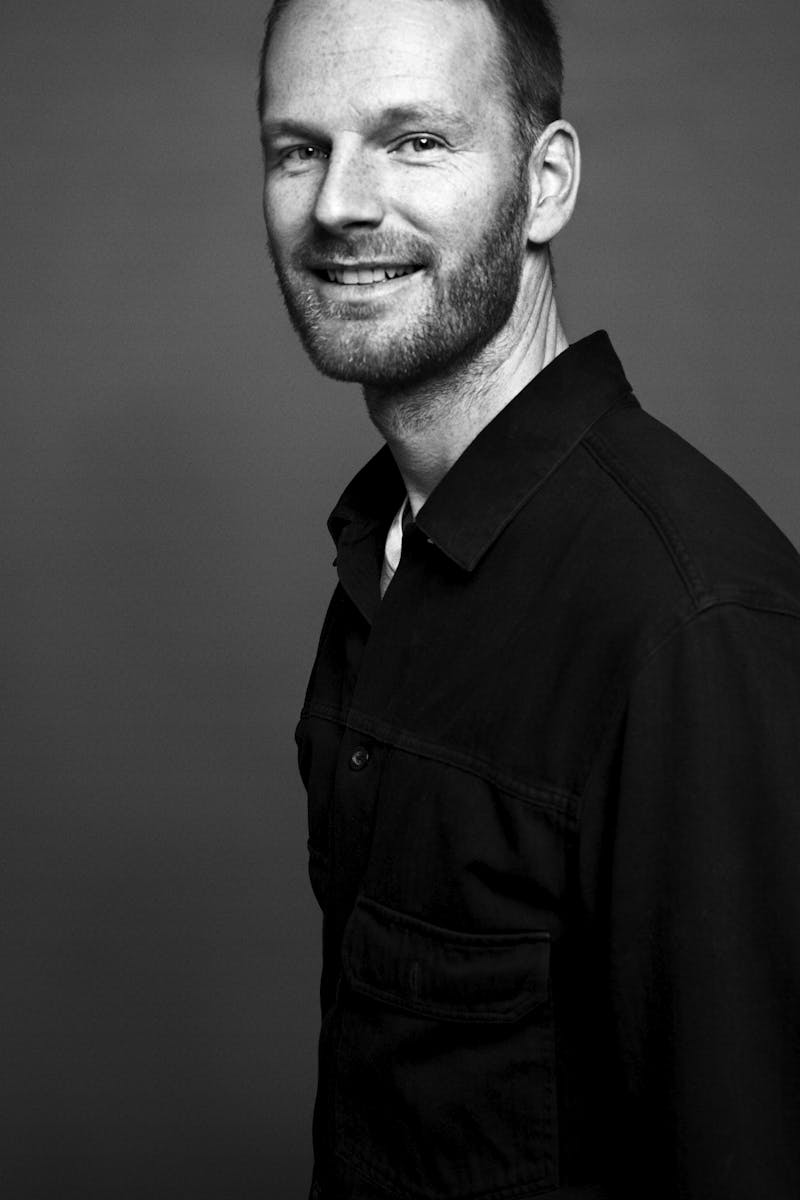 There is a scene in Louder Than Bombs, the third feature film from Norwegian director Joachim Trier, where the central character, a war photographer named Isabelle Reed, describes what it's like to return home to the New York suburbs after yet another tour in a conflict zone. The seasons have changed. Her children have grown. Life has gone on in her absence, and it's as if she's a stranger in her own world. "You get the feeling you're in the wrong place," she says. "It's not that they don't want you. It's that they don't need you."
It's a sentiment that could have easily been expressed by characters in Trier's two previous films, Reprise (2006) and Oslo, August 31st (2011). The 41-year-old director traffics in many subjects—regret, the mind's fragility, hardcore punk music—but his prevailing theme is exile: from one's family, one's friends, one's self. When I spoke to him last week in New York, Trier was wearing a black bomber jacket and talking eagerly about influences ranging from Antonioni to Proust to Bad Brains. He was like the young men who appear so frequently in his movies: cool, confident, earnest despite that ironic gleam in the eye; the kind of person who might quip, as the protagonist does in Oslo, August 31st, "I've always thought happy people must be morons."
Trier's debut Reprise is centered on the friendship between two young writers, one of whom, played by Anders Danielsen Lie, flames out and withdraws from the world after he suffers a psychotic episode. Oslo, August 31st again stars Lie, this time as a recovering heroin junkie who uses a day off from rehab to visit old friends and wander the streets of the city like a ghost. Louder Than Bombs is also haunted by a phantom, though Lie's boyish visage has been replaced by the regal iciness of Isabelle Huppert, who plays the photojournalist detached from the lives of her husband and two sons. Together, the three films are a study in alienation, albeit one that cuts its heaviness with liberal applications of French New Wave influence, Nordic chic, and a dry sarcasm that might, as one character says, make you "gasp with laughter."
Whether Trier's penchant for stylized melancholy will translate for American audiences is one of the questions surrounding Louder Than Bombs, his first English-language feature. As if to make up for the loss of the talismanic Lie, he has recruited Huppert, an icon of European cinema, and surrounded her with an ensemble cast: Gabriel Byrne as her passive husband Gene, Jesse Eisenberg and Devin Druid as her sons Jonah and Conrad, and David Strathairn as her colleague and lover Richard. "I missed him," Trier said of Lie, while acknowledging it was no hardship to work with the likes of Huppert and Byrne.
Trier described the making of Reprise as a kind of "film school" for him and Lie. But despite his affection for his former leading man, he is "stupidly ambitious," he told me, and viewed Louder Than Bombs as an opportunity to "grow, try something else," while still making the "close character portraits" he prefers. Of those characters, Druid is the one who nearly steals the movie about halfway through, with his portrayal of a teenage loser who finds solace in role-playing computer games. "I was jokingly saying this to a friend the other day," Trier said, "I suddenly realized that's what happens in The Godfather. Michael Corleone, the little brother, comes and takes over the whole story."
But the focal point of Louder Than Bombs is Huppert's character, or more precisely the absence she leaves behind after dying in a car accident that is later revealed to be a suicide. The movie's action begins three years later. Gene, Jonah, and Conrad still haven't recovered from the shattering impact of Isabelle's death, which is brought into relief as her gallery prepares a retrospective of her photography. Gene struggles to connect with Conrad, and takes to following him around town like a hangdog private detective. The gallery exhibition draws Jonah back to his childhood home, but it is more of an excuse to escape his wife and newborn child.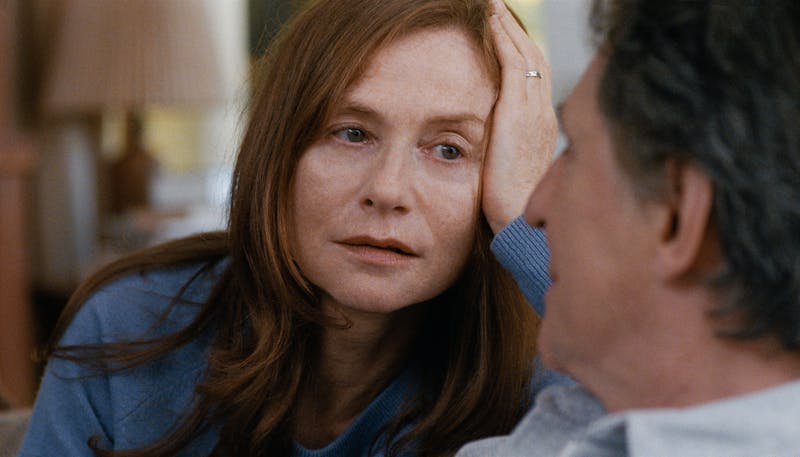 The questions that drive the narrative—Who was Isabelle Reed? Why did she kill herself?—are ideal vehicles for Trier, in that they are slippery enough for him to indulge his preoccupation with the ways in which experience, memory, and fantasy overlap. He is adept at exploiting film's peculiar qualities—its ability to hop across time, to confuse dream and reality, to present a single event from different perspectives—to show how a memory is only one degree removed from a figment of the imagination. Isabelle Reed is revealed by flashbacks and photographs, objects and fantasies, omniscient narration and Rashomon-like subjectivity. She simultaneously comes across as a remote figure and the family's cynosure, an adulteress and a faithful wife, a doting mother and a servant of her vocation. She is, in other words, a composite of different perceptions, like the nude in a Duchamp painting or, more appropriately, film itself. There is a scene toward the end in which Trier allows a handheld camera to linger squarely on Huppert's face, so that the audience can absorb the lines dug into her brow, the skin made papery with age, the eyes that peer out with a coolness bordering on disdain—and it is as if Trier is saying that even this unfiltered glimpse into her soul, this exercise in cinéma vérité, is just another facet.
The other characters, meanwhile, are easier to grasp. Gene is a well-meaning sad sack, a mere satellite to the supernova that is his wife. Jonah is an archetypal Jesse Eisenberg character: hunched, guarded, bristling from a defensive crouch, yet unable to hide the innermost wounds that in turn feed a cruel streak, honing themselves into the sharp point of his face. Conrad is simultaneously familiar and a revelation, and Trier devotes a significant portion of the movie to exploring the nuances of this classic alienated figure, the angst-ridden teenager. At the beginning of the movie he is walled-off and inscrutable, before the perspective gradually flips. "He's the one that starts the farthest away from us, and maybe comes the closest at the end," Trier said. We discover that his viewpoint is not as enigmatic as it seems, that it is touching precisely because we know it so well, which we would have realized all along if only we could have remembered.
But that is the difficult part. In Trier's films, to remember is not a simple proposition; it is a blessing and a curse. Oslo, August 31st begins with a chorus of different narrators describing their first encounters with the city, their voices flowing over vintage footage. One narrator says, over the image of a red bus turning a corner, "I remember thinking, 'I'll remember this.'" It is a sensation that is familiar to everyone, that moment when you feel the closeness between experience and memory, the one slipping immediately and imperceptibly into the other. It is a tribute to memory itself, which is more real than experience, and all that is left of what otherwise passes into oblivion.
But on the dark side of memory lies regret. The final act of Reprise is a heartbreaking imaginative flight into the impossible, which is to say into an alternate universe in which everything turns out all right. The centerpiece of that film is a sequence in which Lie's character Phillip attempts, disastrously, to recreate a seminal moment in his life, a trip to Paris with his girlfriend Kari. They travel to Paris again, where they go over what they said and did the last time around. Phillip goes so far as to make Kari reenact a certain pose so he can reproduce a photograph that he has lost, a perverted act of artifice that only sours the memory of what had been a spontaneous moment. Memory for Phillip, as it is for other characters in these films, is a crushing weight, a painful reminder that he once was, and no longer is, happy.
And yet Trier's films are also oddly uplifting. In our conversation, he compared it to the paradox of bossa nova music: "sweet and happy, yet deeply melancholic." There are moments of melancholic sweetness in his last two movies that, like a reprise, both occur shortly after the characters emerge from a loud club or house party into the quiet of an early-morning twilight. What they have just experienced still lingers in their minds like a fragment of music; they are simultaneously in the past and in the present, at home in this in-between region that we might call a metaphor for reflection, or for a work of art.