As we now know, it was a lone black Army Reserve veteran who gunned down five police officers and wounded seven others during a Black Lives Matter rally in Dallas last week. But for hours that night, police suspected as many as four shooters. What contributed to the chaos, making the cops' job that much harder? Guns.
The New York Times reported Sunday that 20-30 marchers "showed up with AR-15s and other types of military-style rifles," which is legal in Texas, an open-carry state. "City and county leaders said the presence of armed protesters…had created confusion for the police as the attack unfolded, and in its immediate aftermath made it more difficult for officers to distinguish between suspects and marchers," the Times wrote. Indeed, one man who attended the rally with a rifle strapped across his back was detained and interrogated.
In press conference on Monday, Dallas Police Chief David Brown said of his opinion on gun laws, "Put a law out there and I'll give you an opinion about it.… Do your job. We're doing ours. We're putting our lives on the line. The other aspects of government need to step up and help us." He added that it's "increasingly challenging when people have AR-15s slung over and shootings occur in a crowd and they begin running…We don't know if they're the shooter or not. [It] has been the presumption that a good guy with a gun is the best way to resolve some of these things. Well, we don't know who the good guy is versus who the bad guy is everybody starts shooting."
These relatively tepid remarks are nonetheless the strongest statement on gun laws from a high-profile police official in the wake of the Dallas massacre. If bad gun policy puts police lives at risk, why haven't police organizations been more vocal? Where are the calls for an assault-weapons ban—Johnson was armed with a military-style semi-automatic rifle—or at least for excluding such weapons from open-carry laws?
The leadership of the Fraternal Order of Police, which reports a membership of 330,000 sworn officers, has focused instead on the racial component of last week's crime. Executive director Jim Pasco lamented the "rapidly deteriorating relationship between police and the minority community," and its national president, Chuck Canterbury, called for an investigation of the Dallas shootings as a hate crime—even for the Obama administration to change the federal hate-crime law to include "law enforcement" alongside race, religion, sexual orientation, etc. (The FOP did not respond to an interview request.)
Police officials' silence about our gun laws might seem baffling given that, as The Washington Post reported last week, "Police officers are much more likely to be killed in the line of duty in states with high rates of gun ownership." Indeed, the FOP noted on Facebook on Monday: "As of today 132 officers have been shot in the line of duty. 26 have been feloniously murdered." And yet, despite the threat that lax guns laws pose to police, the FOP's unofficial position seems to be—to modify a familiar mantra—that guns don't kill police officers; people kill police officers.

The NRA is aggressively pro–law enforcement. The organization's American Warrior magazine declared in 2014, "Nobody seems more 'targeted' these days than those who serve in law enforcement." The feeling is only somewhat mutual. Robert Spitzer, political science professor at SUNY Cortland and author of Politics of Gun Control, told me that law enforcement have always had an uneasy relationship with the NRA. Elected sheriffs with conservative constituencies often speak out forcefully against gun control, but "most police officers' experiences contradict many of the issue positions of the NRA."

The NRA is opposed to background checks, often presenting them as the first step down the road to gun confiscation. Louis Hayes, Jr., a working police officer who also trains fellow officers as part of the Chicago-based Virtus Group, told me, "Background checks are a vital 'speed-bump' in the legal gun-acquisition process. While they don't prevent illegal transfers or sales, background checks are a filter to reduce the chances of dangerous people from getting guns."

Wayne LaPierre, the chief executive of the NRA, has argued that the best way to stop school shootings is for civilians to be armed so that "a good guy with a gun" can bring down the shooter. While Hayes said he didn't have a "blanket objection" this, he noted that "there are additional risks that need to be balanced." Police worry that armed civilians might be mistaken for a shooter—or that the armed civilian might mistake a plainclothes police officer for the shooter. Untrained personnel with guns can easily make situations more, rather than less, dangerous.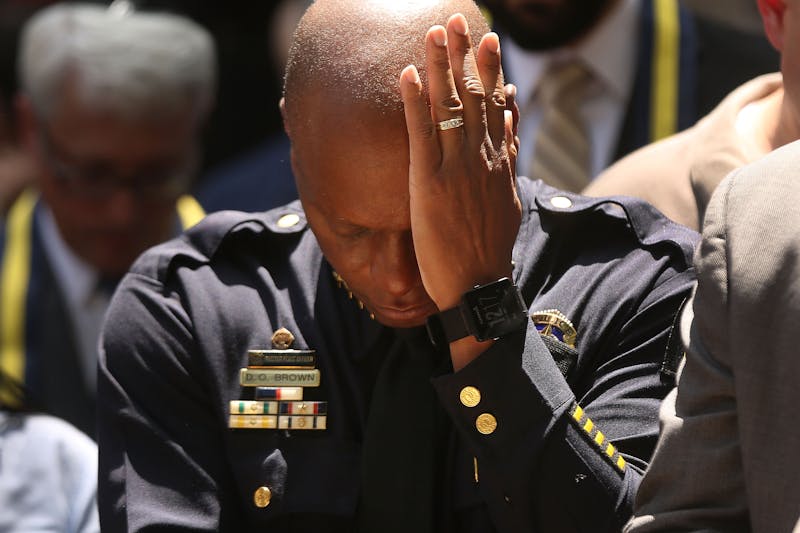 Law enforcement officials aren't always in lockstep with the NRA. In 1985, officers stood at attention in the Capitol to protest the passage of the McClure-Volkmer bill, an NRA-supported law that substantially deregulated sales of handguns. But that protest, like other similar stances police have taken over the years, was unsuccessful. Police opposition hasn't swayed states to abandon "stand your ground" laws. Police organizations also don't have a long history of lobbying. "Frankly, they don't want to expend all their resources fighting with the NRA," Spitzer says. (The FOP spent $220,000 on lobbying in 2015, compared to the NRA's $3.6 million.)
The NRA and police also have what Spitzer refers to as "a demographic affinity." Whites make up 73 percent of police departments, compared to 63 percent of the population, and 88 percent of police officers are men—that is, most police officers are white men. White people are much more likely to oppose gun control than other demographics: 57 percent of white people believe gun rights are more important than gun control, whereas 72 percent of African-Americans think gun control is more important. Gun rights advocates are disproportionately white, male, older, and live outside of cities (and thus, they're much more likely to be members of the Republican Party, the NRA's bedfellow). Old, white, conservative Republicans have the highest opinion of police of all demographics.
The NRA and the police draw their political support from the same demographic groups and from the same political party. If police attacked the NRA, they'd be alienating their strongest supporters; by the same token, the NRA would anger its base by highlighting policy disagreements with police. Not even the Dallas massacre has disrupted this mutually beneficial arrangement. Without a major political realignment, it seems unlikely that police departments and organizations will openly break from the NRA. But if they did, then meaningful, sensible reform of our gun laws might finally be possible.