At a recent screening of his film Author: The JT Leroy Story, director Jeff Feuerzeig bristled when an audience member suggested that the novels by the transgender, HIV-positive, ex-truck-stop-prostitute Jeremiah "Terminator" LeRoy—the literary persona created by author Laura Albert—wouldn't have been such a big hit had the backstory not been so salacious. Had anyone re-assessed the works from a critical perspective, to see if they held up to scrutiny? "I mean, I liked them," replied Feuerzeig, who hadn't read any of Leroy's three novels before the author was outed as Albert in 2005. "They were bestsellers," he added, as proof of their merit.

For the first time in over a decade, the artistic validity of Leroy—and Albert's—work is poised to eclipse the incredible backstory of what many outlets called "the biggest literary hoax of our time." There are myriad synopses available online, but if you want a full recap of the scandal, you can do no better than watching Feuerzeig's film, which is almost entirely narrated by Albert. Two of the books Albert wrote as Leroy—the novel Sarah (1999) and the short story collection The Heart is Deceitful Above All Things (2001)—were recently re-released by HarperCollins. (The former will include a new foreword by Feuerzeig as well as two previously unpublished stories.) Now, after the dust of has settled, or perhaps just lost the luster of novelty, the books can be examined in a new, sober light.
I have always been interested in what occurs when a reader approaches a falsified memoir, or a novel written under shaky pretenses. What, for example, are the impulses that drive someone to crack open A Million Little Pieces in 2016, long after the smoking gun exposé of James Frey's exaggerated drug addiction, and his famous showdown on "The Oprah Winfrey Show"? Does the reader simply no longer care about the discrepancies? Or perhaps they see the book more as a cultural artifact—to read it is to engage with a period in literary history, and to grapple with the meaty questions of authorial obligation. What if the book in question was classified as fiction, as Leroy's were, but which trafficked openly in the "real" events of the author's life?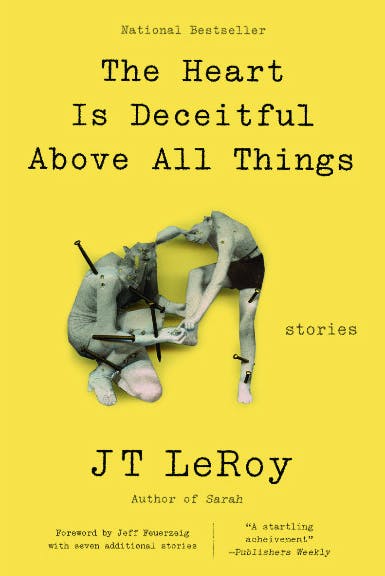 Let's get the bad news out of the way first: The Heart is Deceitful Above All Things—Leroy's second book, a collection of short stories—is virtually unreadable. A series of vignettes ostensibly covering the beginning of LeRoy's life, mostly through the lens of his relationship with his mother Sarah, the stories serve up every possible Southern gothic cliché in existence, both historical and contemporary: A Bible-thumping, whip-happy grandfather, a rotating door of handsy stepfathers, a combustible meth lab, a boundary-less relationship between mother and son reminiscent of Capote's childhood. The abuses are so frequent and so uniformly macabre that the narrative becomes paradoxically dull rather than provocative. There are endless throbbing, seeping wounds, many of them perpetrated by Sarah, who is supposed to come off as magnetic despite her instability, but actually presents as a bundle of disparate pathologies and sadistic impulses. She is about as fully formed and comprehensible as a nightmare.
Sarah's flimsiness as a character, as well as the flat prose, is one of many things a reviewer back in 2001 might have had a hard time criticizing. As Lauren Groff wrote recently, "When a novel is drawn from awful events in the writer's own life, a reviewer can find herself on a wobbly bridge strung between her duty to be honest on behalf of the potential reader, and the ethical imperative to avoid hurting a person who has already suffered so much." In other words: Who would be so cold as to publicly criticize the victim of such atrocities? Here, Groff, who believes a novelist's single post-publication right is "to never be conflated with anyone in their books," would certainly disagree. But I am of the opinion that readers should not—or perhaps cannot, because purging the mind of such obvious connections is a near impossible mental feat—be forced to abandon basic logic because a piece of writing is labeled a particular way. (I'm looking at you, Jamaica Kincaid.)
However, Sarah, the second book Albert wrote but the first she one published as JT Leroy in 1999, is leaps and bounds more sophisticated and very enjoyable to read. Sarah takes place at some indeterminate time in Leroy's adolescence, and while it's tempting to try to place it chronologically within the framework of The Heart is Deceitful, it's all but impossible to do. In the beginning of Sarah, Leroy is being inducted into the fold of a group of teen boy truck stop prostitutes, or lot lizards, by a charismatic and caring pimp who bestows each of his charges with a raccoon penis bone necklace. Leroy starts to become impatient with the steady, gentle tutelage of his pimp and various hatchling mentors. He wants to be as prolific a whore as his mother, Sarah, and earn an even bigger raccoon penis bone, so everyone at the truck stop diner, where a Le Cordon Bleu-level chef cooks up wildly inventive dishes like "stuffed quail eggs braised in fresh huckleberries with English pea ravioli," will gaze upon his countenance with awe. So he sets out in search of a little divine power from the Holy Jackalope, the mounted head of a road kill animal whose ever-growing antlers mysteriously bestow libidinous powers on any lot lizard that visits. Sarah has the ring of fiction to it, and not just because Leroy's character—never directly named, but whose nom de lizard is "Cherry Vanilla" or, more regularly, Sarah, after his mother—walks on water at one point. The picaresque tale is infused with a fun, folksy magical realism one made more delightful by the many colorful descriptive phrases peppered throughout. (A favorite is the slightly nauseating yet evocative likening of a clammy hand to "the exposed underpart on a just-fixed dog.") One never doubts the book is about a world unto itself.
Was Albert's oeuvre worthy of the amount of attention she received—at one point she could count among her supporters literary heavyweights like Dennis Cooper, Mary Gaitskill and Mary Karr, as well as celebrities like Courtney Love, Winona Ryder, Billy Corgan, Shirley Manson and Carrie Fisher—the amount of attention your average debut novelist would have killed for? The answer is a soft no. Her fiction is of mixed quality, but indicates that Albert has enough promise for us to be cautiously excited about what will come next. Maybe just suspend a little extra disbelief when reading the jacket flap.