When President Donald Trump took office in late January, his administration began tweaking the language on government websites. Some of the more prominent changes occurred on Environmental Protection Agency pages—a mention of human-caused climate change was deleted, as was a description of international climate talks. The shifts were small, but meaningful; many said they signaled a new era for the EPA, one in which the agency would shy away from directly linking carbon emissions to global warming and strive to push Trump's "America First" message.
Those initial tweaks were documented by the Environmental Data and Governance Initiative, a group of scientists and academics who spend their free time tracking changes to about 25,000 federal government webpages. On Tuesday, they shared their latest finding with the New Republic: The EPA's Office of Science and Technology Policy no longer lists "science" in the paragraph describing what it does.
"This is probably the most important thing we've found so far," said Gretchen Gehrke, who works on EDGI's website tracking team. "The language changes here are not nuanced—they have really important regulatory implications."
The EPA's Office of Science and Technology has historically been in charge of developing clean water standards for states. Before January 30 of this year, the website said those standards were "science-based," meaning they were based on what peer-reviewed science recommended as safe levels of pollutants for drinking, swimming, or fishing. Since January 30, though, the reference to "science-based" standards has disappeared. Now, the office, instead, says it develops "economically and technologically achievable standards" to address water pollution.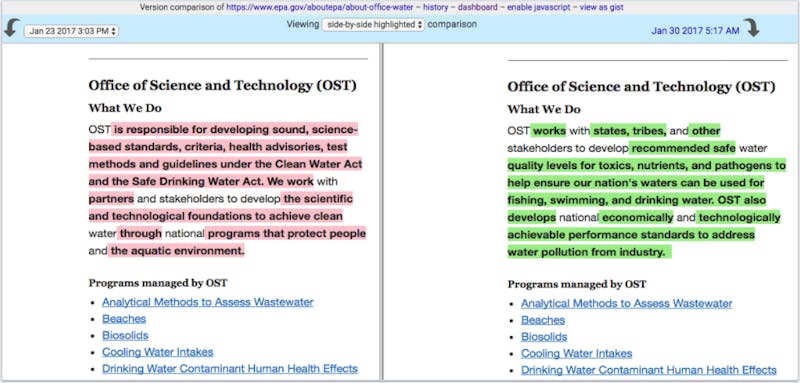 Gehrke said she thinks these changes speak to a long-running debate over how polluters should be regulated. Environmentalists often argue for performance-based regulations, where air and water is required to meet a certain standard of quality, no matter how companies choose to meet that standard. Gehrke says removing "science" from OST's missions and replacing it with "technologically achievable" means the EPA is moving toward more technology-based standards, where polluters just have to install certain types of technology.
Some worry these changes signal the EPA's new direction—one that prioritizes business interests over public health and science—under new Administrator Scott Pruitt, who has close ties to fossil-fuel companies. Pruitt didn't mention public health once in his first speech to agency employees, instead focusing on improving the EPA's relationship with private interests. In a tweet after his speech, Pruitt said he was committed to working with several types of "stakeholders" on environmental stewardship. He did not mention environmentalists as one of those stakeholders.
The Union of Concerned Scientists (UCS), a science advocacy organization, shares EDGI's concerns. "The role of the EPA is to protect public health and safety," said Andrew Rosenberg, Director of UCS's Center for Science and Democracy. "So what you want a science office to do is make sure you're using the best science available, and what's safe for the public. That's a pretty critical role."
Rosenberg said it would be a "major change in direction" if the EPA stopped prioritizing the best science and focused instead on what's most "economically achievable" for businesses. "I think we have to be very mindful," he said. "It seems like this EPA and this administration broadly seem to view their job as being a support for business as opposed to safeguarding public health."
The EPA did not return our request for comment.