After weeks of anticipation, President Donald Trump on Tuesday is expected to drop the bomb environmentalists have been dreading: An executive order gutting U.S. efforts to fight human-caused global warming. According to Bloomberg, the order will lay out "a broad blueprint for the Trump administration to dismantle the architecture that former President Barack Obama built to combat the phenomenon."
Among other things, that blueprint will reportedly include a repeal of the Clean Power Plan, Obama's signature attempt to shut down high-polluting coal plants and replace them with renewable energy facilities. The blueprint will also lift the ban on coal mining leases on public lands. And it will revoke six Obama directives related to climate, including ones on national security and adaptation to climate change's worst impacts.
He may not have to decide, because if what's been reported about his executive order is true, it will basically render the Paris agreement null. Leading climate scientists and climate policy experts told me the order—paired with Trump's recent indication that he wants to undo car fuel efficiency standards—will leave the U.S. unable to meet its commitments under the international accord. And if the country that has historically emitted the most carbon over the course of its lifetime doesn't meet its commitments, it's unlikely other nations will, either.
"If we pull back from the Clean Power Plan, and especially if we roll back vehicle fuel efficiency standards, we have almost no hope of reaching our Paris climate commitments," said Robert Jackson, chair of the Earth System Science department at Stanford University, who has published research on the Paris agreement's effectiveness.
Under the Paris accord, America has promised the world an aggressive drop in greenhouse gas emissions over the next decade. Specifically, we promised to reduce our carbon emissions by 26 to 28 percent below the levels we emitted in 2005. Other countries have made similar promises; China, currently the world's largest emitter, promised to slash its emissions by 60 to 65 percent per unit of its GDP by 2030, compared with its 2005 levels. India, the fourth-largest emitter, has promised to produce 40 percent of its electricity from non-fossil fuel sources by 2030.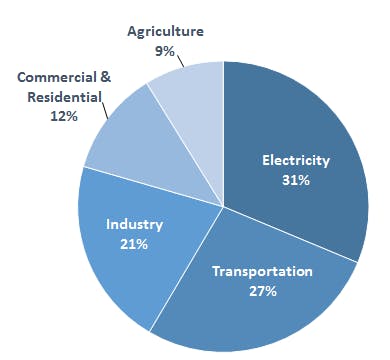 Meeting our goals requires that we stop putting so much carbon dioxide in the atmosphere. In America, that means primarily cutting down on emissions from the electricity and transportation sectors, which combined, make up 58 percent of our carbon pollution.
Trump's executive order will do the opposite of this, reversing reductions America was already on track to make in both of those sectors. Take the Clean Power Plan, the signature policy Trump is aiming to repeal. If that plan were allowed to continue, it would have gotten the U.S. seven percent of the way to its 26 percent reduction goal under the Paris agreement, according to Marilyn Brown, a Georgia Institute of Technology professor and energy policy expert. The same goes for Obama's fuel economy standards, which require cars and trucks to go further on less gasoline. Those would have gotten the U.S. another eight percent of the way toward meeting its goal under the Paris accord, Brown said. But Trump has promised to reduce those standards, too.
"Even if we were simply to have relied on those two policies, we still would have needed another 10 to 12 percent of reductions on top of that to meet our goals," Brown said. "Now, I think there's no way we'll get anywhere near the Paris commitments with the new approach to deregulation of activities in the Trump administration."

In other words, even with Obama's climate policies in place, America still needed to figure out one more big push to do its promised part in saving the planet. "We were already struggling to meet this agreement," said Jennifer Francis, a research professor at Rutgers University's Institute of Marine and Coastal Sciences, "and this is basically just a step back in time."
Trump's executive orders threaten not to only reverse progress America has already made toward meeting its Paris goals; it threatens to add emissions to mix. The order reportedly attempts to revitalize the high-emitting coal industry long-term, by allowing coal leasing on public lands. "That's a commitment to coal that will have longstanding consequences," Brown said.
The expected executive order also includes a promise to dismantle the "social cost of carbon"—the notion that climate change costs a lot of money because of its long-term impacts on agricultural productivity, human health, and property value. When you eliminate this cost, you eliminate the idea that pollution regulations are beneficial because they prevent those long-term consequences. Therefore, it becomes easier for the Trump administration to legally justify repealing environmental rules. "If you dial back the social cost of carbon, basically any environmental regulation can be considered cost ineffective," Brown said.
The U.S. will also fail to meet its obligation to adapt to, and be resilient in the face of, climate change's worst impacts, according to David Waskow, director of the international climate initiative at the World Resources Institute. Along with lowering emissions, the Paris climate agreement requires all countries involved to reduce their vulnerability to things like sea level rise and extreme weather. Trump's executive order reportedly gets rid of several Obama-era directives that include requirements for resilience and adaptation.
"What's concerning about that part of the [executive order] is that, whatever you think causes climate change, those actions and those directives are about protecting people from the impacts of climate change," Waskow said.
Not everyone believes the Paris agreement will be completely ruined if the U.S. doesn't meet its commitments. Amit Ronen, the director of George Washington University's Solar Institute, noted that other countries are already proceeding full-force, despite indications from Trump that he won't follow through. China, for instance, appears to be taking the agreement as an economic opportunity to become a global leader in creating renewable energy jobs and scaling back on coal.
In the best-case scenario, Ronen said, Trump's order wouldn't doom the Paris agreement—just isolate the U.S. "It's just missing out at an incredible opportunity in terms of economic opportunity, leadership in the world," he said. "It's just a shame."