Scott Pruitt, who spent six years fighting federal public health regulations as Oklahoma attorney general, has long railed against the "environmental left." That hasn't changed since President Donald Trump tapped him to run the Environmental Protection Agency.
"The past administration is viewed as the environmental savior," Pruitt said in a radio interview last week. He accused President Barack Obama of not adequately enforcing clean air and water regulations, among other alleged failures. "Superfund sites, we have more today than when President Obama came into office. Water infrastructure, you had Flint and you had Gold King," he said. "The regulations that they issued on carbon, they failed twice. They struck out twice. So when you look at their record, what exactly did they accomplish for the environment that folks are so excited about?"
Pruitt made almost identical remarks in a Fox and Friends interview on Wednesday:
Pruitt, a climate-change denier, says Obama's EPA failed because it was "was so focused on climate change and so focused on CO2 that some of those other priorities were left behind." Expect to hear this talking point as Pruitt continues his tour of friendly, right-leaning media outlets across America.

It's an argument the "environmental left"—or anyone who adheres to facts—shouldn't let him get away with. There remain serious environmental problems in the U.S., of course, and environmental activists largely agree that Obama could have done more during his presidency. But the Obama administration made significant improvements to both clean air and water—improvements that were accomplished despite the dozen or more lawsuits that Attorney General Pruitt filed against the EPA, in his attempt to dismantle and delay public health protections.
In other words, a man who made his name by trying to break the EPA now admonishes the agency for not accomplishing enough. It's a brazen act on Pruitt's part, and one entirely in keeping with a Trump administration that's shown nothing but outright disdain for accepted truths.
---
Pruitt does get a few things right. In the radio interview, he said that "when you look at air attainment in this country, we're at 40 percent non-attainment right now on ozone. About 140 million people live in non-attainment areas for air quality, under air quality programs." The EPA does confirm that 40 percent of the U.S. population lives in areas that exceed federal standards for ground-level ozone, a harmful air pollutant. In 2008, the U.S. had about 1,200 Superfund sites—highly contaminated areas that require federal cleanup—and now we have more than 1,300. The EPA was partially responsible for both the water crisis in Flint, Michigan, and the Gold King Mine blowout in Colorado that turned the Animas River turn orange. And Obama's signature anti-carbon regulatory accomplishment, the Clean Power Plan, has indeed been halted by a federal court.
But Pruitt is wrong that these facts somehow prove that Obama boasts few environmental accomplishments.
"It's a misleading and hypocritical statement," said Dan Cohan, an environmental engineering professor at Rice University who specializes in air quality management. Cohan takes particular issue with Pruitt's focus on air quality in America. "In fact, air pollution emissions have come down dramatically since Obama took office, and much of that progress came in spite of attorneys general like Pruitt," he says.
Pruitt's claim that the U.S. is at 40 percent non-attainment for ozone is true, but it's also an incredible improvement from years past. When Obama took office in 2008, 60 percent of Americans lived in counties with unhealthy air. Pruitt says the environment would fare better if the federal government just got out of the way; and yet, the American Lung Association credits this huge improvement in air quality to federal clean air regulations. "These trends demonstrate the continued need to support and enforce the Clean Air Act to protect the nation from unhealthy air," the report reads, while also encouraging the EPA to maintain and strengthen clean air regulations on automobiles and oil and gas operations.
Pruitt has expressed opposition to those very same regulations, and has spent his career suing the federal government over several more of them. He sued to challenge implementation of Obama's Cross-State Air Pollution Rule, which attempts to regulate air pollution that drifts across state lines. He sued to dismantle the Mercury and Air Toxics Standards, which limits the amount of toxic heavy metal pollutants from coal- and oil-fired power plants. Pruitt also represented Oklahoma in three separate suits against the Clean Power Plan, which attempts to limit carbon emissions but, as as side effect, would also reduce general air pollutants like ozone and particulate matter.
Pruitt claims that Obama's EPA focused on climate change at the expense of clean air and water. In fact, it is because of the EPA's focus on climate change that it was able to tackle air pollution more aggressively. "The idea that addressing air pollution and climate run in conflict with each other is completely false," Cohan said. "Much of the best progress we've made on climate has been by addressing air pollution, and visa versa." For example, the mercury rule was created to reduce air pollution; and yet, it also brought down carbon emissions, due to the closures of several old coal-fired power plants. Climate change was the justification for clean fuel economy standards and the Clean Power Plan, and yet both were expected to reduce air pollution as well. Pruitt's EPA has already started the process of weakening or withdrawing both of those regulations.
Pruitt's argument that Obama ignored Superfund sites—large, highly contaminated industrial sites that are difficult to clean up—is "frankly obnoxious," according to Lukas Ross, a climate and energy campaigner at the environmental group Friends of the Earth. "How effectively we're able to clean up Superfund is a question of money, and Congress never gave Obama enough money in that regard." The EPA's Superfund program has indeed suffered from dismal funding. The program used to be largely funded through excise taxes, called "Superfund taxes," on petroleum and chemical companies. But those expired in 1995, and the $3.6 billion raised by the tax dried up in 2003. As a result, according to Politifact, cleanups plummeted: The agency restored just 19 sites in 2009, down from 89 sites 1999. Obama repeatedly asked Congress to re-implement Superfund taxes, arguing that polluters, not taxpayers, should bear the responsibility of cleanup. Congress never obliged.
And yes, the EPA must take partial blame for the Flint water crisis and Gold King Mine disaster. But that's hardly evidence that Obama was ineffective in fighting for clean water. He signed the Water Infrastructure Improvements for the Nation Act of 2016, which included $170 million for Flint's drinking water systems. He started the Great Lakes Restoration Initiative, which has "has led to improved water quality and pollution control and a bustle of waterfront development," according to PBS, and aggressively spearheaded cleanup of the highly polluted Chesapeake Bay.
Pruitt, the self-proclaimed champion of clean water, has opposed the Chesapeake Bay cleanup. And Trump, who said he nominated Pruitt to "restore the EPA's essential mission of keeping our air and our water clean and safe," has proposed cutting the Great Lakes Restoration program—to help pay for his Mexico border wall, no less.
---
It's not that Obama's environmental legacy is flawless. "There's no question that the Obama administration could have done more, and we held them to account for that," said David Baron, managing attorney Earthjustice's D.C. office. "We challenged them when they weren't going far enough, and they didn't in some cases."
In 2011, for example, environmental groups including Earthjustice sued the Obama administration for not tightening controls on ground-level ozone pollution, which EPA scientists had proposed doing in 2009. The groups said Obama's decision to reject the recommendation "puts thousands of Americans' lives at risk." Environmentalists challenged Obama in 2012 over his decision to extend "weak" limits on particulate matter pollution, and in 2010 "for failing to regulate power plant water pollution." The administration was also sued by environmentalists in 2016 over its failure to put limits on carbon emissions from airplanes.
Obama was also criticized for dragging his feet on his environmental agenda—that he should have started implementing climate change policies early in his presidency, when he had a Democratic-controlled Congress. "He waited until too late in presidency to enact some of his toughest policies, and therefore had to do so by executive order or EPA action," Cohan said. "And because they were enacted so late, that makes them subject by being overturned by Congress, or means that haven't been fully implemented, and thus can be reversed."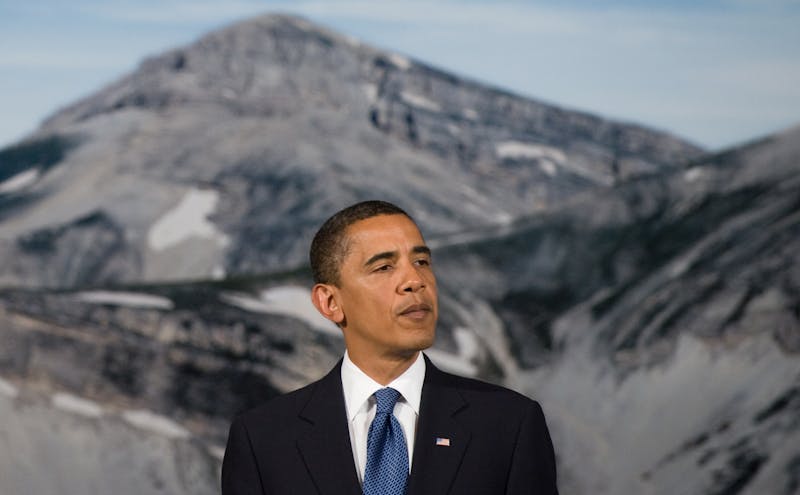 But none of this is evidence that Obama accomplished nothing on the environment, nor that he was—as Pruitt claims—obsessed with climate change to the detriment of the EPA's core mission. "It's not as though they took money away from limiting mercury from power plants and put it into carbon regulation," Cohan said.
Pruitt, having been on the job for four months now, must know this. But he will keep making his case that Obama's EPA spent its time creating job-killing regulations and ignored the real problems of clean air and water, because it's effective political rhetoric for a populist administration. After all, everyone agrees that we should have clean air and water, while a third of Trump's supporters refuse to believe that climate change is real. Moreover, who suffers when a struggling small city's drinking water is poisoned, or a rural mine leaks sludge into a river popular with fishermen? A lot of Trump voters.
And yet, when you consider that Pruitt has spent his first months on the job meeting with coal miners instead of public health advocates and concocting ways to delay, withdraw, and remove regulations that protect everyday Americans, it becomes clear who his real constituency is: corporate polluters, who for eight years under Obama were prevented from doing what they do best.