The opening shot of My Cousin Rachel, based on Daphne du Maurier's 1951 novel, instantly connects it to the other movie adaptations of du Maurier's books. Peaceful, green cliffs give way to a sea that seethes and writhes, and we think of Maxim in Hitchcock's Rebecca dragging the second Mrs. de Winter to a clifftop. We might think also of Melanie Daniels crossing the doomed bay in The Birds, or of the horror of Venice's canals in Don't Look Now.
This, however, is England. We meet an orphan named Philip Ashley (Sam Claflin), who has been raised by his cousin Ambrose in a house where no women are allowed to enter. The plot is set into motion when Philip receives a letter from Ambrose, who has moved to Italy for his health. Ambrose is ill and afraid. Philip sets forth to recover his cousin but finds he has died of a brain tumor. He also finds that Ambrose has married a beautiful woman named Rachel. Philip is filled with rage at Rachel, whom he blames for Ambrose's death, until the day that she walks through his door in Cornwall.
It takes at least 15 minutes for Rachel Weisz to appear on screen, but when she does it is a quiet, contained event. Nonetheless, the effect of her face is a payoff akin to an explosion in an action movie. Weisz's face is very slightly asymmetrical, and she can control the cadence of her voice in a way that introduces the character of Rachel as instantly magnetic. She's festooned in widow's weeds throughout the movie, and from inside that black cocoon her face is like one of those floodlights the cops put up in New York at night: blinding, gentle violence.

The mystery animating My Cousin Rachel is about the motivations of its main two characters, and it's explored through a pas de deux between Claflin and Weisz. The manor house where no woman has been admitted has a big hole at the center of it, where Philip's dead mother should have been. His maternal ancestors are only present through a super-symbolic pearl necklace, worn by Philip's mother and grandmother and great-grandmother at their weddings. All he has is this bauble and some money. The orphan has no understanding of women, and so he is powerless to resist Rachel's searching face.
The movie thus plays out like the worst nightmare of a man who hates women. The story is about the terror of women's unknowability, a power that doesn't quite reside in their bodies or their actions but in their quasi-mystical ability to manipulate. Early on in Rachel's stay at Philip's house, he comments that a local has described her as "feminine." She asks him about the quality of her femininity, how Philip might describe it. He has no language.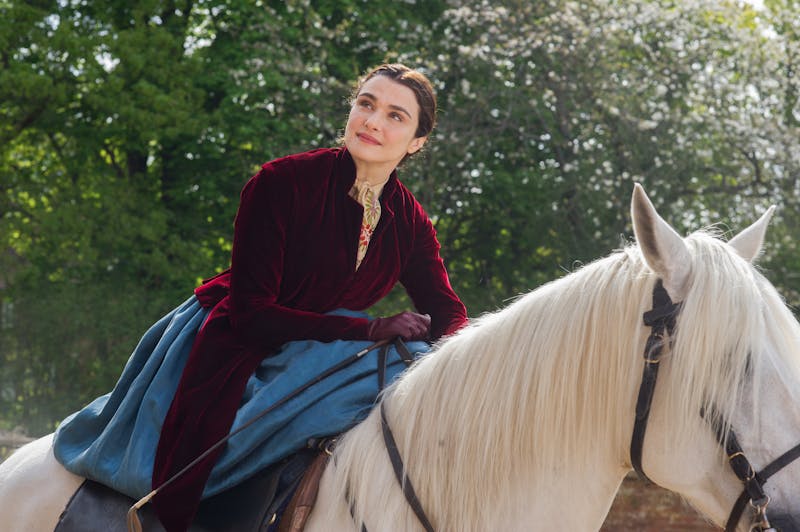 The domestic element of My Cousin Rachel is only about half of its drama. The rest takes place outdoors. This is where director Roger Michell's ability really comes into play. The palette of the plein air scenes is dark and mineral. The grass, horses, waves, and rocks look painted. In one scene, Philip and Rachel sit on the beach. They are to the left of the frame. In the center, a massive tangle of rocks and dead branches splays. To the right, a gorgeous horse nestles in the crook of the cliff. The contrast between light and shade is as bold as chiaroscuro, but the scene looks naturalistic, in the sense that "nature" is dramatic.
In another key scene, the two ride out into a wood filled with bluebells. He is a little drunk—it's his birthday—and it's unclear whether she wants to be there at all. We see Rachel's face against the bluebells on the ground; the face is like a wildflower, a natural phenomenon. Like a bluebell, she seems beautiful and totally without conscience. When they stand up the bluebells are crushed like a city destroyed by earthquake.
---
As some critics have pointed out, the mystery at the heart of My Cousin Rachel is not all that compelling. But as Julie Myerson wrote in the Guardian about du Maurier's original novel, the joy in this story is not where you think it is.

The mysterious cousin Rachel is funny. Myerson quotes du Maurier: "With her eyes full of a 'solemnity' which 'spelt mischief,' we can't help but warm to her." Rachel Weisz's performance layers these elements expertly, and that is where the movie's center rests. We see her make others laugh, and we warm to her. Later, we see her do the same thing, but in Italian: Philip doesn't understand Italian, and so she now seems sinister. In every case, we see Rachel through the gormless eyes of the young man.
When Rachel is crying and her pale hands snake around Philip's shoulders to turn his comfort into an embrace, it's as if we are interpreting her actions from the perspective of the shoulders themselves. Roger Michell has done an interesting and difficult thing by replicating in cinema the sensibility of first-person literary narration. At a level deeper than the operations of gender is a horror about the unknowability of other people and their motivations, even in the most intimate relationship. Du Maurier was a virtuoso of the hidden; her novels are best in the places where information is missing. Rachel Weisz delivers an equally virtuosic turn as a woman barely understood by the very story in which she lives.