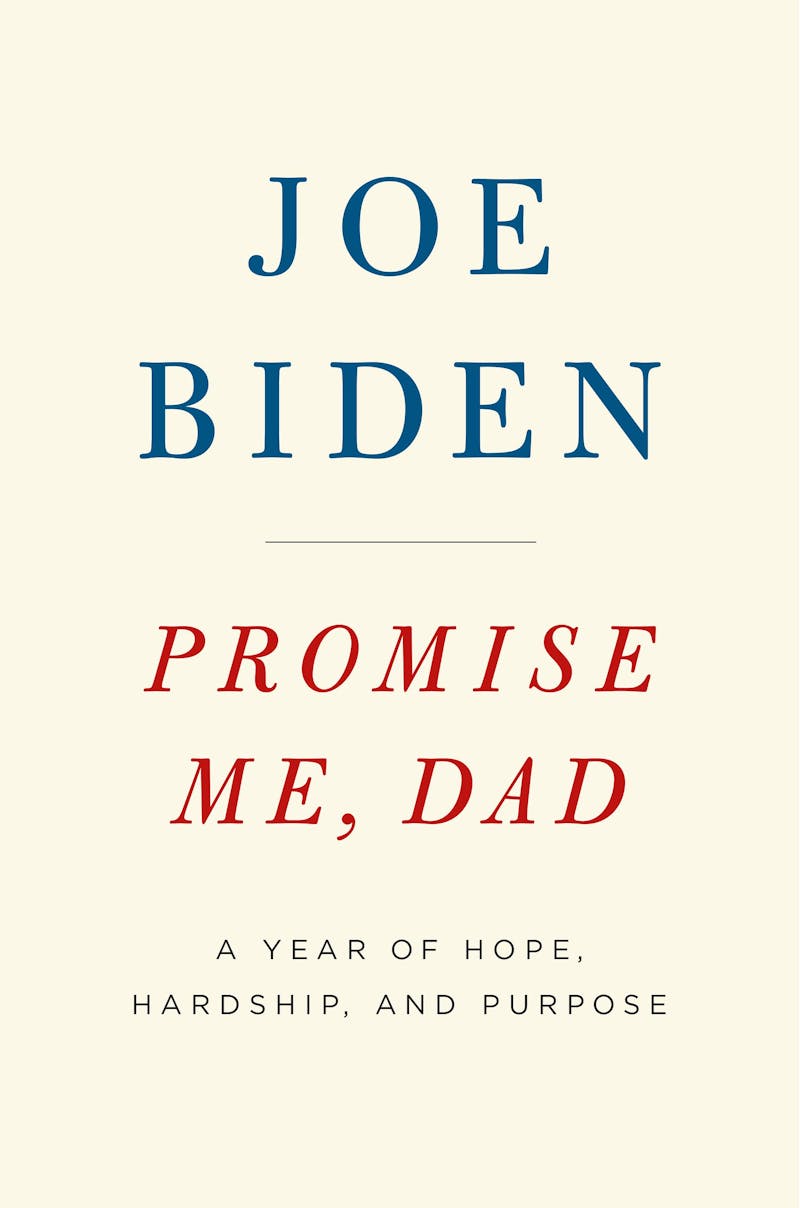 Joe Biden's memoir Promise Me, Dad is many things. It is a snapshot of a painful period of Biden's life, as his son, Beau, fights a highly aggressive form of brain cancer and eventually dies in June of 2015. It's a powerful look at how illness and bereavement can permeate every facet of a politician's personal and professional life. And it's also a barely concealed argument that Joe Biden could have won the presidency in 2016—and could still win it in 2020.
Promise Me, Dad should be a coda to Biden's long career in government. It is emblematic of the qualities that made Biden a popular vice president: his ability to empathize, particularly when discussing grief; the fact that he really seems to give a damn. But Promise Me, Dad is not, ultimately, what Biden desperately wants it to be: A case for why a 78-year-old Biden should be the 46th president of the United States.

Promise Me, Dad is rarely just about politics, since Beau's illness pervades everything. It creeps into Biden's efforts to negotiate a Central American aid package. He takes a call from the embattled Iraqi Prime Minister Haider al-Abadi in the hospital. And the decision not to run for president is partly attributed to Beau, too. "Running for the Democratic nomination was all tied up with Beau," Biden writes. But the book's most revealing moments come when Biden lasers in on politics, particularly the question of whether he would have beaten Donald Trump in 2016.

Veiled shots at Hillary Clinton's stilted and uninspired campaign abound. Biden shares some of Donna Brazile's feelings about the "rigged" Democratic primary, even if he's not as intent on burning down the house. Barack Obama is praised throughout as an extended member of the Biden family—except when Obama clearly conveyed he viewed Clinton as his heir, giving her "what seemed like a coordinated, nonendorsement endorsement."

Biden is upfront about his disdain for the tricks Clinton pulled to keep him out of the race. He turns up his nose at the Clintons' attempts to distance themselves from the 1994 crime bill, and suspects that newspaper stories about his ties to the banking and credit card industry originated with the campaign. But mostly, he just thought she ran a lousy campaign: "The campaign I was witnessing in the summer of 2015," he writes, "was so negative, so dreary, so divisive, so personal. So small."

Promise Me, Dad ends with Biden laying out how he would have run in the 2016 election—and there's not much that's small about it. There is plenty of 20/20 hindsight here, but it's a fascinating bit of counter-history, with Biden making the case that he could have won over Bernie Sanders supporters with his blue-collar-ish authenticity and Clinton supporters with his government experience. He says he would have foregone super PAC money and taken on Wall Street, albeit in a gentler manner than Sanders, but in a harsher manner than Clinton. He would have made tax reform a priority, emphasizing a fair deal for the middle class and ending tax breaks exploited by the wealthy. He would have pushed for a $15 minimum wage, a noted departure from Clinton's very Clinton-esque compromise. There is talk about gun control and infrastructure and health care. He continually reminds the reader that his "favorable ratings were higher than those of any candidate in the race—in either party."

But Biden barely touches on his biggest liabilities. There's his vote for the Iraq War, an issue that dogged Clinton throughout the primary. There's Biden's failure to protect Anita Hill from attacks during her sexual harassment testimony before his Senate Judiciary Committee in 1991—an issue that has become particularly important in a post-Weinstein world. There's his coziness with certain special interests (he's from Delaware, after all). In fact, there are long chunks of this book that suggest that Biden is more out of touch with the Democratic Party than he thinks.

In one moving section, Biden details the aftermath of the assassination of New York police officers Wenjein Liu and Rafael Ramos in 2014; they were killed while sitting in their patrol cars by a man seeking to avenge the death of Eric Garner. The passage showcases Biden's strengths, including his ability to transcend divisive moments. But Biden brings this section up, in part, to focus attention on the 1994 crime bill that he authored. That bill, Biden proudly writes, put 100,000 police officers on the streets and ended a decades-long spike in violent crime. What he doesn't mention is that the bill also led to a spike in mass incarceration.

In Biden's world, cops hate New York City Mayor Bill de Blasio, who has spoken out against police brutality, but they love Biden. This is presented as proof of his electability and his ability to reach out to new constituencies. But his evident pride in this disastrous bill—and his frustration at the Clinton family's refusal to speak on its behalf—would be a crushing liability in any Democratic primary.

Biden's treatment of Russia, meanwhile, is plain weird. Biden casts himself as a macho guy who has the stones to deal with a pest like Vladimir Putin. While Angela Merkel dithers about Putin's criminal actions in Ukraine, Biden wants a fight. Here's Biden detailing an alleged 2014 conversation with Putin:

The furnishings were elaborate and impressive. "It's amazing what capitalism will do, isn't it?" I said, gazing up at the high ceiling. "Magnificent."

As I looked back down, I was face-to-face with him.

"Mr. Prime Minister, I'm looking into your eyes," I told him, smiling. "I don't think you have a soul."

He looked at me for a second and smiled back. "We understand each other," he said,

And we did.
Biden is convinced that this kind of stuff is what transformed him from a Democrat with a checkered past into "Uncle Joe" of the Obama administration. And he's convinced it is what will enable him to reach out to Trump voters and beat Donald Trump. To be fair, he probably could beat Trump, but that's only because it looks like any Democrat could beat Trump. So why should Democrats settle for Joe Biden, an Iraq War–voting, crime bill–authoring, financial services–coddling septuagenarian?