Yesterday, I explored how the media—especially broadcast television news—has failed to connect the dots between extreme weather events and human-caused climate change. Today, the progressive think tank Public Citizen issued a report analyzing how America's 50 largest newspapers covered extreme heat in the first six months of this year, as temperature records were set across the globe. Here are some findings:
The newspapers published a total of 760 articles mentioning "extreme heat, heat waves, record heat, or record temperatures." Only 134 of them, or about 18 percent, mentioned climate change or global warming.
All of the newspapers published stories on extreme heat. Ten of them made no mention of global warming: The New York Post, New York Daily News, Detroit Free Press, Arkansas Democrat Gazette, Kansas City Star, Minneapolis Star Tribune, Tampa Bay Times, East Bay Times, Oklahoman, and Oregonian.

The New York Times published the most articles about extreme and record-breaking heat. Only 23 percent of those stories, however, mentioned climate change. The Washington Post published the second-most stories on the subject, but their batting average was much higher: 13 of 32 heat stories, or 41 percent, mentioned climate change.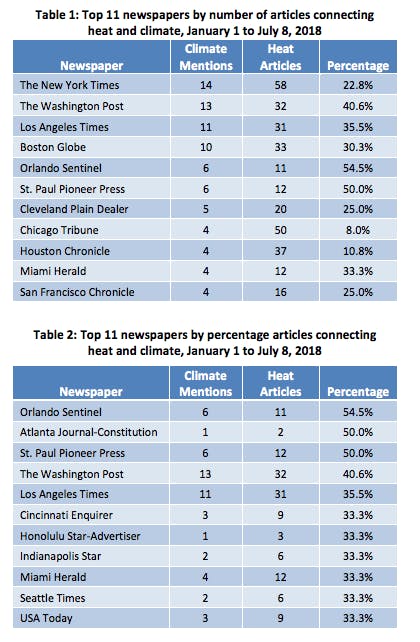 As I explained yesterday, the science is clear: Greenhouse gases trap heat in the atmosphere, raising the average temperature of the Earth and making deadly heat events more likely. So it's little wonder that, with the average temperature hotter than it's ever been at any point in human history, there would be record-setting heat across the globe this year. One can only speculate why so many newspapers frequently neglect to mention that.