On Monday afternoon, the president tweeted out a map from a United Nations report that was photoshopped to falsely claim that the United States has the cleanest air in the world.
The image in Trump's tweet states that it is a "Global map of annual average ambient fine particulate matter," updated in April 2018, and cites its source as the World Health Organization (WHO), a U.N. agency focused on international public health. The original source appears to be the similar-looking map below, from the summary of a April 2018 WHO report titled "Exposure to ambient air from particulate matter for 2016." The map is based on 2016 data from WHO's Global Urban Ambient Air Pollution Database.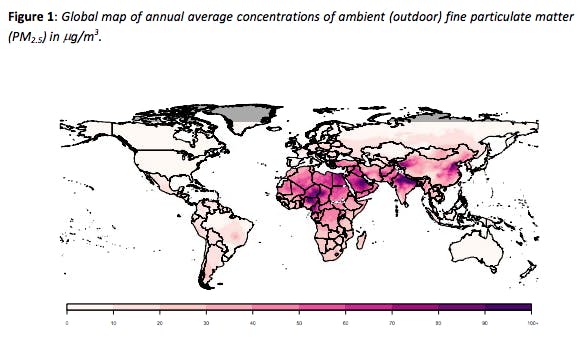 This map does show that the U.S., on average and as a whole, has acceptable levels of particulate matter pollution every year. (Particulate matter is just one kind of air pollution, and refers to small dust particles that can infiltrate the lungs and circulatory system.) It does not, however, prove that the U.S. has the cleanest air "by far." The map clearly shows Canada, Australia, and some European countries in the same light color as the U.S., meaning they too have acceptable levels of pollution.
Determining which country actually has the cleanest air requires a closer read of the WHO database. And based on my own analysis, Sweden has the lowest average concentration of smog pollution in the world, clocking in at about 6 micrograms of particulate matter per cubic meter of air. Second place goes to Finland, followed by Canada, Estonia, and Australia. The U.S. comes in eleventh place, with an average of 8.3 micrograms. This is still pretty good, since the WHO recommends no more than 10 micrograms. But it's not the cleanest air "by far," as Trump claimed.
Also, America's air is not healthy everywhere. Contrary to Trump's claim that "none in [the] U.S." are affected by air pollution, 38 of the 372 U.S. cities and towns in the WHO database were shown to have particulate matter concentrations above the agency's recommended level of 10 micrograms—including Fresco, California; Lancaster, Pennsylvania; and Chicago, Illinois.
Trump's photoshopped U.N. map does correctly note one thing: 91 percent of the world's population suffers from unhealthy air. The fact that the U.S. as a whole doesn't suffer this fate is something to be celebrated. But Trump isn't exaggerating America's status as a clean-air king because he wants to be the best. It's because he wants to justify his agenda of loosening the air pollution regulations that gave the country its relatively clean air in the first place.