A pair of police killings on the morning after Christmas has only increased the scrutiny of an embattled mayor who has been under fire over the Homan Square "black site" and the release of the Laquan McDonald video. It was time to make some policy changes to address Chicago's lack of trust in its own police.
Emanuel on Wednesday announced that every Chicago patrol car will have a Taser. Forty percent of officers will have the training to use them properly, double the current number. "It's about helping them realize the multitude of responses that are available in a tense situation," said the mayor. "There's a difference between when someone can use a gun and when someone should use a gun."
But the city's prior expansion of Taser use in 2010 did not have a significant impact on police shootings, per an analysis by the Independent Police Review Authority.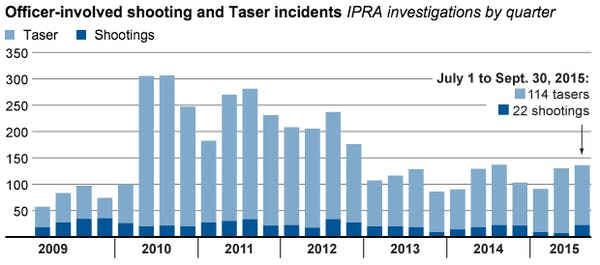 This is a band-aid solution at best, and it doesn't account for the fatalities caused by Tasers. More than 500 people have been killed by cops using Tasers since 2001. The Guardian reported last month on the faulty training methods and dangers of the device.
Emanuel said he never watched the video of McDonald's execution prior to its release, so perhaps he never read about Taser danger before performing what one local reverend dismissed as "political theater."