Emotions Are Running Feverishly High in Congress
"People are full of sadness and rage and hurt, and nobody does their best work in that environment," said Representative Becca Balint.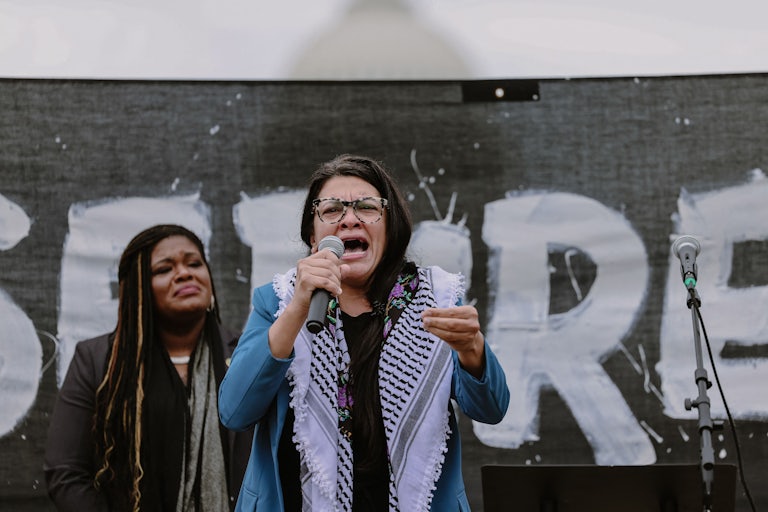 ALI KHALIGH/Middle East Images/AFP/Getty Images
Representative Rashida Tlaib spoke at an October 20 rally at the U.S. Capitol calling for a cease-fire in Gaza.
Congress is a political body of more than 500 people with varying agendas and priorities. As such, its functioning is often influenced by emotion more than clinical analysis. This has been particularly true in the past month, after Hamas launched its massacre of 1,400 Israeli citizens and took roughly 200 people hostage. In the weeks since, Israeli strikes have killed more than 10,000 people in Gaza, including more than 4,000 children, according to the Gaza Health Ministry.
"What I have been saying for weeks is, everybody is acting from the amygdala right now. People are full of sadness and rage and hurt, and nobody does their best work in that environment," Representative Becca Balint, who has called for a humanitarian pause in the conflict, told me. "I don't want to say people shouldn't feel what they feel, but we need to really think strategically about this entire region."
The United States has traditionally been Israel's strongest and most vocal ally, and as The Washington Post's Abigail Hauslohner notes, supporters of Israel have had more success in swaying lawmakers. But the toll on civilians in Gaza has begun to concern the White House and some Democrats in Congress. As the weeks have stretched on, the latter have called for a "cease-fire" or a "humanitarian pause." On Wednesday, dozens of congressional Democrats sent a letter to the White House calling for temporary protections for Palestinians due to concerns about civilian casualties, the Associated Press reported.
"There's a growing consensus that we have to help Israel to make a series of choices that enable them to forge a path forward for peace, and enabling humanitarian aid is a fundamental strategic goal," said Senator Brian Schatz of Hawaii, who called for a humanitarian pause last month. "If you want Israel to be safe and stable, you cannot have millions of internally displaced refugees. The world appropriately rallied around Israel on October 7, and in order to maintain international support, they have to demonstrate that they are abiding by the Geneva Conventions and our basic expectations."
The Democrats who support a pause are also quick to point out that it differs greatly from a cease-fire: The former is a brief break in the conflict to allow the delivery of aid, and the latter is open-ended. "Cease-fires are long-term cessation of hostilities, and that would allow Hamas to regroup and attack Israel again," said Senator Chris Murphy of Connecticut.
But efforts to pass aid to Israel have been complicated by political considerations. President Joe Biden's supplemental funding request to Congress also included funds for Ukraine and the southern border, as well as humanitarian aid to Gaza. The Republican-controlled House, under newly minted Speaker Mike Johnson, narrowly passed a partisan $14 billion stand-alone bill supporting Israel—plus cuts to the IRS that would actually increase the deficit, meaning that it's a nonstarter in the Democratic-majority Senate. Moreover, Republicans in the Senate say they will not accept any aid package that doesn't address immigration.
"In the end, we're going to support Israel, and we're going to support our friends and allies in Taiwan and Ukraine, and we're not going to do that without a strong immigration and border provision," said GOP Senator Roger Wicker.
Meanwhile, there's been a lot of heated rhetoric in the House. Representative Debbie Wasserman Schultz caused an uproar among House Democrats for saying that the 15 representatives who voted against a resolution affirming support for Israel don't "have a soul," CNN reported. Representative Rashida Tlaib, the only Palestinian American serving in Congress, was censured by her colleagues—including several Democrats—on Tuesday for her comments that Palestine would be free "from the river to the sea," which is interpreted by some to mean support for ending the existence of Israel.
"I can't believe I have to say this, but Palestinian people are not disposable. We are human beings just like anyone else," Tlaib said in an impassioned speech on Monday. "The cries of the Palestinian and Israeli children sound no different to me. What I don't understand is why the cries of Palestinians sound different to you all."
Meanwhile, a Democratic proposal censuring GOP Representative Brian Mast for his comments comparing Gazan civilians to Nazis was pulled from consideration on Wednesday. Mast did not back down, saying on Tuesday, "I would challenge anybody to find a better word to compare them to than the word 'Nazi,' because they only live next to Jews so long as they can find a convenient way to kill them."
OK, I know that's a long lead-up, but there's a lot of nuance here. Despite the differing opinions on cease-fire vs. humanitarian pause—and on where American eyes should be focused—lawmakers I've spoken to on both sides of the aisle insist that there is agreement on strongly supporting Israel.
"I think Democrats are unified in that we all want to save as many lives on both sides: Israeli lives and Palestinian lives," said Representative Gregory Meeks, the Democratic ranking member of the House Foreign Affairs Committee. "I don't think anyone is arguing that Israel should not go after Hamas. We are concerned about the people that are caught in the middle."
But that agreement doesn't make passing aid any easier—particularly given that Congress needs to focus first on passing government funding legislation to avert a shutdown on November 17. The emotions involved only further complicate an already difficult situation.
"I have very strong feelings about protecting Israel and getting the support they need. It just feels like one of those issues where we can't fail," Murphy told me. "I probably can't do justice to the metaphysics of Israel support."
Vibe check: Capitol Hill
Israel, Ukraine … Taiwan?
While several elements of the White House's funding request incur strong feelings among lawmakers, one aspect is generally accepted as uncontroversial: around $2 billion for the Indo-Pacific region, and specifically Taiwan. The idea is to bolster Taiwan as a counterweight to China and further prepare for any potential conflict. But, unlike in Ukraine and Israel, the prospect of escalating tensions is almost entirely theoretical.
"It's not a hot spot right now. If it was a hot spot, it would probably be more controversial," said Senator Ben Cardin, the chair of the Senate Foreign Relations Committee, about the provision to offer aid to Taiwan. Which raises the question: If it's not an immediate issue, why is it part of the supplemental agenda?
"I think there's just a strong bipartisan awareness that helping Taiwan defend itself is in the interest of the region, the world, and the United States," Senator Tim Kaine told me. "It may not have the urgency, but it is bipartisan, and it's seen as critically important."
GOP Senator Mike Rounds further explained that aid to Taiwan pertains to the American "defense industrial base" and "getting the resources that would be available for buildup in the Taiwan region." In this vein, the White House also said their supplemental proposal as a whole would invest around $50 billion in the U.S. defense industry.
One can almost imagine the ghost of Dwight Eisenhower tapping the sign: "In the councils of government, we must guard against the acquisition of unwarranted influence, whether sought or unsought, by the military-industrial complex. The potential for the disastrous rise of misplaced power exists and will persist."
Vibe check: Campaign trail
OK, this week's newsletter does include a little something on Tuesday's elections. I chatted with Heather Williams, the interim president of the Democratic Legislative Campaign Committee, on Wednesday. Here are some excerpts from our conversation, condensed and lightly edited for clarity.
Inside Washington: What do you think are the biggest takeaways from Tuesday night?
Heather Williams: Virginia voters resoundingly rejected the Republican agenda and Governor Youngkin in the state [and showed] that abortion remains a cornerstone issue in the states, and that the role and the impact of state legislatures on people's lives have never been clearer.
I.W.: Speaking of abortion, why do you think that it was so pivotal in this year's elections? And how do you expect to see its importance going forward?
H.W.: The Dobbs decision threw this issue to the states; they made it really crystal clear. Voters voted in November of 2022 against abortion bans, and we've seen that continue.
[Voters] care about it because Republicans are just dead set on banning abortion. They do it the minute they get power, the minute their power changes. We saw this in North Carolina with the legislature: The first agenda item the new Republican supermajority had was to ban abortion.… Voters knew in Virginia that they would go to the polls on Tuesday, and if they woke up with a Republican majority in their state House, that there would be an abortion ban.
I.W.: Looking ahead to 2024, what are the biggest states that you're paying attention to? Are there any really critical state legislative elections coming up?
H.W.: We'll have a number of special elections that will still come at the end of the year.… We joke that if it's a Tuesday, there's an election. So we'll have those as we start the year. And then as we move into 2024, we are going to be ensuring that we're returning our majorities in the Minnesota House, the Michigan House, and the Pennsylvania House. And that we are building new majorities in Arizona, both chambers in New Hampshire, in the Pennsylvania Senate, working to build majorities there. And then we're going to be looking at ensuring that we are getting Democratic governors, those newly elected and those that we expect to elect in 2024 in North Carolina: the veto pen. That's really, really important, and it's really important for not only the issue of abortion in the states, but also a governor having the ability to block these really extreme Republican agendas.
What I'm reading
I may be a political reporter, but my second love is art criticism and culture writing. Here are some of my favorite long-form stories I've read lately, political and otherwise:
Pet of the week
OK, I know everyone has already been subjected to photos of my cat, Pumpkin, both in The Run-Up and on X, né Twitter. But come on, look at how cute he is! (Don't forget to email me with submissions of your own pet.)
This article first appeared in Inside Washington, a weekly TNR newsletter authored by staff writer Grace Segers. Sign up here.