On Monday afternoon, a CSX train with 107 tank cars of crude oil from North Dakota derailed into a river near Mount Carbon, West Virginia, sending a giant fireball some 300 feet into the sky. Less than 24 hours later, while rail cars were still on fire, the accident became yet another talking point in the debate over the Keystone XL pipeline.
2 fiery train wrecks in 3 days demonstrate the need for Keystone XL http://t.co/g2cJAPv0qS

— American Thinker (@AmericanThinker) February 17, 2015
Did someone say Keystone pipeline? "Oil Train Derails, Explodes in W. Va., at Least One Tanker Car in River" http://t.co/3hUFDDBLlL @WSJ

— John Bussey (@johncbussey) February 17, 2015
Keystone supporters argue that oil pipelines are safer than railroads. They claim that if President Barack Obama doesn't approve the pipeline, the industry will be forced to ship more crude oil by railroad, leaving the public and environment vulnerable to accidents like in West Virginia.
It's true that oil rail accidents have shot up in recent years, according to McClatchy: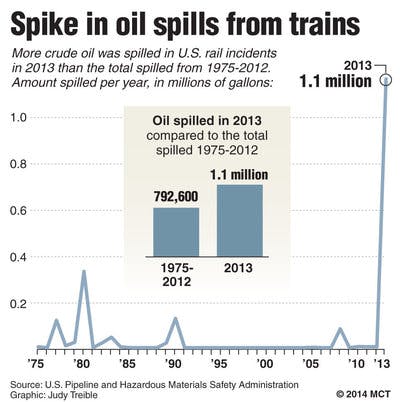 But that doesn't make Keystone less dangerous than train shipments. Trains are more likely than pipelines to have accidents, but their accidents are less environmentally devastating: The International Energy Agency's eight-year analysis of oil spills found the risk of a spill is six times higher for rail than pipeline shipments, but a pipeline accident spills three times as much oil as a rail shipment.
Furthermore, it's unlikely the pipeline will relieve congestion in North Dakota, which is the primary reason for the spike in oil transport. About 10 percent of the nation's crude oil travels by rail, except in North Dakota, where two-thirds of Bakken crude oil moves by train. Senator Heidi Heitkamp, a North Dakota Democrat and a Keystone supporter, had the best argument explaining why this particular pro-Keystone argument fails: "I am not someone who has ever said that the Keystone Pipeline will take crude off the rails. It won't. Our markets are east and west and it would be extraordinarily difficult to build pipelines east and west." Keystone would run south through the U.S., to refineries at the Gulf Coast.
More train accidents like the West Virginia derailment are inevitable, with or without the Keystone pipeline. No mode of oil transportation is entirely risk-free. The better response to Monday's disaster is to press regulators to make rail shipments safer. After a devastating oil-train accident in Quebec, Canada, killed 47 people in 2012, the Obama administration promised tougher rules. So far, the Department of Transportation's solutions are relatively weak, focusing on sturdier train cars and better brakes. The draft rules don't lower speed limits enough, and they don't do enough to improve transparency—so the residents of the next Mount Carbon don't yet know the risks they face.