At Heartland Institute's 10th International Conference on Climate Change, science deniers like Senator James Inhofe are treated like heroes and given standing ovations.
In this world, the "liberal media" can't be trusted (or so I'm told by the bumpers stickers handed out by exhibitors), and conference-goers read the "The Reality News" newspaper, which argues "hard-earned tax dollars are being spent to convince us that our entire life should be dedicated to eradicating this figment of some deranged mind(s)." Another handout, the "Skeptic's Handbook," delivers this talking point: "Carbon doesn't seem to have driven temperatures before; probably isn't doing it now." Most attendees are older white men wearing ties.
Yet the most baffling feature of the Washington conference isn't its science denial and the conspiracy theories, which is familiar fare for Heartland. Rather, it's the logo: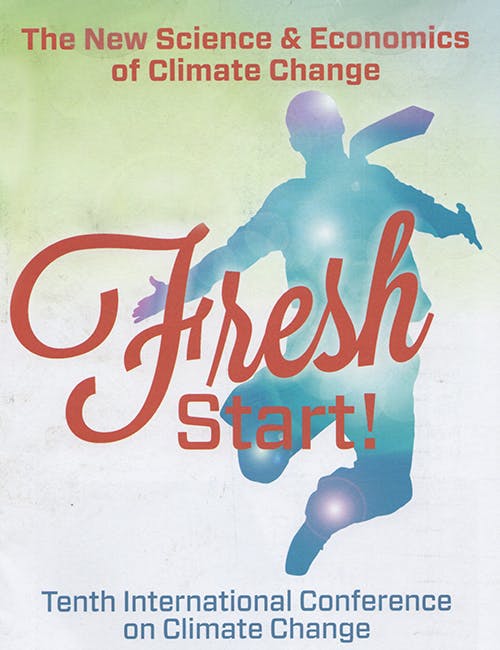 What does it even mean? Twitter had a few theories:
For me, the logo merely was a reminder how Heartland could use its own fresh start. In 2012, the organization had a disastrous campaign that compared those who accept climate change to "murderers and madmen" like Ted "Unabomber" Kaczynski and Osama bin Laden. That same year, leaked documents outlined Heartland's plans to undermine climate science in classrooms. The scandals scared away coporate donors at the very same time that Heartland was trying to increase fundraising from $4.6 million to $7.7 million. The Guardian reported this week that Heartland raised just $3.8 million from dark-money donors between 2011-2013 (the last year for which tax returns are available).
I asked Heartland Institute's senior fellow for environmental policy, James Taylor, what the "Fresh Start!" logo is supposed to mean. Taylor explained that it is about the chance to reexamine the issue with a new Congress in power. Oh, and that it helps counter the "doom and gloom" of climate change.