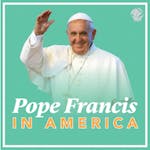 As climate advocates prepare for Pope Francis's arrival in the United States, activists have one victory to celebrate: $2.6 trillion in assets have been committed to divest from fossil fuels, a fifty-fold increase from one year ago. Over 400 institutions and 2,040 individuals have pulled their investments out of fossil fuel companies, according to a report released today by Arabella Advisors measuring the campaign's exponential growth.
But despite the Pope's much-lauded statements on the moral urgency of climate change, the Vatican has not made any changes to the billions of dollars in its financial portfolio invested in fossil fuels.
"It's clear to us that based on the language in the encyclical and off the record conversations with the Vatican that they understand both the value and significance of divestment," said Reverend Fletcher Harper of GreenFaith. Still, the Vatican has only said it may consider divesting, even in the face of Francis's environmental encyclical, Laudato Si, and repeated calls for Francis to step up to divestment.
Over the last several years fossil fuel divestment has evolved from a fringe campaign led by a handful of college campuses to a full-fledged movement. That movement has gained in global scope, with U.S. groups now representing 57 percent of divestment, as opposed to 78 percent last year, according to the report by Arabella Advisors, a firm that advises foundations and philanthropists.
Of the 430 institutions committed to divestment, 126 are faith-based organizations, and Francis's encyclical has encouraged other Catholic groups to act. One of the groups that restructured their investments this year was the Catholic Loretto Community congregation, which explicitly cited the encyclical as backing for their unanimous vote to divest. And on September 21, right before the Pope arrived in the United States, Notre Dame University pledged to stop burning coal within five years and to invest in renewable energy to honor the Pope's environmental legacy—though the Catholic university has yet to commit to divestment.
May Boeve, executive director of 350.org, an organization with strong ties to the divestment movement, sees the Pope's visit as an opportunity to emphasize the growing morality associated with climate change. "Institutions have a moral choice about whether they do business with an industry," Boeve said. "It's not just about divesting, it's about investing in the type of world we want to build."
As the number of institutions and religious organizations backing divestment continues to climb, the Pope has a chance to make an impact beyond rhetoric. If Pope Francis is to solidify his environmental legacy, joining the trillion-dollar divestment movement is a crucial next step.