In recent years Kristen Stewart has taken great pains to shed the skin of Bella Swan, the heroine of the Twilight franchise, only to find herself trapped in a new kind of character. Critics, male critics in particular, have turned her into a withholding figure. In his review of her new movie Personal Shopper, The New York Times's A.O. Scott wrote that she "possesses an uncanny ability to turn her natural charisma into diffidence. You can't take your eyes off her, even as she seems to be making every effort to deflect your attention, to obscure her radiance, to disappear onscreen." The New Republic's own film critic Tim Grierson said there is "something beguilingly mysterious about her that you can't quite quantify. She's there, but she's also not there." Scott and Grierson appear to mean that Stewart is un-giving. She does not move her features around a lot when she is making facial expressions, and her voice stays roughly at the same pitch most of the time. Grierson called this look "placidly edgy." David Edelstein at Vulture wrote that "something in [Stewart] will always resist capture."
The problem with this type of characterization is that it defines Stewart's magic through a gendered absence. Stewart refuses to give herself over to the audience, these critics say, and so she is mysterious and effective through a logic of subtraction. This mysterious woman is a little Dream Girl-ish, if not outright Manic Pixie. How nice to have a leading lady who plays hard to get.
But we don't have to see Stewart this way. Traditionally, hammy Hollywood actresses have offered themselves up on a plate. Kate Winslet, Natalie Portman, Laura Dern, Meryl Streep, Viola Davis, and Jennifer Lawrence over-emote, not because they are incompetent, but because they are acting in the tradition of film melodrama. These women are our Vivien Leighs and Barbara Stanwycks. Doing this type of acting means staring full-faced into the camera with a quivering lip and a welling eye, ready to deliver a full-throated monologue.
Kristen Stewart does not do this for the simple reason that she is a naturalistic actor. Her voice does not modulate wildly because most real voices do not. Her eyebrows do not flail because most eyebrows do not. Stewart does not take something away from her performances in order to tantalize her viewers. Instead, she intentionally fails to reach the pitch of thespian overcookedness audiences are accustomed to.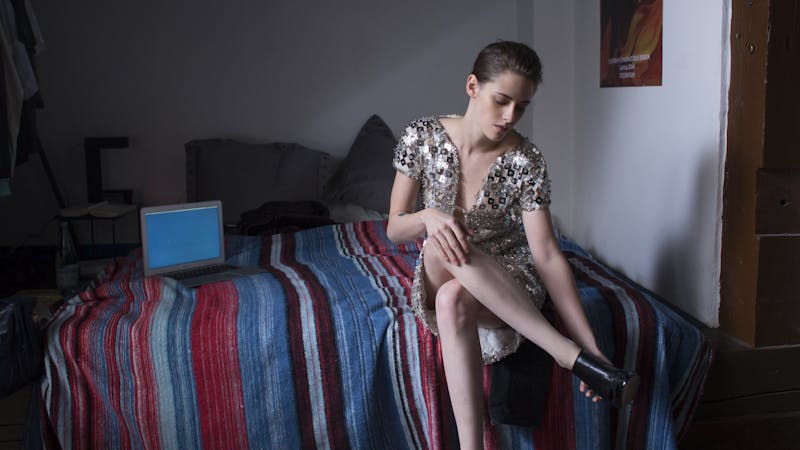 Personal Shopper is the latest movie from Olivier Assayas, who previously cast Stewart in 2014's Clouds of Sils Maria. In that movie, Stewart played a personal assistant in erotic thrall to Juliette Binoche's Maria Enders, a famous actress. Assayas has a signature style of sexual insinuation, a very subtle one. In a key scene from Clouds, Binoche walks on stage to make a speech to a room of gray-haired film enthusiasts. They greet her with lusty applause, bellowing "bravo," and so on. From the wings, Stewart, the young American, gives her an expert wolf whistle, adding herself as a note to the chorus. Her intentions are nonverbal and unmistakable.

In Personal Assistant, Stewart again plays an assistant to a star, this time named Kyra. Again, she is in erotic thrall to the figure she serves. Stewart's character, Maureen, is working as a personal shopper in Paris for Kyra while she waits for a sign from Lewis, her twin brother who died the previous year. They both were born with a heart condition and had some experience with the spirit world. When Lewis was alive, the twins made a pact: In the event of one of their deaths, the other sibling would make contact with the living from beyond the grave.
In a nonverbal paroxysm of grief, as unmistakable as the eroticism of Clouds, Maureen waits, then waits some more. In a number of extremely unusual scenes, she interacts with empty places. She wanders a house, an apartment, another house. Is Maureen speaking with a ghost, as she meanders? If so, which ghost? If not a ghost, then who?
Like Clouds of Sils Maria, Personal Shopper is a movie about doubling. Assayas places Stewart before many doors. It is as if Maureen must try a series of doorknobs in her search for herself, just the same way that Stewart must act opposite a series of charismatic figures to define the person she is on screen—Binoche in Clouds, Julianne Moore in 2014's Still Alice, Dern in 2016's Certain Women. Personal Shopper features many scenes, especially at its start, of Stewart literally opening or struggling to open doors and windows. Assayas's films always show a lot of cigarette smoking. It's a good motif: His characters look for their cigarettes with wandering fingers. They step outside. They look back in through the window. They reflect and are reflected.
Assayas also likes to film fabulous wealth, which is harder to understand. In Clouds, Juliette Binoche wears Chanel; in Shopper, Kyra wears Chanel but also Cartier. Both movies use Baroque chamber music as a sort of hyper-classic backdrop to the action. Stewart's character travels in business class when she takes the Eurostar, ostentatiously pouring herself a free espresso. Why? There's something odd about the glamour in which Assayas clads his stories. It is as if he wants to dispel the idea that poverty signifies reality, despite his naturalistic techniques. Or, on the other hand, perhaps he wants to use wealth to displace his movies out of everyday life and into the mythic realm. But both interpretations sit strangely alongside Stewart's unaffected body language.
Stewart is not a minimalist actor, despite the critics' takes. In Personal Shopper, her hands shake and her eyes fill with tears. She gasps as an atelier assistant zips her tightly into the harness section of a dress, as if Maureen is being forcibly reminded of her own physical existence. In one scene, Maureen masturbates and the viewer knows it is going to happen before she does. Stewart is exceptionally good at acting nausea and authentically retching.
It will take a long time for Stewart to fully fly free of the Twilight legacy. But she has worked hard to become the naturalist she is on screen today. Still Alice, Certain Women, even the slightly hokey Equals and Café Society—these films together represent the beginning of a serious career. As that career builds, the critics will come to see that Kristen Stewart is a screen presence, not an absence.
Perhaps it is her appearance that leads critics astray. Her skin is an even, pale white, and her body lean and angular. Stewart will never palpitate with the showy sexuality of a traditional leading lady. Instead, she has much more in common with the young Juliette Binoche, in movies like Mauvais Sang. Binoche vibrated on screen, her hot eyes and cold skin searing through the plot and straight into the viewer's memory. Time will tell how much of that naturalistic power comes from the strange force that youth puts behind the eyes. But Personal Shopper points to great possibilities in Stewart's future. As long as she continues to resist capture, she'll be doing something right.