The email thread was titled "Blackhawk Travelers," and it included a list of passengers. The first was Scott Pruitt, the head of the Environmental Protection Agency, followed by members of his senior staff and security. "Are we still okay on the luggage front?" Millan Hupp, Pruitt's scheduling director, asked two staffers for Indiana Governor Eric Holcomb. Hupp was unsure whether everyone would be allowed to bring a carry-on. "Yes we should be fine," one of the staffers confirmed.
On August 2, the Indiana National Guard flew Pruitt, Holcomb, and several aides in a Black Hawk helicopter from Indianapolis to the Liberty coal mine in Boonville, according to schedules and emails published in a 24,000-page trove of EPA documents recently obtained by the Sierra Club. What happened once they got there is unclear; the trip was closed to press. According to an EPA press release after the fact, Pruitt discussed "methods to improve environmental conditions, while also safeguarding critical coal mining jobs." It did not mention the Black Hawk.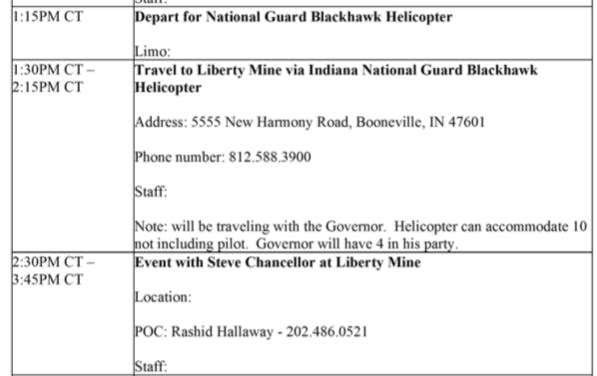 Pruitt's Indiana trip was one of several he took across the country last summer, ostensibly to speak with with local stakeholders about his plan to dismantle clean water regulations. But for the majority of those trips, the EPA did not meet with environmental interests, did not notify the press about Pruitt's whereabouts, and did not make public a schedule of his events.
This lack of transparency suggested that Pruitt had something to hide—and it turned out he did. Reporters soon uncovered that Pruitt's so-called "State Action Tour" frequently featured expensive first-class flights and pricey hotel stays. That kicked off a whirlwind of stories alleging unethical, wasteful, and secretive behavior at the EPA, which has led to calls—even within the White House—for Pruitt to be fired.
The new trove of documents has revealed much more about these trips. Neither the EPA nor Holcomb's office returned requests for comment on the reason for, and cost of, the August 2 helicopter ride. Reached by phone on Tuesday, the Indiana National Guard's public affairs director, Major Charles Wimp, said military-owned helicopters are never used for frivolous purposes. "There is a tremendous amount of clearances and paperwork that go into any use of aircraft," he said.
Black Hawk aircraft are used for executive travel from time to time. In 2016, when he was Indiana's governor, Vice President Mike Pence took a Black Hawk to tour tornado-damaged neighborhoods north of Indianapolis. And when Pence visited Indiana last year, six Indiana National Guard Blackhawk helicopters greeted him at the airpot to take him to the Indy 500.
Pence isn't the only coal-friendly Republican to fly in a National Guard helicopter for an automobile race. About a month before Pruitt's trip to Boonville, Kentucky Governor Matt Bevin delivered a flag at a NASCAR race while "dangling from a Black Hawk helicopter flying high over Kentucky Speedway," according to the Lexington-Herald Leader.
Pruitt's use of a National Guard helicopter to visit the Liberty mine is less defensible than using one to survey a natural disaster or even to celebrate a sporting event, and the fact that he tried to hide information about this and other trips suggests that he knew as much. But when it comes to pleasing polluting industries, Pruitt can't resist doing it in style.