There were at least three Lou Reeds. First and most enduring was the front man of the Velvet Underground, the greaser poet from Long Island who had a cabbie's voice and a knack for writing songs about drugs and sex and salvation that sounded like the gutter side of 1960s rock. Then came Reed the freelance auteur, churning out spotty solo albums and delivering gnomic anti-interviews to the press. (This same Reed licensed songs to The Simpsons and Beverly Hills 90210, and appeared in ads for American Express.) Then, beginning in the 1990s, there was Reed the patron saint of downtown New York, as much an acknowledgment of the city's millennial sterility as a tribute to Reed's genius.

The three versions had an uneasy coexistence, as indicated by Reed's famously volatile temperament. He could berate anyone—"you're a fucking moron," he once barked at a 22-year-old interviewer—but he could also charm a room. Making sense of Reed's multitudes, and cutting through the mythology that enshrined him as some kind of junkie savant, is the task Will Hermes sets himself in Lou Reed: The King of New York. "If you're hoping for some neat totalizing statement or psychological profile to explain Reed, to fix him like a butterfly specimen, you won't find it here," Hermes cautions early, conceding from the outset the foolhardiness of synthesizing such an unruly artist. And yet the biography, all 560 pages, presents a Reed ravenous for adoration: from his mentor, the boozehound writer Delmore Schwartz; from his onetime manager and muse, Andy Warhol; and from an ensemble of star-crossed lovers, confidants, and rivals. Not a psychological profile, then, but surely a window into sentimental Reed lyrics like "the glory of love might see you through."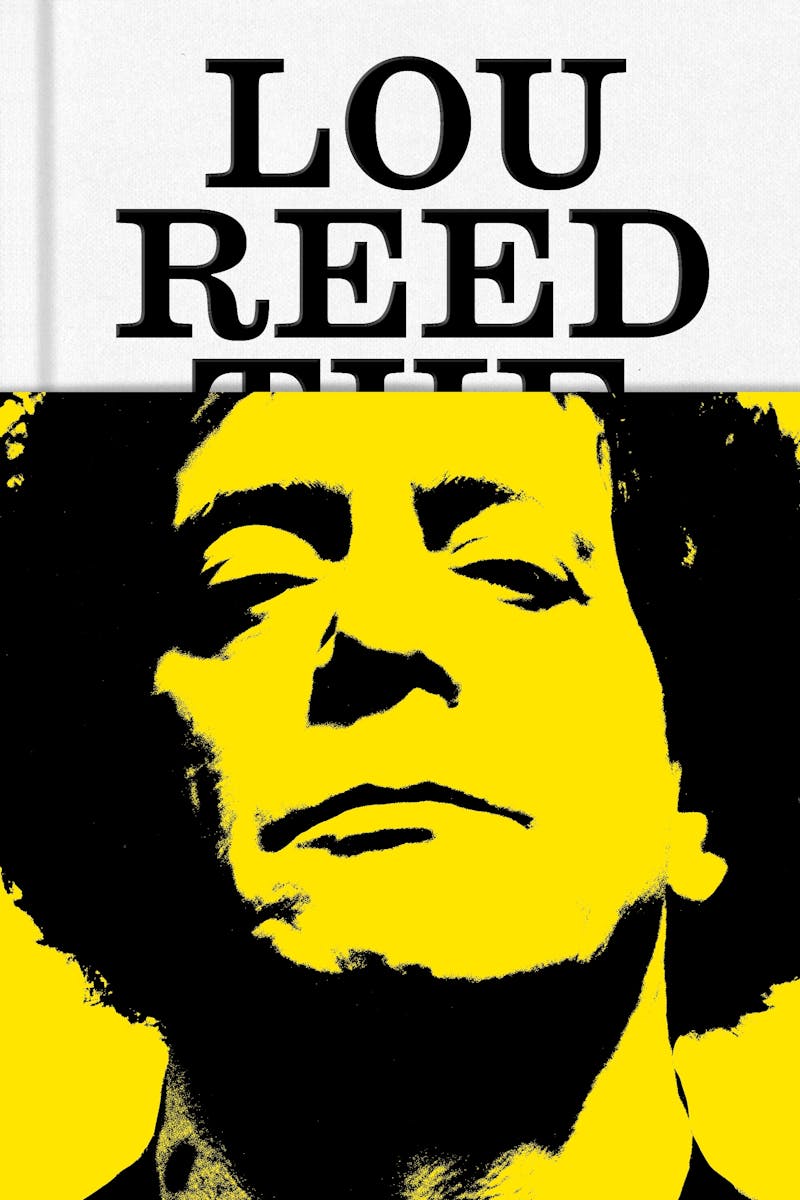 Because Reed's life overlaps with the development of rock and roll, Hermes's book is also a cultural history of the genre. The first single Reed ever bought, "The Fat Man" by Fats Domino, released in 1949, is considered one of the earliest rock records. (There's a distant echo of that song's "wah wah wah" chorus in the "doo do doo" refrain on Reed's "Walk on the Wild Side" from 1972.) As the decades progress in Hermes's book, the various milieus Reed inhabited flash by like tinseled mile markers. There's the underground ferment of Jack Smith, Jonas Mekas, Barbara Rubin, and the New York School poets. There's CBGB and Max's Kansas City. There's the punk upstarts Patti Smith, Television, and Talking Heads. There's the extraterrestrial David Bowie. There's Metallica, regrettably. By the final page, Hermes has traced rock's trajectory from teenage talisman to corporate cash cow to something approaching monumentality: the soundtrack of what used to be called the American Century.

As the book's subtitle indicates, Reed was also a divining rod for New York, tracking and manifesting the city's raw energies. One subtext—which Hermes mostly avoids—is the evaporation of New York's counterculture in the wake of tangled -tions and -isms: gentrification, corporatization, conglomeration, rank careerism, and the ne plus ultra, the internet. Reed's career arguably parallels the city's ruthless professionalization—a cultural mode that shifted its calculus from DIY to ROI, from collectivity to the singular. A hefty biography of Lou Reed is well-timed for an audience now slouching toward Medicare, and their offspring, all basking in nostalgia. He's a taste of something—leather, maybe—plausibly more authentic than anything in the air these days.
Lewis Allan Reed was born in 1942. His father was a certified public accountant who later became treasurer of a company that manufactured potato chip bags. His mother was a homemaker so pretty she'd once been crowned "Queen of the Stenographers of NYC." The family lived on the South Shore of Long Island, in the village of Freeport—"the most boring place on earth," according to Reed— where the local celebrity was "Mr. New Year's Eve": the mawkish bandleader Guy Lombardo.
Reed put together his first band as a junior in high school, initially with the ambition of performing a Little Richard tribute act in the school's annual variety show. A neighbor in the audience was so impressed that he introduced the boys to a rep from the fledgling Time Records. The Shades, as the trio was christened, recorded their debut single in the summer of 1958, with Reed on guitar and backing vocals. "We'd open supermarkets, shopping centers, things like that. We had glitter jackets," recalls one of Reed's bandmates. Although the record deal ended there, it encouraged Reed enough that he continued to play music and even assembled a new band, the Valets (their business card read HERE TO SERVE YOU AND YOURS). Reed handpicked all the covers: songs by Ray Charles, the Cadillacs, and the Isley Brothers, among others.
But Freeport was no place for an aspiring menace to society. Reed enrolled at NYU, where he and a friend started a campus radio program called Happy Art and Precocious Lou's Hour of Joy and Rebellion. The weekly show was introduced by "Up Broadway," a song by the blind New York street performer Moondog, whose style Hermes describes as "unconventional, sophisticated, kooky yet inviting, a mix of found sound, European chamber music, spoken word and global folk." Throw in the free jazz improvisations of Ornette Coleman, whom Reed also revered at that time, and such eclecticism could just as well be the template for the Velvet Underground.
During his freshman year, Reed suffered an "emotional breakdown" that led to his withdrawal from college. He returned to Freeport, where a doctor advised him to undergo electroconvulsive therapy. "They put the thing down your throat so you don't swallow your tongue and they put electrodes on your head. That's what was recommended in Rockland County then to discourage homosexual feelings," Reed later told a journalist. Hermes notes that it was rare to prescribe ECT as a sexual corrective, but the experience was vital to Reed's own mythmaking and was the first marker of his outlaw status. He memorialized the ordeal in "Kill Your Sons," a barbed track from his 1974 album, Sally Can't Dance:
All your two-bit psychiatrists are giving you electric shock
they said they'd let you live at home with mom and dad
instead of mental hospitals
but every time you tried to read a book
you couldn't get to page 17
'cause you forgot where you were
so you couldn't even read.
Whatever the rationale for Reed's ECT, his relationship to homosexuality was often ambiguous. He patronized the Hayloft, a gay bar on Long Island that was also the hangout of future Warhol superstar Candy Darling, but an acquaintance doesn't recall Reed cruising for sex there: He was "just fascinated with gay culture." And although Reed proclaimed himself gay from "top to bottom," he also once declared that he'd "rather have cancer than be a faggot." Such provocations weren't unusual for him (a song on his 1978 album, Street Hassle, is titled "I Wanna Be Black"), but his flippancy suggests discomfort with certain queer stereotypes. "It's just that my gay people don't lisp," he explained to a journalist. "They're not any more affected than the straight world."
Reed's lyrics feature characters who, in the parlance of the time, were cross-dressers, and in "Some Kinda Love," from the Velvet Underground's eponymous 1969 album, he declares, "no kinds of love / are better than others." His relationship with the gender-nonconforming Rachel Humphreys, whom he met in 1974 at a Greenwich Village show bar for drag and trans performers, personalized this adage. "It was a public romance largely unprecedented in mainstream pop culture, and their matter-of-factly out-of-the-closet attitude was not without risk. Yet both came off, at least for a time, as fearless," Hermes writes. Still, Reed didn't have public romances with men, and in the 1980s and '90s, as he campaigned on behalf of various social causes, including performing at Farm Aid, he was conspicuously absent from AIDS activism.
The other event that was central to his early self-conception was his return to college in 1960, to Syracuse University this time, where he met the writer Delmore Schwartz. Best known for writing the story collection In Dreams Begin Responsibilities, which made him a literary darling at 25, the middle-aged Schwartz had entered a long tailspin. Frequently drunk, hooked on amphetamines, and in and out of institutions, he was nonetheless idolized by the young Reed, who called him "the greatest man I ever met." Schwartz urged Reed to think of himself seriously as a writer. "To cultivate an appreciation for [James] Joyce's mastery of realism, Schwartz suggested that his students simply walk around Syracuse and observe the details. He laid out the idea that art combined lived experience with the fabricated," Hermes writes. This method became Reed's approach to songwriting. "Dirty Blvd.," from his 1989 album, New York, for example, combines gritty realism with imagined vignettes of the urban underbelly. A young boy named Pedro lives in a hotel with his abusive father and nine siblings. At night, he works the streets: "a small kid stands by the Lincoln Tunnel / he's selling plastic roses for a buck / the traffic's backed up to 39th Street / the TV whores are calling the cops out for a suck."
Something else happened at Syracuse that proved formative for Reed and his legacy. At some point during his senior year, he began shooting heroin. The details are murky, but the outcome was real enough: Reed contracted hepatitis from sharing needles. He also hit upon the material that inspired two of his seminal songs: "Heroin" and "I'm Waiting for the Man." The former is an incantatory, seven-minutes-plus fusillade that mimics the rush and comedown of a fix, and it contains some of Reed's most evocative imagery:
I wish that I was born a thousand years ago
I wish that I'd sail the darkened seas
On a great big clipper ship
Going from this land here to that<
On a sailor's suit and cap
<
Away from the big city
Where a man cannot be free
Of all of the evils of this town
And of himself, and those around
Oh, and I guess that I just don't known
Oh, and I guess that I just don't know
"I'm Waiting for the Man" is a variation on the same theme, set to an incongruously frisky beat and conveying Reed's state of mind, if not his daily routine:
I'm waiting for my man
26 dollars in my hand
Up to Lexington 1-2-5
Feel sick and dirty
more dead than alive
I'm waiting for my man
By the time he graduated from college in 1964, Reed had everything—the trauma of mental illness, the fascination with sexual otherness, the mystique of drugs, the poetic sensibility, and the streetwise mouth—that fueled the rest of his creative life.
The Velvet Underground was named after a cheap paperback, a sociological quickie that documented stories of "spouse-swapping, orgies, queer sex, bondage, and S&M play," Hermes writes. It was an appropriate namesake for a band whose catalog features just such perversions. Consisting of the guitarist Sterling Morrison, the drummer Moe Tucker (who replaced the short-tenured Angus MacLise), the multi-instrumentalist John Cale, and Reed, the group caught the attention of Andy Warhol, who first heard them perform at Cafe Bizarre in Greenwich Village. "Their music was beyond the pale—way too loud and insane for any tourist coffeehouse clientele," Warhol wrote in his memoir. "People would leave looking dazed and damaged." As someone accustomed to alienating audiences, Warhol saw potential and offered to manage the group.
His first innovation, suggested by the director and Factory adjutant Paul Morrissey, was to add the German chanteuse Nico to the Velvets' lineup. A chilled blonde fashion model turned actress and singer, Nico had met Warhol in a Paris nightclub in 1965. She was everything Reed wasn't: glossy, chic, palpably exotic, and naturally charismatic onstage. Warhol booked the full group to play the Exploding Plastic Inevitable, his new multimedia "happening" on the Lower East Side. Underground filmmakers projected their work (or abstracted images) onto the whitewashed walls while the Velvets provided dissonant or droning accompaniment. Strobes and a mirror ball added a touch of synesthesia. As Hermes notes, the extravaganza drew a mix of celebrities—Jackie Kennedy, Salvador Dalí, Sammy Davis Jr.—and literati such as the poet John Ashbery, who, having never attended such a spectacle, "was so overloaded by the sensory barrage he burst into tears, exclaiming, 'I don't understand this at all!'" Factory habitués tunneled through the crowd injecting partygoers with speed.
Over four days in 1967, the Velvets and Nico recorded their debut LP, simply titled The Velvet Underground and Nico. It peaked at number 171 on the Billboard chart and spawned no hits—only successive generations of imitators and superfans, and arguably the most recognizable album cover in history. Perhaps the most astute piece ever written about the band was by the New Yorker music critic Ellen Willis, who identified their psycho-spiritual impetus:
The point was not to glorify the punk, or even to say fuck you to the world, but to be honest about the strategies people adopt in a desperate situation. The Velvets were not nihilists but moralists. In their universe nihilism regularly appears as a vivid but unholy temptation, love and its attendant vulnerability as scary and poignant imperatives. Though Lou Reed rejected optimism, he was enough of his time to crave transcendence.
In the end, the story of the Velvet Underground is like the story of any band that briefly bottled lightning only to discover mortality after all. Egos swelled. Love affairs intruded. Tensions turned vindictive. There were defections and shake-ups. The band released three more albums—none quite matching the cagey sublimity of the first—before calling it quits. Reed announced he was giving up music to become a poet. Such a transition seemed perfectly reasonable in New York then.
In fact, poetry and rock music were not at odds, as Reed and his contemporaries—Bob Dylan, Joni Mitchell, Neil Young—had demonstrated. "I am a writer," Reed insisted to Schwartz years before. "I'm just going to use music." And so his nearly unclassifiable and inexhaustible solo act was of a piece with his literary calling. His 20 albums range from glam rock forerunner (Transformer, produced by David Bowie) to tragic rock opera (Berlin) to instrumental saw blade and dial tone (Metal Machine Music) to sincere pop schmaltz (Set the Twilight Reeling). Several of these records garnered negative or mixed reviews, and they typically didn't sell as well as Reed wanted.
Post-Velvets, Hermes's book is often a slalom of embittered funks and sluggish returns. Lou Reed, the self-titled debut, "was released … to lukewarm reviews." Transformer "didn't immediately transform Reed's career." Berlin "was not universally heralded as the work of a great dramatic poet." Sally Can't Dance, although commercially successful, had "an unappealing whiff of cynicism" about it. Critics "ran hot and cold" about Coney Island Baby. Even Warhol tendered a harsh judgment of his former protégé: "When John Cale and Lou were the Velvets, they really had a style, but when Lou went solo he got bad."
But the book's final stretch is also the story of how Reed mellowed. In 2008, he married the artist and musician Laurie Anderson. They bought a house in the Hamptons. Reed practiced tai chi every day. Accolades poured in; he was twice inducted into the Rock & Roll Hall of Fame. His final album, Hudson River Wind Meditations, is a collection of wordless relaxation tracks. When Reed died in Anderson's arms on a Sunday morning in 2013, his last words were so poignant they could have been scripted: "Take me into the light."
Time has redeemed many of Reed's supposed misfires, particularly Transformer, Berlin, and Metal Machine Music. We can now see where he fits on the continuum of punk, post-punk, and New Wave, as well as in the larger sweep of New York's avant-­garde. In his 1975 Rolling Stone review of Metal Machine Music, James Wolcott memorably skewered the album as sounding "like the tubular groaning of a galactic refrigerator"—a sentiment most of his fellow critics echoed. Four decades later, Mark Richardson, writing in Pitchfork, hailed the album as "exhilarating" and "beautiful." What explains this about-face?
As Brian Eno supposedly quipped, the first Velvet Underground album initially sold only 10,000 copies in its first five years, but everyone who bought a copy started a band. And so Reed's influence as both a figurehead and a solo act diffused across generations—through Patti Smith, Television, Talking Heads, and the New York Dolls, on through to Sonic Youth and R.E.M. and the Cowboy Junkies, to, more recently, the Killers and (most self-consciously) the Strokes. As I write this, Al Green has just released a cover of "Perfect Day," a beloved Reed standard from 1972. When Reed performed at the White House in 1998, he was something of an elder statesman himself, a rock veteran who had grown up alongside the genre and harassed it into his own abrasive, literate image. His best music is "a perfect balance between rock 'n' roll's unhinged id and its intellectual superego," Hermes writes, and so Reed became synonymous with a style of rock that was at least nominally "pure," whatever its corporate imprimatur.
One other thing Reed has come to embody: a New York that exists only in memory, a city of unbridled id and romantic sleaze, "something like a circus or a sewer," as he sang. He connects us to a place where degradation was currency but redemption always in the offing—by some measures, the recipe for a perfect rock song. New York ain't what it used to be. But as long as we pretend otherwise, Lou Reed will be its mirror.