Endless War on a Dying Planet
The dual tragedies of war and ecological collapse in Israel and Palestine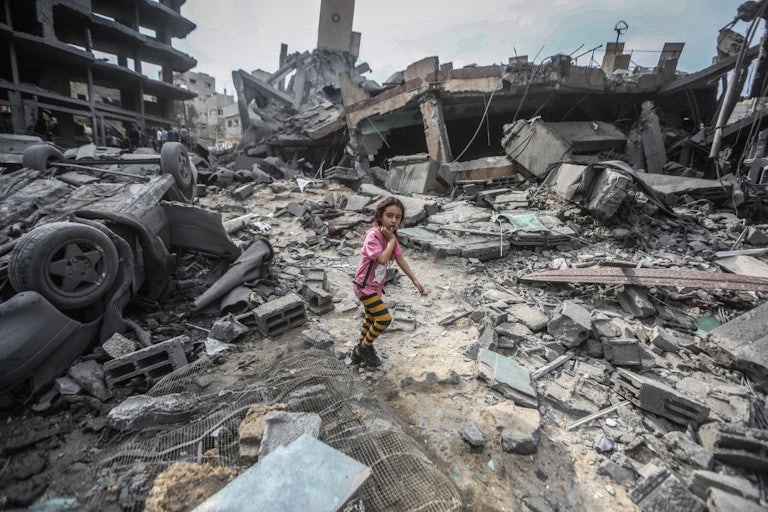 picture alliance/Getty
A Palestinian girl walks on rubble following Israeli airstrikes in Gaza City in October 2023.
I spent the past week glued to my phone, as I'm sure many of you did, scrolling through endless news and horrible videos of the violence in the Middle East.
Sometimes, when global disasters or conflicts happen, people will whip up an infographic pointing out the (occasionally tenuous) connections to climate change; I generally roll my eyes when someone tries to shoehorn climate into an issue that's not particularly relevant. But in the case of Israel and Palestine, the land that's being fought over is changing in unmistakable ways—ways that are helping perpetuate a cycle of oppression and violence. Understanding how climate and this conflict are tied together is, for me and for many others, adding another layer of tragedy onto an already heartbreaking situation.
Israel and Palestine are located in one of the most climate-vulnerable areas in the world. Temperatures in the Eastern Mediterranean and Middle East are rising almost twice as fast as the global average, an international group of scientists concluded last year; they are expected to rise 0.81 degrees each decade through the end of the century. Simultaneously, precipitation in Middle Eastern and North African countries has declined by over 8 percent each decade since the 1980s.
Both Israelis and Palestinians would be struggling to adapt to these challenges even if there were peace. But this bloody conflict has only served to exacerbate the environmental tipping points. While both Israel and Palestine are affected by sea level rise and the loss of coastal territory, the impact is especially severe on the Gaza Strip because it is one of the most densely populated places on earth, and Palestinians are not allowed to expand beyond the militarized borders. Meanwhile, in portions of the West Bank, Palestinian farmers say that settler occupation and violence have blocked them from their regular water supply, forcing them to pay high prices for water as natural sources decline. In Gaza, where much of the electricity is supplied by Israel, power outages dragged on this summer as demand for air conditioning skyrocketed, creating dangerous conditions for people who need ventilators to breathe.
Ecosystems aren't beholden to borders; the environmental harms wrought on one population by the powerful government next door can sometimes boomerang. Israel's control of water resources in the West Bank has helped create a huge sanitation problem that poses an immediate and dire threat to Palestinians but also a threat to Israelis, as untreated sewage flows from Gaza into the Mediterranean Sea. And while some communities living in the West Bank make a living burning electronic waste imported from Israel, the cancerous smoke is causing health problems on both sides of the border.
In recent years, international environmental groups have begun to emphasize the conditions in Palestine as not just a human rights issue but an environmental one.
"There is a clear separation between how things are being run in Israel and how they are being handled in the West Bank and the Gaza Strip," Muna Shaheen, a member of One Climate, an Israeli-Palestinian group founded to draw attention to the ecological impacts of the crisis, told the Israeli newspaper Haaretz in 2021. "Israel's attitude toward the West Bank is like a garbage bin. It's completely ignoring that we all share the same sky, air and land. It's simply stupid."
In an age of escalating conflict, following the hottest summer on record, there seems to be no untangling these parallel tragedies of war and climate. The Israeli government, as it launched retaliatory attacks last weekend, also announced a full blockade of Gaza, including blocking water supplies to residents. On Wednesday, the Gaza Strip's sole power station ran out of fuel after Israel refused to let more supplies in; hospitals across the region now face imminent blackouts as they attempt to care for victims. The U.S. military—which is estimated to emit more carbon dioxide than many countries—is mobilizing to provide even more support to Israel. Iran, a supporter of Hamas, is the world's biggest fossil fuel producer that has not signed the Paris Agreement; inside its borders, its citizens are facing catastrophic levels of air pollution and are being forced to migrate as droughts, storms, and floods destroy the land. We keep ruining our planet as we kill each other, and one murderous cycle feeds into another.
"Everyone here is busy with fighting over the land," Shaheen told Haaretz. "But in another minute, we won't have land to fight over. It's insane, in my opinion. The house is burning and people are fighting over who will enter it first. Wake up, God damn it!"
Good News, Bad News
Over the weekend, Governor Gavin Newsom signed into law a bill that will require large companies doing business in California to disclose emissions from all points in their supply chains.
Floods and landslides in Cameroon's capital city of Yaoundé killed at least 30 people on Sunday.
Stat of the Week
224 hours
That's the amount of time each year that Dammam, Saudi Arabia, could experience conditions that are too humid for the human body to handle by the end of this century, even if the world meets the goals of the Paris Agreement, a new study finds.
Elsewhere in the Ecosystem
Al Jazeera profiles the divers still looking for the bodies of the thousands of people thought to have perished in last month's devastating dam break in Libya:
The eerily quiet divers pile onto boats to jump into the sea whenever the weather and waves permit, trying to salvage the bodies still in the waters.

The storm burst two dams above Derna, causing floods that washed through the city, wiping out the landscape, sweeping away buildings and obliterating whole neighbourhoods. The death toll is estimated at thousands, with thousands more reported missing.

"It's a city down there. More so in the earlier days, as it was populated with bodies. But there's still a city down there," said one of the divers.
Read Ahmed Zidane's full piece at Al Jazeera.
This article first appeared in Life in a Warming World, a weekly TNR newsletter authored by contributing deputy editor Molly Taft. Sign up here.