There's a certain kind of woman who looks like she's made of solid gold. Golden women have hair that is about the same color as their skin, and light bounces from their cheekbones and lips and ponytails and earrings as if the whole package was carved from one gorgeous material. Golden women are gold all the way through, and that must be how Goldie Hawn got her name.
With Hawn in her first movie role in 15 years (Snatched, with Amy Schumer), people everywhere are thinking about Goldie Hawn. Her story is a happy one: At 71, she flounces with leonine beauty and contentment. This month, she and her partner of 34 years, Kurt Russell, were honored with a double star on the Hollywood Walk of Fame. Her kids, including Kate Hudson, are happy and successful. So, there's not much torture to this particular star. She neither flopped into obscurity nor did she develop from cute comedy girl into grande dame thesp. She's a happy lady who has made happy movies, and now she's back.
How does cinema deal with that kind of legacy? In order to make sense of her, I attended almost every screening of the Quad Cinema's Goldie Hawn retrospective last week. I sat there mostly alone. She's a blind spot in cinematic history, except for connoisseurs of camp. "Goldie Hawn, huh," one movie buff mused in the Quad lobby. "Weird choice for a retrospective."
---
"These gnats keep landing on my wet nail polish," Joanna Stayton wails. "I guess I'm supposed to walk around with their little corpses stuck to my fingers?" Thus begins Hawn's starring role in 1983's Overboard, in which she plays the nemesis-turned-beloved of Russell. While she screams her demands, the brittle Joanna wears sunglasses that that could have come straight off Elton John's face, atop a swimsuit from space. "I'm not bored!" she screams as she pushes Russell overboard. "Everyone wants to be me!"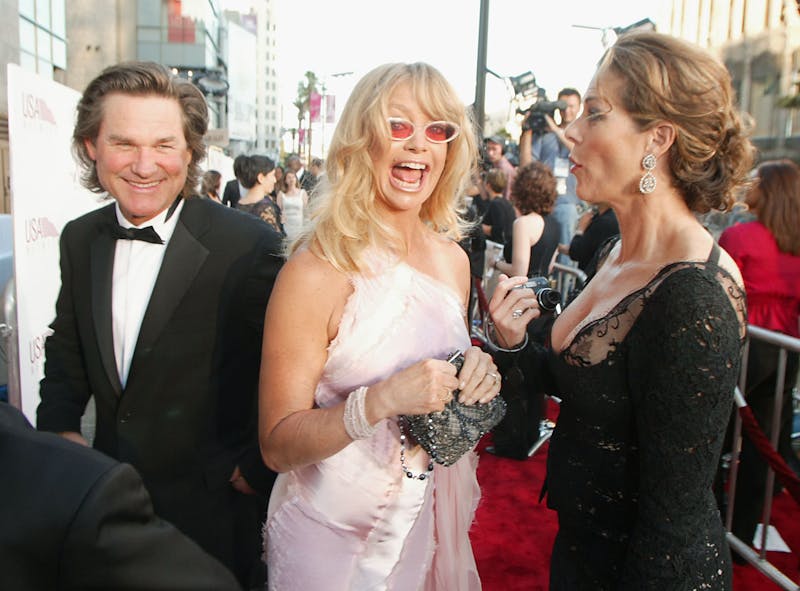 True enough. Overboard was the highlight of the Quad's "Golden Goldies" season, which also featured classics like Private Benjamin (1980), Swing Shift (1984), Seems Like Old Times (1980), and more. Hawn's hairstyle is exactly the same in each of these movies except for Swing Shift, a period flick set during World War II. In that, she also has blonde hair that hangs a little past her shoulders. But bouncy bangs were a no-go, so they stuck her in a wig—a bad one.
Legend has it that Hawn convinced Reese Witherspoon to take the lead role in Legally Blonde, likening the opportunity to her own in Private Benjamin. Indeed, the two movies are substantially similar: Blonde, overprivileged idiot shows up unprepared for rigorous training, ends up excelling against everybody's expectations. Hawn is a better physical comedian: When shoved over by a military man, she flails to earth, ankles wobbling off her high heels. If pushed, I'd say that Private Benjamin is the funnier picture. After all, Private Judy Benjamin ends up in the army while grieving over a husband who dies in the throes of passion on their wedding night, as the couple has unsatisfactory sex on the bathroom floor.
Swing Shift is a ridiculous movie, although I enjoyed it because it was the only time I had company at the movie theater throughout my Hawn-athon. In Swing Shift, Hawn plays a housewife who finds both love and autonomy in a factory manufacturing airplanes for the WWII troops. She's really not a great serious actress, but the film is palatable fun. The movie is in the history books anyway, bad or not, since on that set Hawn met Kurt Russell, her co-star through life.
The Russell-Hawn dynamic is perfect. He's beefcake mixed with an elegance that may only derive from his resemblance to Patrick Swayze. Her goofball fluff bounces off his big bronze chest. Today, the couple appear to have remained very much in love. Hawn regularly instagrams Russell above captions that beam with their luck and joy. When Russell leaps into the sea to unite with Hawn at the end of Overboard, it's like watching a rainbow shine out of a Greek statue.
---
Goldie Hawn's oeuvre is marked by a consistency enjoyed by few comic actors in Hollywood, let alone women. Her style reminds me of Steve Martin (they both smile through their jokes and open their eyes very wide) but her early career echoed that of the British Carry On star Barbara Windsor. She was the giggling bikini babe in black and white, a moment of attractive respite among punchlines. After stints as a go-go dancer, Hawn started out on Good Morning, World in 1967-68, then got famous on the sketch show Rowan and Martin's Laugh-In. She was a regular on that show from 1968 to 73.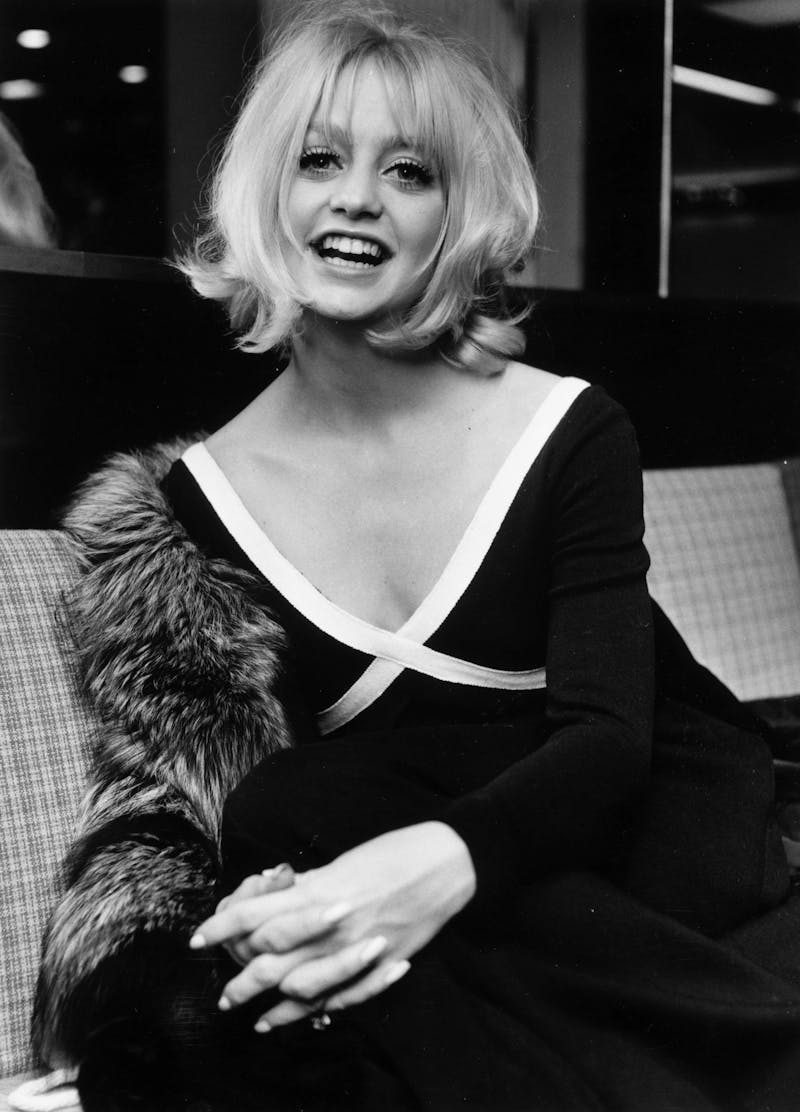 In 1970 Goldie Hawn was in There's a Girl in My Soup, a bad movie with an extremely good title. By then she had won an Oscar for 1969's comedy Cactus Flower. In that The Apartment-esque movie she played a suicidal girl named Toni who is revived by a mouth-to-mouth resuscitation that becomes an actual kiss. It's kind of a dumb movie, but Oscars for comedies are few and far between, and one can't imagine Hawn winning for a similar role if she had started her career 30 years later.
The early '80s saw Overboard, of course, as well as movies like Protocol and a Playboy cover. But most viewers of my generation know her from the 1990s classics Death Becomes Her (1992) and The First Wives Club (1996). It's hard to tell whether I mix up those movies because they were on TV a lot when I was little or because she actually plays similar characters. In both, she is the ur-Goldie Hawn: a pretty blonde lady whose intelligence is hidden by an obsession with her own looks, pratfalling likeably through a good plot.
It takes serious skill to play so dumb, especially to do it over and over again without wearing out the trope. Part of it must be down to Hawn's golden looks. She's beautiful, but she's always had that funny extra element to her face, specifically a lower lip that goes rectangular when she smiles. She can act through her whole body, walking snootily across the deck of a ship, wet toenails splayed. She's great with dogs (she has six in Seems Like Old Times), and she can act while swimming, crying, and pretending to be fluent in French.
Hawn's career is a gem from Hollywood's past, a beautiful thing from an archive. She has no equal in our time, in that there is simply no equivalent actress who is so comedy-exclusive and also so successful. As she returns to our screens, mourn the loss of this archetype. The persistence, levity, and glow of Goldie Hawn has lit up the American cinema of my lifetime. We will not see her like again.