The National Rifle Association isn't invincible after all. The powerful gun lobby has lost lucrative business partnerships with dozens of companies since the Valentine's Day massacre at Marjory Stoneman Douglas High School in Parkland, Florida. Under the heat of public scorn—fueled by the activism of teenage survivors—the NRA lost business deals with insurers, airlines, major car rental businesses, banks, a wine manufacturer, and a hearing aid company. Assault weapons manufacturers are also losing business, after ThinkProgress published a list of banks that finance them.
Public opinion doesn't always matter in politics. Though support for gun control is at a record high, the issue is a non-starter in Congress. But public opinion certainly matters in business; the majority of Americans won't buy products from companies they believe to be unethical. The customer is always right, and at the moment, many businesses believe that their most important customers don't like the NRA.
The recent success of the gun control movement in the corporate space is instructive for progressive activists of every stripe today. But this is especially true on the issue of global warming. Like gun control, climate action has sweeping public support but not enough in Washington. Both issues are a matter of life and death. And just as banks have partnered with the gun lobby, they have also provided billions to fossil fuel companies that exacerbate climate change. They're ripe targets for environmentalists.
Wells Fargo and JPMorgan Chase, two of the "big four" U.S. banks (along with Bank of America and CitiGroup, are prime corporate targets for the environmental movement. Wells Fargo is already under pressure after the Parkland massacre; on Wednesday, Bloomberg revealed the bank to be "the preferred financier for the U.S. gun industry," helping gun manufacturers access $431.1 million in loans and bonds since the 2012 shooting at Sandy Hook Elementary School in Newtown, Connecticut. Wells Fargo and JPMorgan Chase are also two of the preferred financiers for the U.S. fossil fuel industry's most controversial companies and projects.
Both banks, for instance, recently renewed their participation in a set of $1.5 billion loans to TransCanada, the company behind the yet-to-be-completed Keystone XL pipeline. The $8 billion project would transport high-emitting tar sands oil from Canada down to the Gulf Coast. Wells Fargo says the loans "are for general corporate funding" of TransCanada as a company, "and not for any project funding" of the pipeline specifically. But TransCanada is a major transporter of tar sands, a thick form of oil that is far more carbon-intensive to extract than conventional crude and far more difficult to clean up when it spills. General corporate funding for TransCanada means corporate funding for tar sands production.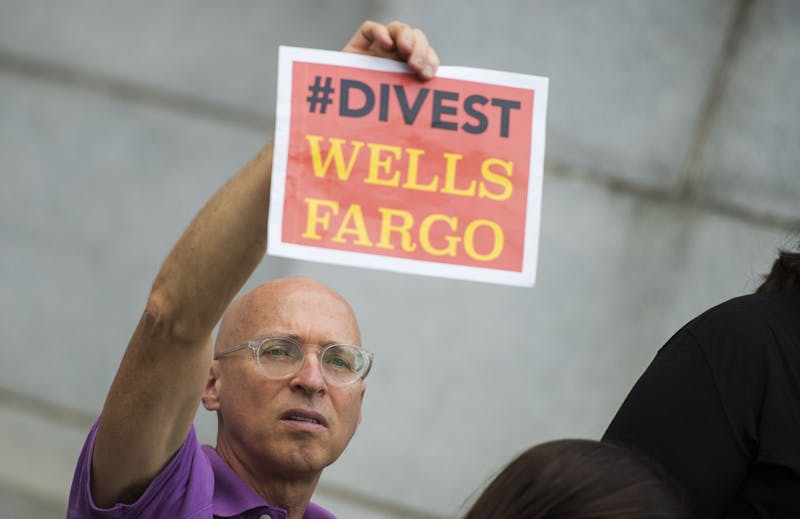 JPMorgan Chase hasn't issued a statement on the TransCanada loan, but the bank is the top U.S. funder of tar sands oil, according to a November report released by a coalition of environmental groups. The bank invested $2 billion in tar sands oil in the first three quarters of 2017, the report shows—a 17 percent increase from the year before. According to another report from the coalition, "Banking on Climate Change," JPMorgan Chase is the U.S. bank that provides the most funding for "extreme fossil fuels"—a reference to tar sands oil and coal, which are the highest-emitting, and conventional oil projects in sensitive environments like deep sea waters and the Arctic. JPMorgan provided $22 billion in direct and indirect financing for those types of projects over the last three years, the report showed.
The controversial Dakota Access Pipeline—the owners of which are currently considering expanding its capacity—was completed this year with help from both banks. Wells Fargo provided $315 million for the $3.8 billion project, and JPMorgan provided $275 million. They weren't the only players, though: 17 banks were part of the $2.5 billion loan that ensured the pipeline's completion. That loan was led by CitiGroup, which wrangled money from other lenders. Bank of America, Goldman Sachs, TD Bank, and PNC Bank also participated, according to the "Banking on Climate Change" report.
Every major U.S. bank, it seems, funds the fossil fuel industry in some way. That's to be expected: The U.S. economy still runs largely on oil, and will for some time. Demanding that banks avoid the fossil fuel industry altogether is unrealistic, for now, but they could be discouraged from investing—directly or indirectly—in high-emitting, potentially dangerous projects.
Some major banks have already ceased such investments. BNP Paribas, the second-largest bank in Europe, announced in October that it would stop financing tar sands projects and all companies with more than 30 percent of their business in tar sands. At least 14 major international banks "have ruled out direct financing for new coal mines globally," according to the "Banking on Climate Change" report. Other banks, including Credit Suisse, Goldman Sachs, HSBC, JPMorgan Chase, and Morgan Stanley, restrict funding for new coal-fired power plants, but only in rich countries (the theory being that developing countries need the fuel).
Banks don't rely on high-polluting fossil fuel projects to survive. But fossil fuel companies, in most cases, need financing for their high-polluting projects. "Sometimes, a huge fossil fuel company like Chevron or BP can have enough money to go drill somewhere or build a pipeline out of their own accounts," said Ben Cushing, a campaigner for the Sierra Club's Beyond Dirty Fuels initiative. "But a lot of these companies are in debt, and if they didn't have these loans and endless credit from banks, some of these projects wouldn't be getting built."
The big banks have the power to fight climate change, if they choose to wield it. Will they ramp up investment in clean energy, or continue to fund huge fossil fuel projects that worsen climate change? Consumers have the opportunity to influence that choice. It's their money, tucked in personal checking and savings accounts, that helps finance these projects.
It would take a gargantuan movement of people threatening to move their money—a sustained social media campaign of millons—to convince banking executives to foreswear the likes of TransCanada. But the Parkland teenagers proved that such a broad shift can happen in a short amount of time. And the climate movement has its own growing, passionate groups of teenagers who are organizing to ensure that they inherit a livable world. It's only a matter of finding the right moment to strike.