In the closing days before the November 2020 election, Amy McGrath, a retired Marine fighter pilot challenging the powerful Republican incumbent Senator Mitch McConnell in Kentucky, sent a series of email blasts to her followers. The race was "tightening," one said, and she needed more money "to hit Mitch harder than ever before." Another urgent-sounding appeal hinted that a cash crunch might be at hand: "After tonight, we'll have to make some big choices about the budget." Yet another warned, "[W]e simply can't afford to scale back any of our programs in the final days of this election."

There was little evidence the contest was tightening. McGrath's internal polls late in the summer gave her campaign team at least a little hope, but by October that was no longer the case. As for money, she already had enough. In fact, she had raised more than enough—tens of millions of dollars more—than what was needed to run a robust campaign in the state of Kentucky. By Election Day, McGrath had brought in a record-obliterating $94 million—$63 million more than had ever been raised for a campaign in Kentucky. McConnell dramatically stepped up his fundraising this time around, but she still outpaced him by $27 million.
Modern political campaigns like McGrath's are multimillion-dollar pop-ups. The operatives involved in them raise the money, spend it, shut it all down after Election Day, and move on. They are not accountable to a board of directors or to the donors who fund the campaigns. A big chunk of the cash raised from donors comes back to the campaign pros in the form of fees and commissions for creating TV and digital advertising—for placing those ads, which is known as media buying—and for the fundraising itself. McGrath's campaign manager, Mark Nickolas, had stepped away from politics for six years before getting back into the game to work with her. He viewed himself as an outsider and was critical of the campaign ecosystem. "An incestuous fucking orgy of money," is how he referred to it in one of our conversations.
The amount of advertising McGrath's campaign was able to buy is almost incomprehensible. She ran 83,052 television spots in 2020. On digital, primarily Facebook and Google, McGrath had 422 million impressions, according to the firm AdImpact—meaning that was how many times someone came into contact with her message on their phone or other electronic device, if even for a moment.
But McConnell routed her in the only metric that ever matters. When the ballots were counted, he had 417,000 more votes—58 percent of the electorate to her 38 percent. (A Libertarian candidate got 4 percent.) It was the seventh time McConnell had won the seat and—despite the enormous war chest built by his opponent—his second largest margin of victory.
The same pattern held in other states where Democrats challenged long-entrenched incumbents whom progressives regarded as archvillains. Donors gave and gave to the challengers, largely via ActBlue, an online fundraising platform that makes political giving as easy as one-click purchasing on Amazon.
In Maine, Sara Gideon, a Democrat running against Susan Collins, raised so much—$74.5 million—that there were not enough ways to spend it. She ended up with an astonishing $14.8 million in unspent funds sitting in her campaign account. Gideon led Collins in almost every public poll in the last two months of the campaign. But she didn't come close, losing by 8.6 percentage points.
In South Carolina, Jaime Harrison, who challenged incumbent Lindsey Graham, raised $57 million just in the months of July, August, and September—on his way to over $130 million by the end of the campaign. Graham won by 10 points.
Republican fundraising practices in 2020, and especially the Trump campaign, were beyond sleazy. The Trump team's most brazen rip-off of donors involved pre-checking the digital forms on which his supporters made donations to make their contributions recurring—fine print that was all but hidden from them, The New York Times has reported. The Trump campaign and accounts it shared with the Republican National Committee refunded more than $135 million to donors who discovered, belatedly, that their bank accounts were essentially being secretly drained.
But prominent Democratic candidates also raised money in highly deceptive ways. "FINAL CABLE PAYMENT DUE," read the top of an email sent on the day before the November election from the Harrison campaign. "We just got a surprise bill from the cable company. So we need to raise $384,599 to keep our TV ads running until the polls close." What, he was in danger of having his HBO cut off?
Unlike Gideon, Harrison, now the chair of the Democratic National Committee, did manage to spend most of what contributors sent his way—the largest portion of which, $60 million, was sent to one big strategy and media firm in Chicago. That firm, AL Media, would have forwarded a huge chunk of the money to buy advertising time with local TV stations, which are the other big beneficiaries of political largesse.
In the minds of a growing number of Democratic activists, too many campaigns abused small donors by taking advantage of the traits they tend to hold in tandem: passion, and a lack of political savvy. With Democrats' razor-thin margins in both the House and the Senate, and the stakes so high in the 2022 midterms, the temptation will be to do it again—or perhaps to ratchet it up even more. But at what cost? And to what end? Is it really good enough to say: Well, at least our tactics aren't as bad as the Republicans? The long-term danger is that small donors, barraged with overheated email pleas that range in veracity from half-truths to outright bullshit, will eventually catch on.
Josh Nelson, a Democratic digital strategist, is among the operatives, most of them from the Democrats' progressive wing, trying to get the party to abide by more ethical standards. "I just don't think you can view people on your list as ATM machines, or like they're idiots," he said. "It might work for a while, but it's not sustainable."
Amy McGrath's campaign is useful to look back on because she had a bio that could so easily be shaped, sculpted, and then put forward as a magnet for campaign dollars. Progressives who may never have dreamed of serving in uniform themselves loved that she was a wife, a mom, and a fighter pilot. She presented as a kind of Democratic fever dream—a coastal elite's notion of someone who might be able to win hearts and votes in a deeply conservative state.
When I talked with McGrath a couple of months after her election defeat, she was at her old campaign office in Lexington, Kentucky, which is used for her current organizations, one that encourages women veterans to run for office, and another that works to keep a Democratic majority in the Senate. On our Zoom call, I could see mementos on a shelf behind her from her 20 years in the Marines—the most prominent of which was the helmet she wore as a pilot of F/A-18 fighter jets. It had her call sign on it, KRUSTY, a moniker given to her because the hair that sprouted out from under her helmet reminded some of her colleagues of Krusty the Clown.
McGrath was raised in northern Kentucky, the daughter of a schoolteacher father and pediatrician mother, and had no background in electoral politics. Her last role in the military was as a political science instructor at the U.S. Naval Academy. On the day after Donald Trump was elected in November 2016, she reached in her desk drawer and pulled out a business card left behind by Ben Chandler, a Democrat and former Kentucky congressman who had lectured in her class. A few days later, she wrote him an email saying she was appalled at what just happened and was thinking of running for office.
Chandler connected her to Mark Nickolas, who had managed his successful congressional campaign in a 2004 special election and worked in others around the country before changing course to go to film school. He agreed to work for McGrath, he told me, because he admired her authenticity. He was also driven, after Trump's victory, to help try to win back the House for Democrats in the midterms. Nickolas introduced her to other Democrats around the state. Two months after retiring from the Marines as a lieutenant colonel, she announced her first run for office—an attempt to unseat Republican Andy Barr in Kentucky's 6th Congressional District in the 2018 midterm election.
Working with ad maker Mark Putnam, Nickolas rolled out her candidacy for the House seat with a rousing two-minute video. Wearing a bomber jacket and standing on a runway in front of a fighter jet, McGrath speaks directly to the camera: "When I was 12 years old, I knew exactly what I wanted to do when I grew up. I wanted to fly fighter jets, and land on aircraft carriers, 'cause that's the toughest flying you can do." The military did not yet allow women to fly in combat, but she knew the rules would have to change, she says, because "they just hadn't met me yet." The video was a sensation, and the money started flowing and never stopped. McGrath's team figured they would need $3 million for the general election campaign; she pulled in more than double that. The district includes heavily Democratic Lexington and its deep-red surrounding counties. It had been represented by Chandler as recently as 2012, and some Democrats in Kentucky thought they could win it back. McGrath was defeated by fewer than 10,000 votes out of 302,000 votes cast, and was devastated at losing in a year that was otherwise spectacular for Democrats.
She was not, however, soured on politics. When she informed her political team that she wanted to challenge McConnell in 2020, some advised against it, arguing the race was unwinnable. Trump had carried the state by 30 percentage points in 2016 and he would be on the ballot again. Either Trump's support would have to crater—or even more unlikely, hundreds of thousands of his voters would have to split their tickets and vote for Trump but against their six-term Republican senator. "Amy always thought she could win," her campaign chair, Sannie Overly, a former head of the Democratic Party in Kentucky, told me. "You have to remember, as a 12-year-old she wanted to land a fighter jet on the back of an aircraft carrier at midnight, in the pitch dark—and she did."
Nickolas suggested some other offices she might run for—governor or secretary of state in Kentucky, or even president. Maybe she'd catch fire in the Iowa caucuses, and who knows what might happen after that? It would be a long shot, he figured, but not as big a one as defeating McConnell. McGrath told me she actually considered it. "But at the time I was weighing it, there were probably 25 people running for president, but here in Kentucky, there were not 25 people running against Mitch," she said. There was another factor that went into her decision: "I had the ability to fundraise, which is so important."

She announced her run on July 9, 2019, about 16 months before she would face McConnell. In the first 24 hours, some 69,000 donors gave to her campaign, contributing a total of $2.5 million—which the Democratic Senate Campaign Committee proclaimed to be a first-day record.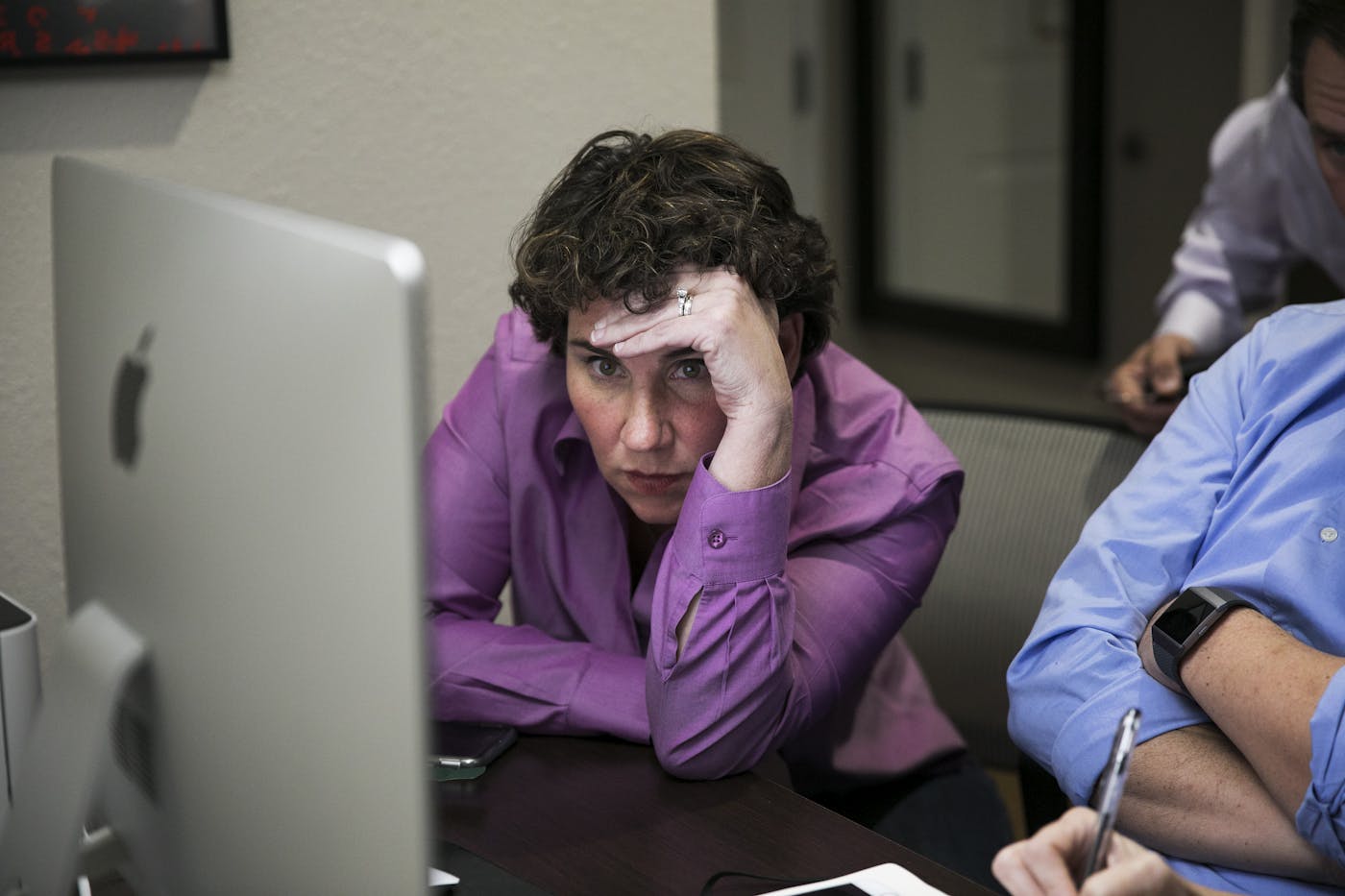 In the long lead-up to elections, there are only two metrics for the public to follow. One is polling. The other is the money. Campaigns boast about their one-day hauls and quarterly totals, and the political press covers it as if it's a sport. And there is useful information in the fundraising numbers. Who's giving and how much. But the biggest truth gets buried: Money is the most overrated factor in politics. Yes, it's important for hiring a good staff, spreading a message widely, and answering an opponent's attacks. But after that is achieved, the tens of millions that continue to pour in are highly unlikely to change the outcome.
Even in the digital age, local broadcast TV still accounts for the biggest share of campaign advertising, as high as 60 percent. It's the most expensive use of funds, and, after a certain point, the least effective. But campaigns fat with cash have only so many ways to spend it. Especially in the final stretch, all they can do is throw it at more TV.
David Hopkins is an associate professor of political science at Boston College who has written extensively about the American electoral system. "What we know from the academic study of campaign finances is that money is subject to a threshold effect," he said. The threshold, he explained, is the point at which the money allows a candidate to run a "visible" campaign that establishes close to 100 percent name recognition, broadcasts a message, answers the other side's attack ads, and deploys an effective field operation.
"Once you are past that point," Hopkins explained, "the marginal return on additional dollars becomes very small. It may be helpful for a voter to see an ad three times rather than once. Or even 10 times. Once you are seeing it 25 times instead of 20, it probably won't make a difference."
In every competitive Senate race in 2020 where a Democratic challenger went up against an entrenched Republican incumbent, the candidates on both sides were funded at record-high levels. In each of them, the Democratic challengers were better funded. All the contests were of course influenced by their own state-specific factors. But money was the thing they had in common. In closely watched, bitterly fought Georgia, the dual victories of Raphael Warnock and Jon Ossoff gave Democrats control of the upper chamber. The Georgia races were extraordinarily expensive, with more than $500 million spent during the general election and runoff by the four candidates and the outside groups backing them. And although Warnock and Ossoff had the edge in the fundraising, no one I talked to for this story thought they won because they had more money. Instead, credit for turning Georgia blue was largely given to statewide organizing conducted by Stacey Abrams and others over the last decade. That's the kind of patient, on-the-ground work that is the antithesis of the pop-up campaign.
And yet it remains an article of faith in the political world that you can never stop asking for money. Josh Cook, who has worked in numerous campaigns, including former President Obama's 2012 reelection run, said, "in many races, we've moved past the point of efficient spending." Late money—meaning dollars that gush in during the final weeks of a campaign—is particularly hard to make good use of, because it usually just buys more ads after all but a tiny number of voters have tuned out. But "a campaign manager would never say 'we have enough,'" Cook said. "It would project too much confidence. And you always feel like there's maybe one more thing you can do, that thing that gives you a small advantage if it's a close race."
What the McGrath campaign discovered right at the start is that every dollar it spent brought back $2 or $3 in contributions, and the return on investment was nearly instantaneous. She began running television ads early in 2020, nine months before the general election, and placed some on national TV—MSNBC, CNN, and even Fox News. That was an unusual move based on a gamble that enough people around the country would care about a race in Kentucky to make the investment pay off.
A 30-second spot on Rachel Maddow's show on MSNBC could cost thousands of dollars, plus an additional fee to run it again when the show aired on the West Coast. The expenditures, far more costly than buying time in local TV markets, were approved by Sannie Overly, the campaign chair. Initially, she was not sure but figured it was worth the chance. The first time a spot ran on the Maddow show, Overly watched in real time as contributions surged into the campaign's bank account.
Digital ads placed with Facebook and Google had the same impact. The political veterans working for McGrath were used to those buys paying off in weeks or months—after supporters signed up for candidates' email lists, donated once, and then perhaps gave a second or third time. McGrath's team could put $100,000 into a digital campaign and get $200,000 back within days.
When campaigns are so flush, they do not have to spend with much discipline. To give one example, McGrath's advisers were skeptical about the impact of direct mail—figuring that in lots of households campaign literature went straight into the trash.
"I thought we'd have between $30 and $40 million," Nickolas said. "When you have the other money, it allows you to say: I'm not going to choose between A and B. You can do both. And it allows you to do the things that raise more money. The greatest accelerator of money is money. The more you spend, the more you raise."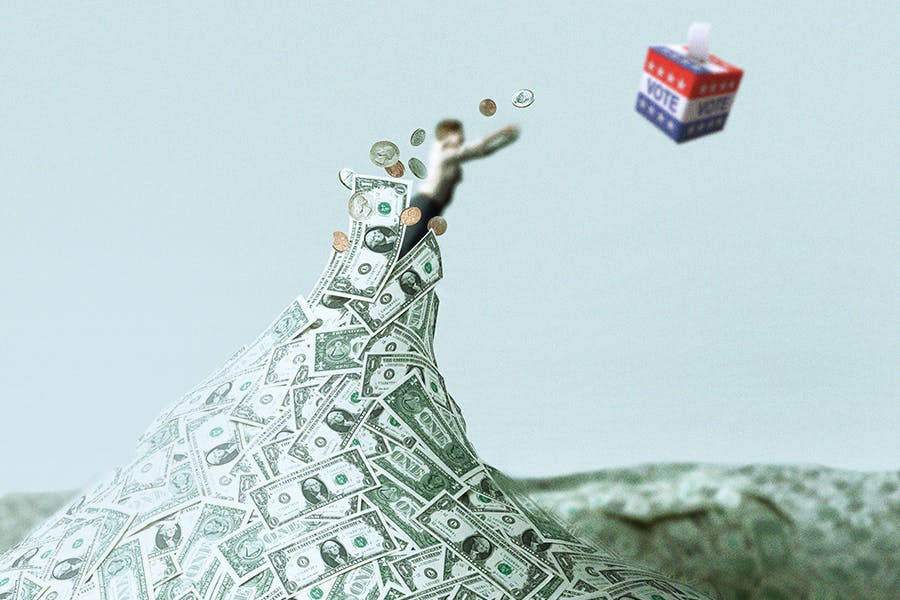 Most of McGrath's money came from donors who contributed through ActBlue, a nonprofit founded in 2004 that takes a small credit card fee on transactions and accepts "tips" on contributions. Placing its donate button on their websites is one of the first things Democratic candidates do. ActBlue is just software—a set of easy-to-use tools for candidates and donors. But it has been invaluable to the Democratic cause as a counterweight to the Supreme Court's Citizens United decision in 2010, which brought unlimited corporate and "dark" money into politics.
During the 2020 campaign cycle, Las Vegas casino mogul Sheldon Adelson, who died in January 2021, and his wife, Miriam, contributed $218 million to Republican candidates and conservative groups. Charles Koch and his late brother, David, with a fortune rooted in the oil and chemical industry, have given untold millions to Republicans over the last several decades, as have other fossil fuel and corporate interests. The Democrats historically have not had the same number of deep-pocketed backers, but ActBlue helped create a whole new generation of political givers—small donors rather than fat cats, many of them ardent progressives from Democratic strongholds who donate to races in swing states. (The website OpenSecrets reported that Democrats in the 2020 cycle caught up with and surpassed Republicans in attracting "dark money"—dollars from anonymous donors passed through PACs.)

While helping to even the playing field, ActBlue, along with its newer Republican equivalent, WinRed, have also served to further flood the political system with money. Where it once was more complicated for a politically engaged person in, say, California, to give to a campaign in Kentucky or Maine—you had to write a check and figure out where to send it—it was now more like an impulse buy, though one often driven by outrage. "Political giving used to be something a relatively few thousand people did," said Neil Oxman, a veteran Pennsylvania-based consultant. "Now it's millions."
In the 2020 election cycle, more than $5 billion was contributed to Democrats by 15 million individual donors through ActBlue. On the Friday night in September when Supreme Court Justice Ruth Bader Ginsburg died—and after McConnell announced within hours that he would move to fill her seat—contributions through ActBlue peaked at the rate of more than $100,000 per minute. "Democrats around the country felt like this was something they could do," Nickolas said. "Just give her the money. She's running against McConnell. Big donors think strategically; small donors don't."
The McGrath-McConnell race looked a lot different outside Kentucky than it did in-state. Lots of Kentuckians, including Democrats, wondered: Why are people sending money here?
McConnell's approval ratings have fluctuated over the years, and people often say they do not find him personally likable—but that's not saying they do not like him as their senator. In six terms, he had brought billions of dollars in federal money home, much of it for universities and hospitals. He's no less canny about Kentucky politics than he is in the halls of the Senate.
"Mitch will go to a gas station-general store in some town you've never heard of and talk to people," said Terry Meiners, the longtime host of a popular afternoon drive-time radio show in Louisville. "If they give him a chair to sit in and it's got a nail coming up, he'll show no pain. He just sits there and drinks a Bubble Up and eats a Clark Bar, and it plays better than you think."
Anne Cizmar, an associate professor at Eastern Kentucky University who teaches courses in American politics and campaigns, said she heard from out-of-state friends and family before the election. "I'm a political scientist, so they ask me where to give money," Cizmar said. "I basically said nowhere. Give it to charity. And Kentucky was at the top of that list. It was never going to be competitive. It never struck me as possible."
More than 97 percent of McGrath's funds came from out of state, according to OpenSecrets, which tracks political giving. The largest concentration of donations came from metropolitan New York, Los Angeles, Washington, Boston, and San Francisco. McConnell relied on slightly less non-Kentucky money—92 percent. (His top three included the same cities, but on his list, Boston and San Francisco were supplanted by Louisville and Houston.)
McGrath's prowess as a fundraiser was never matched by her abilities as a candidate. She stumbled in a debate before the Democratic primary after being asked why she had not been in the streets to protest the police shooting of Breonna Taylor in Louisville. She replied, uncomfortably, that she had been busy that weekend spending time with her family. On Election Day, she barely squeaked past opponent Charles Booker, a Black legislator with a fraction of her campaign money who had been tear-gassed at the protests. She gave an interview on MSNBC that criticized McConnell for not sufficiently supporting some of Trump's initiatives. It seemed to be an attempt at some form of triangulation—to court the Kentucky conservatives she needed—but she confused her own supporters. "She seemed to be saying that Mitch was standing in the way of Trump's agenda," Meiners said. "Or that's the way it came out. It made no sense."
But nothing about the realities of the race on the ground slowed the steady stream of money. McConnell was also advertising heavily, and in Kentucky—as in other states with competitive races—campaigns were paying high prices for a dwindling amount of airtime. It's a form of surge pricing—as you would experience if you tried to get a Lyft or Uber on New Year's Eve. "You're bidding against other candidates. You're bidding against yourself," Oxman, the Pennsylvania consultant, said. "You were paying $6,000 for a 30-second spot on Jeopardy!, and the next thing you know, it's $8,000."
In the course of researching this story, I asked the same two questions to people who were involved in the McGrath, Harrison, and Gideon campaigns, and to others who were knowledgeable observers of those races: If the challengers had raised twice as much money, would they have won? If they had raised half as much, could they have lost by more? The answers, in almost every case, were no. McGrath could have raised $100 million more, and it would not have changed the result. If Gideon, in Maine, had raised another $20 million, the result would have just been another $20 million still sitting in her campaign account.
Some did conjecture that a candidate could have lost by a little more if they raised less. But the instinct in every campaign is to answer money with money. The disconnect between the money and the realities on the ground was vividly illustrated by what occurred in the wake of Ginsburg's death. At the same moment McGrath's contributions were surging, her campaign team was seeing that any chance of even a miracle victory had vanished.
Dan Kanninen, a veteran D.C. strategist, took over for Nickolas late in the campaign. (Nickolas stayed on to continue working on paid media and overall strategy.) "Justice Ginsburg's tragic passing was an inflection point," he told me. "While it obviously sparked activity and urgency from our base, it did the same for McConnell. It allowed him to remind voters of his strengths, and put abortion on center stage. In a deeply red state, he was able to consolidate conservative support overnight."
By the end, the McGrath campaign had 200-plus employees and a monthly payroll of nearly $1 million. But like most campaigns of its size, the bulk of its dollars were going to outside vendors. McGrath sent a combined $58 million to the agency that placed television ads, Buying Time, and to another that made and placed digital ads, Do Big Things. Most of that money would have gone from the agencies directly to local television stations, as well as to Facebook and Google, but the firms take commissions. Those are negotiated and can be as high as 20 percent of the buy. Generally, the more a campaign spends, the lower the rates it can get.
Nickolas became the campaign's director of paid media. Two weeks after the election, he received a $367,000 payment from the campaign. When I asked about it, he said it was something he had negotiated based on a percentage of the campaign's ad buy, and it seemed fair to him, considering the money that outside vendors had raked in. "The money is offensive, and I hate it," he said. "And it goes to the consulting class. People like me come and go, but they're the permanent members."
Almost immediately after her defeat, Amy McGrath went back to what she has excelled at in her short political career: raising money. She started a super PAC, Democratic Majority Action, to support Warnock and Ossoff, and emailed her supporters and asked them to contribute.
When we talked, she said she was proud of her Senate campaign. She pointed out that she had run ahead of President Joe Biden in Kentucky—she got about 44,000 more votes—and believed she had contributed to the greater Democratic cause by forcing McConnell to spend time and money defending his seat. "I thought if I couldn't get rid of him as a senator, I could help make him the Senate minority leader," she said. "That did happen, and we were part of that."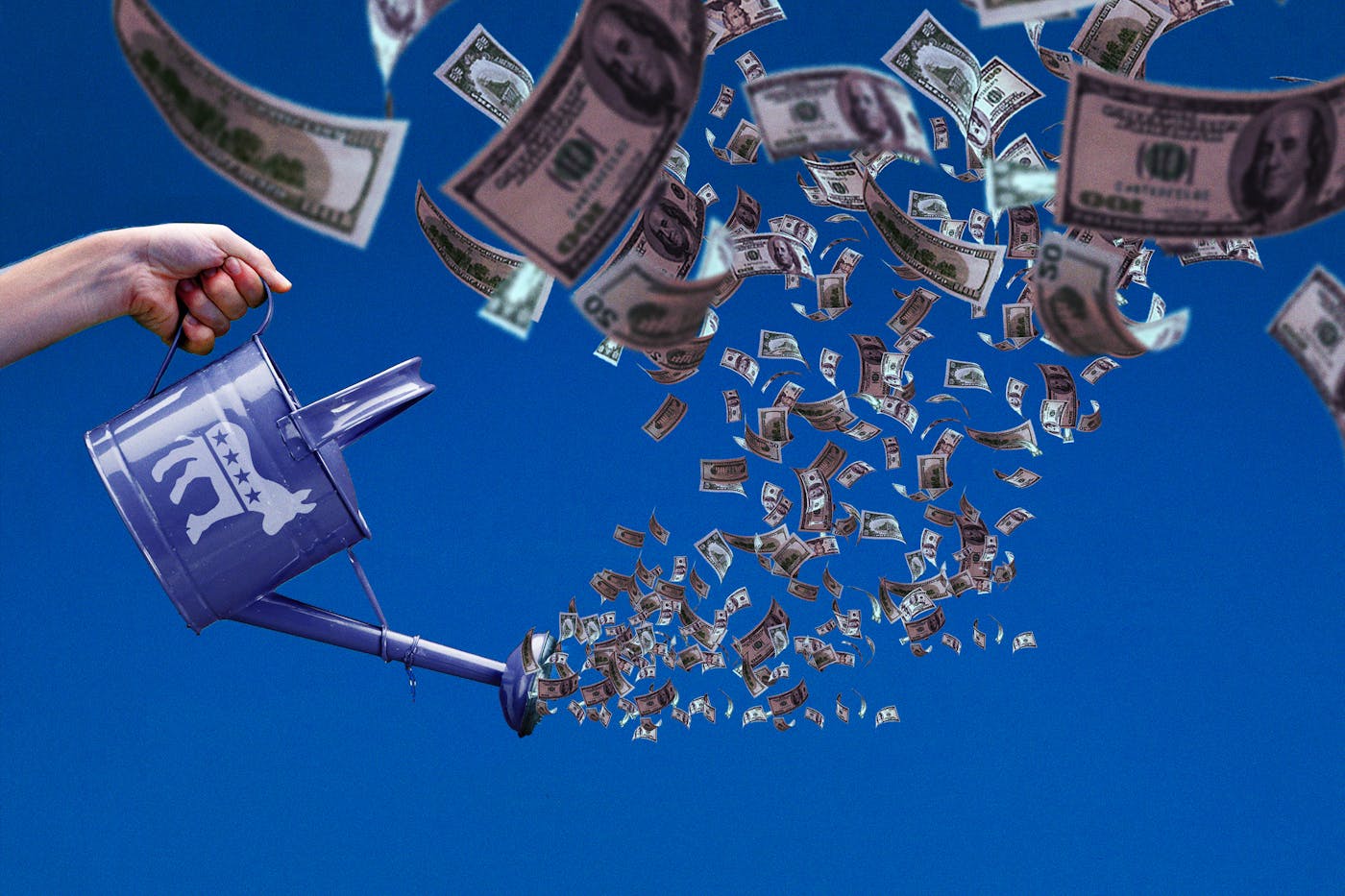 That was the subject line of an email sent in September 2021 by "Team Fetterman," representing John Fetterman, a Democratic candidate for Senate in Pennsylvania. It can also be taken as the sound of it all happening again—of a new cycle beginning and digital practitioners reaching into the bank accounts of the grassroots.
Team Fetterman's message began with an air of contrived disappointment. "This isn't the email we want to be sending with 1½ days left before our FEC deadline. Despite a ton of effort, it looks like we're falling behind on our goal. And we don't know if we can plausibly catch up.
"Truthfully, we're a little more than $40,000 behind what we raised online by this point during our last end-of-quarter push."
Fetterman is running for retiring incumbent Republican Pat Toomey's seat. In the perpetual swing state of Pennsylvania, it is a far more realistic pickup for Democrats than Kentucky ever was—though first he'll have to win a contested primary against a field of strong candidates, including Representative Conor Lamb.
The six-foot-eight, heavily tattooed Fetterman, a former small-town mayor and his state's current lieutenant governor, is different from McGrath in numerous ways. He's more progressive. A far better retail campaigner. But he's an MSNBC darling, as she was—an important attribute for any Democratic candidate.
And while Fetterman's poor-mouthing message never mentioned it, his fundraising was off to a McGrath-like start. He raised $3.9 million in the first quarter of 2021—a record for any Pennsylvania Senate candidate in the first three months after announcing a bid.
Judged against the gutter standards of political email, Fetterman's wasn't that bad. But it was misleading. It implied that some kind of cash crunch had already been hit, from which he was not sure he could "plausibly" recover.
The race in Pennsylvania, no matter who emerges from the primaries, is likely to set fundraising records on both sides. The same is true of 2022 Senate campaigns in other contested states—including Wisconsin, North Carolina, Florida, Ohio, New Hampshire, Colorado, Nevada, and Arizona.
In Georgia, where Democrats won two runoffs in January 2021 to take control of the Senate, the Reverend Raphael Warnock will be on the ballot again, defending his seat because his runoff victory put him in office for only the remaining two years of retired Johnny Isakson's term. In addition to the Senate races, billions of dollars will be spent on House candidates around the nation.
Democrats were already feeling anxious about the 2022 midterms. Losing the governor's race in Virginia in 2021—Glenn Youngkin's shocking victory over former Democratic Governor Terry McAuliffe—turned nervousness into something more like panic. That won't hurt, either. Digital practitioners are expert at writing panic into their scripts. "Every two years, the money spent is more than the two years before that, and it just keeps on going that way," said Oxman. "It's an amazing business model. It's why so many people want to get into it."
By that, Oxman meant consultants, not candidates, flocking into the business. It's hard to think of other enterprises with the same levels of money washing through them and such slack regulation.
Few party regulars care to talk about the flimsy to nonexistent ethics that guide their fundraising. How did Sara Gideon end up with nearly $15 million left at the end of her Senate campaign in Maine? Did she just overshoot the mark? Or did her campaign know they couldn't spend all that cash but kept seeking it anyway? Would her donors have kept contributing if they knew their money was going to sit indefinitely in a dormant campaign account?
And, by the way, what's she going to do with all that money? At last report, a couple of million dollars have gone to the state's Democratic Party and to Maine nonprofits dedicated to causes that include the fight against childhood hunger, but she retains about $12 million.
Why did Jaime Harrison use Mothership Strategies for his digital fundraising—an outfit that is notorious, even within the spammy world of political email, for sending out pure spam? A 2019 Washington Post story on Mothership said that some rival firms will not even say its name. They refer to it as the "M-word." (The story noted that one employee's bio on the company's website boasted that she had "mastered the ALL CAPS SUBJECT LINE"—which at least indicates the outfit has a sense of humor.)
A spokesman for Harrison said he would not comment. Ditto for Gideon.
In the course of reporting this piece, I talked to a couple of high-ranking Democratic media spokesmen. One called me cold after learning that I was at work on the story. They both insisted that our conversations be off the record, and both took the same approach: Why would I want to write about Democratic grassroots fundraising when the Republicans were so much worse? It seemed like a pretty low standard they were holding themselves to. But it did pose a question: Can you raise funds more hygienically and still succeed?
The Democratic activists seeking to clean up the party's fundraising insist that the party must do so. Their thinking is pretty simple: You can trick people for a while, but not forever. Brice Barnes, a veteran fundraiser, has been on the national finance committee of the Biden campaign and the Democratic National Committee. "You can't continue to have this Wild West of digital fundraising," she told me. "You run the danger of losing and shrinking your donor pool."
Barnes has recently co-founded a fundraising platform, GiveBlue, that aims to give small donors more information and help them to be more savvy, in order to steer them toward "early, strategic and impactful investments." The kind of donor education Barnes is suggesting would certainly be useful, especially if it is bold enough, at a certain point, to steer would-be donors off lost causes. Or off fully funded campaigns.
There are other efforts underway to clean up the Democrats' fundraising, and many come from the progressive wing of the party. Josh Nelson put together a letter, signed by about 50 other Democratic and progressive operatives, that went to the companies that provide software to much of the Democratic fundraising machine. It urged them to prevent their products from being used to "send misleading donation asks"—including "bogus matches" and "emails that mimic appointments, flights, bills, or other official correspondence." It also asked that they prohibit "unsolicited spam emails to individuals who did not sign up to receive emails from the sender"—a flash point in political fundraising circles, because political lists are often sold, resulting in people who gave to one candidate getting an unrelenting barrage of emails from dozens of others.
The outreach to those who provide the tools for fundraising may be more effective than trying to persuade individuals to change their ways. Nelson said he had tried that. "I've since realized," he said, "that people who are shameless can't be shamed."

This article appeared in the March 2022 print edition with the headline "The Money Wasters."