The autumn leaves crunched under Schuyler VanValkenburg's feet, belying the uncharacteristically warm November weather in Virginia. The Democratic candidate for state Senate—and current state House delegate—was bedecked in a vest more appropriate for the season than the temperature as he addressed supporters on the lawn of a local business on Sunday, two days before the election.
"The world is watching us, America is watching us, and we're going to do it," VanValkenburg told an enthusiastic crowd of volunteers before they embarked on an afternoon of door-knocking. "We're going to win."
Coming the year after the Supreme Court overturned Roe v. Wade and the year before the 2024 presidential election, Tuesday's election results in Virginia will be closely parsed by the political press. The state Senate elections hold particular importance: Because the upper chamber is narrowly controlled by Democrats, while the lower House of Delegates is controlled by Republicans, the election will determine whether GOP Governor Glenn Youngkin will gain unified control to enact a conservative agenda.
This year is uniquely consequential in part thanks to redistricting, as all 140 seats in the state legislature are up for grabs, a condition that resulted in a flurry of retirements and primary challenges. VanValkenburg is facing incumbent Republican state Senator Siobhan Dunnavant for a newly drawn Senate seat in the suburbs of Richmond, one of the few competitive races in the state.
Republican candidates, including Dunnavant, have largely embraced Youngkin's proposal for a 15-week abortion ban. While polling has shown that abortion is a critical issue for many voters—particularly Democrats and women—it may not be their top motivator in casting their ballot. So Democrats have started framing the issue within the larger context of "freedom": freedom to access an abortion, freedom to attend school without worrying about gun violence, and freedom to receive more affordable health care, among other examples.
"Abortion is an issue that's important for many, many voters. It might not be their first issue, but for many voters, it's somewhere in their mind, whether it's actual abortion rights, or if it is the reality of banning abortion, banning books—just imposing one person's views on another person's freedom," said Representative Abigail Spanberger, a Democrat who represents a swing congressional district and rallied with VanValkenburg on Sunday.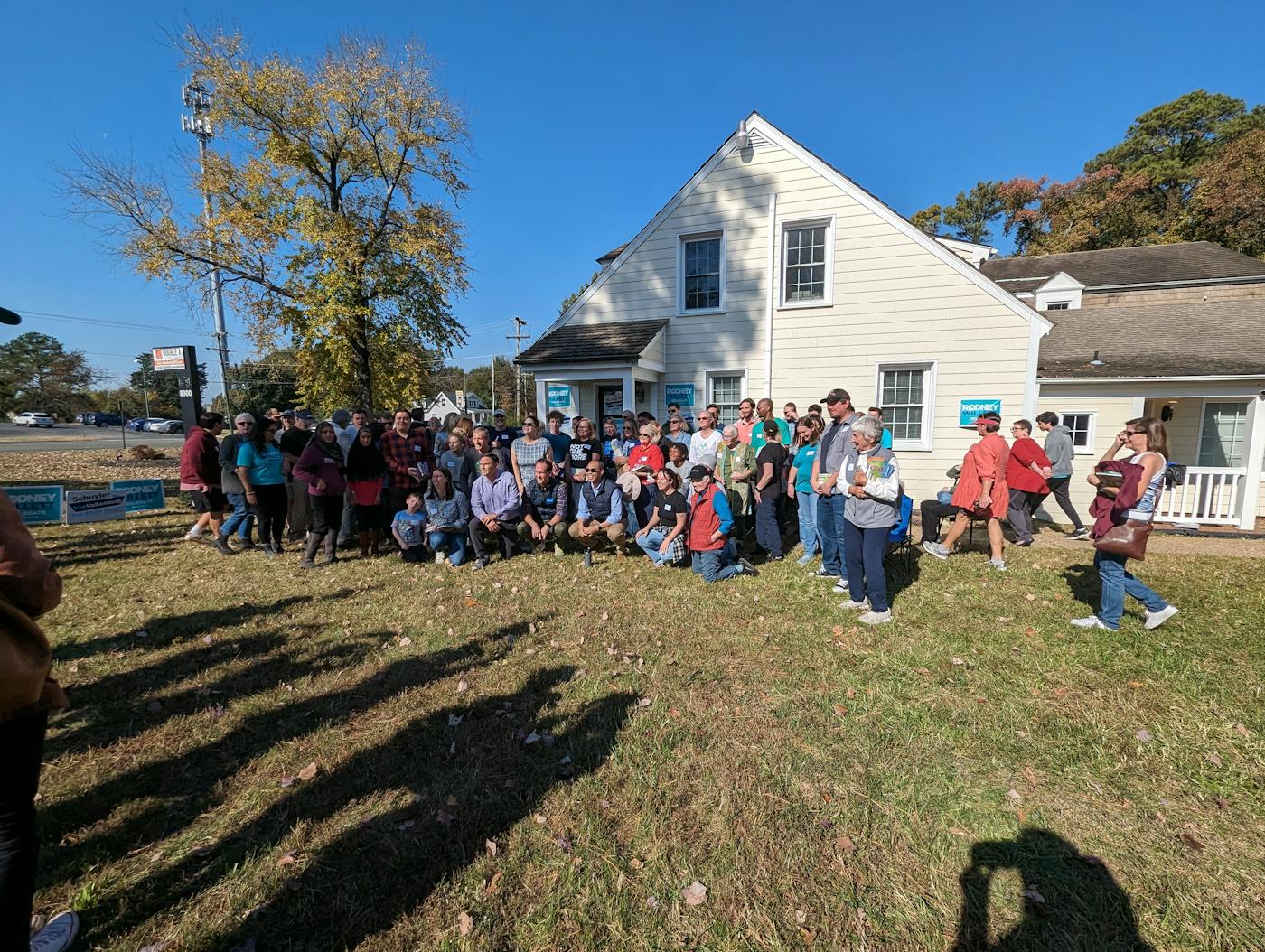 In the waning days of his campaign, VanValkenburg, a high school teacher, has focused heavily on the twin issues of education and gun safety; his priorities as senator include a safe firearm storage bill. Youngkin's somewhat unexpected ascent in 2021 was due in large part to his messaging on "parental rights" in the wake of the coronavirus pandemic, language that Democrats like VanValkenburg are working hard to counter.
Youngkin has played a pivotal role in the elections, funneling money to Republican candidates through his political action committee, Spirit of Virginia, and stumping on the campaign trail. But he has also been a powerful bogeyman for Democrats, who warn of a dark future in Virginia with an empowered Youngkin.
Democratic organizations have also made major investments in the elections, resulting in unprecedented spending for state legislative elections. Candidates for state Senate from both parties have raised roughly $80 million in this election cycle—compared to around $53 million at a similar point in 2019.
A little less than 60 miles north of Richmond, in Fredericksburg, Joel Griffin was knocking on doors. It was a bright Monday morning, the day before the election, and the Democratic state Senate candidate was prepared for the long haul with his canvassing literature, branded campaign sweater, and white sneakers.
In this somewhat tony neighborhood of wide lawns and stately brick houses, many of the residences that Griffin approached already had fliers stuck to their doors for his Republican opponent, Tara Durant. The two candidates are locked in another of the more competitive races for state Senate, in a district that supported Youngkin in 2021 but voted Democratic in the House elections the year after.
Shortly after 11 in the morning, a prospective voter opened the door to Griffin—his garage door, that is, warily eyeing the candidate behind a mesh divider. "It's so scary out there," the middle-aged man said, saying that he didn't know which politicians he could trust. Griffin dutifully highlighted his résumé: Marine veteran, business owner, board member on community organizations.
"I do believe in service. There's a lot going on right now, as you said, but I believe that when good people step forward, they can in fact make a difference," Griffin said, raising his voice slightly as he retained a respectful distance from the garage door.
Still standing behind the screen, the voter first asked Griffin about his position on reproductive "choice" and then on crime; Republicans have worked to hammer Democrats on the latter issue in the waning days of the election. Griffin expounded on his desire to "defend reproductive rights" and "defend voters' rights," as well as depoliticize schools and keep libraries funded. After a brief conversation on Griffin's positions on immigration—the candidate vows to work with federal partners—the mollified voter stepped beyond his garage to shake hands. He too is a Marine veteran, and the two exchanged greetings of "Semper fidelis" and a promise to be at the polls.
As we walked through the neighborhood afterward, Griffin contrasted himself with his Republican opponent: "We're offering hope. We're offering moving forward. If the only thing you've got to offer is 'Stay in the house and be afraid,' I don't really know how that's an ideology that people can get behind."
On Monday afternoon, a relatively modest crowd of several dozen Republicans turned out for a rally at a local airport hangar. Although Durant and other local GOP candidates were in attendance, the real draw—other than the free Chick-fil-A—was Youngkin, appearing in his customary red vest. The hangar erupted in cheers as he rolled up in a tour bus with the walk-on music of "Thunderstruck" by AC/DC and threw baseball caps to the audience. He led the attendees in a rapturous chant of "Hold the House, flip the Senate."
"The left liberal Democrats that control our Senate try to block us every day of the week. Every single day of the week. They don't like the spirit of Virginia flowing across the country and, yes, flowing across the country," Youngkin said, referring more to the metaphorical spirit of Virginia than his PAC. "We have to hold the House and flip the Senate. Because this is what it's going to take for us to unleash unbridled prosperity and opportunity in the Commonwealth of Virginia."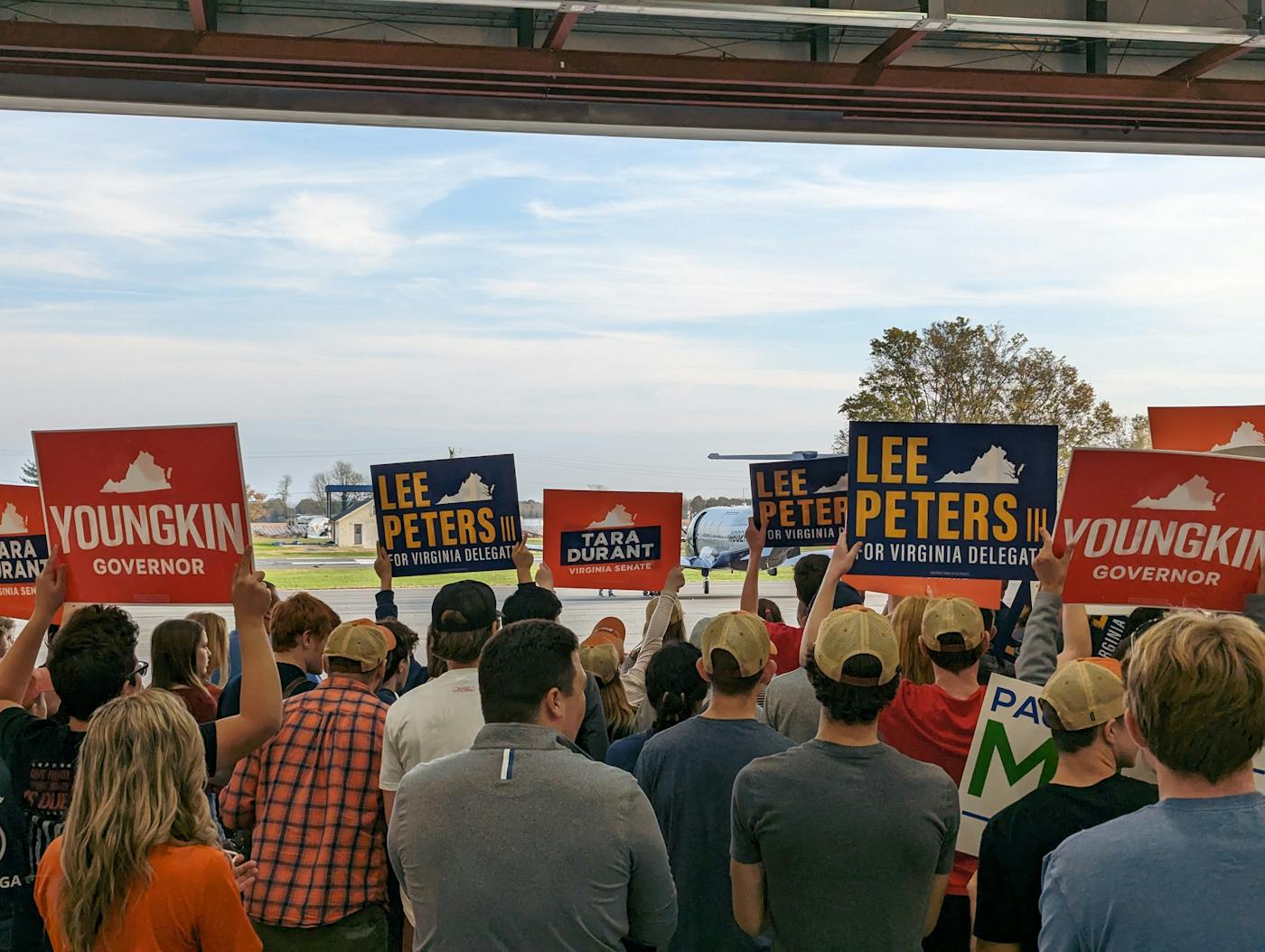 Youngkin is, in many ways, Virginia Republicans' great hope. The 2021 elections smashed turnout records, with GOP voters mobilizing at an almost unheard-of rate. The Republicans who spoke at Monday's rally harkened to those elections, focusing on red meat issues that would appeal to GOP voters in any state: education (specifically what is taught in schools, and transgender students), crime, and screeds against coronavirus policy that seem less relevant in 2023 than they did in 2021. Durant also mentioned the economy and inflation.
"We're running for security, for economic security. We're running for the future security of our kids in education. We're running for the security of our communities, the safety of our communities," Durant told the crowd. However, abortion was not mentioned. (Durant has privately expressed openness to restricting abortion beyond 15 weeks of pregnancy.)
While abortion may be a key motivator for one party, it is less so for other voters.
"[Abortion is] the only thing anyone was talking about, and to some degree book banning," said Bonnie, a 65-year-old independent attending the Republican rally on Monday. "People have lost sight of what all the pieces are right now. People can't afford food, they can't afford shelter."
It's unclear whether the enthusiasm for Youngkin at the rally indicates enthusiasm for Republicans generally in the election. But Democrats remain confident that this will not be a repeat of 2021.
"People are awake, they're active, they're engaged," Griffin assured me, as we wandered between houses on Monday morning. "They're paying attention."