The Right-Wing Funder Behind Harvard Billboards Targeting Pro-Palestine Students
A Guardian investigation revealed the source of billboards that doxxed students at the Ivy League university who had criticized Israeli strikes against Palestinian civilians.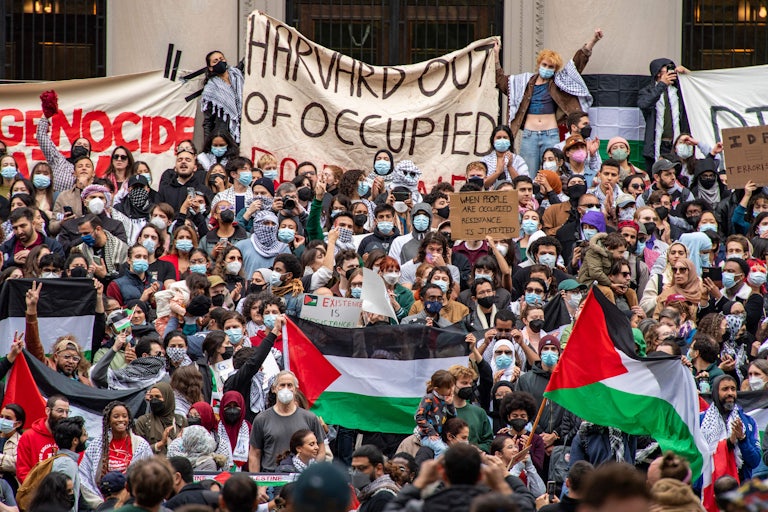 JOSEPH PREZIOSO/AFP/Getty Images
A rally at Harvard University on October 13 supporting Palestine
A prominent conservative donor is behind the controversial Harvard Square billboard that doxxed students who signed a letter critical of Israel's role in its war with Palestine.
The billboard truck, which appeared on campus on Wednesday and emblazoned the names and faces of students under the banner "Harvard's Leading Anti-Semites," was organized by the conservative watchdog Accuracy in Media. However, the money fueling the initiative ran much deeper, reported The Guardian.

The nonprofit's single largest donor in 2022 was the Informing America Foundation, according to IRS filings obtained by the outlet. That year, Informing America signed a check to the watchdog for more than $166,000, roughly 18 percent of the donations received by the nonprofit that year.

Elsewhere, Informing America doled out more than $8 million to 12 different media and activist groups that same year. Causes under their umbrella included Star News Digital Media, a for-profit news network founded by former Tea Party activists whose sites have been likened to "pink slime" and dubbed "Baby Breitbarts."
The group has also contributed to Real Clear Foundation, a news nonprofit whose aggregated news and original reporting headlines "anti-MAGA" initiatives, highlights random violence in liberal cities, and levels its criticisms at Joe Biden and his family.

Behind Informing America, however, is the Diana Davis Spencer Foundation, a $1.5 billion institution that played a significant part in funding a network of voter suppression groups following the 2020 election, according to a report by the Center for Media and Democracy.

The Diana Davis Spencer Foundation's founder, executive chairman, and namesake , Diana Davis Spencer, was not only identified as Informing America Foundation's single largest donor, providing $1.5 million in 2021, but also a board member of the conservative group.