The State Department Doesn't Want Diplomats to Call for "De-Escalation" or an "End to Violence" in Gaza
A memo published on Friday encouraged officials to resist public calls for peace.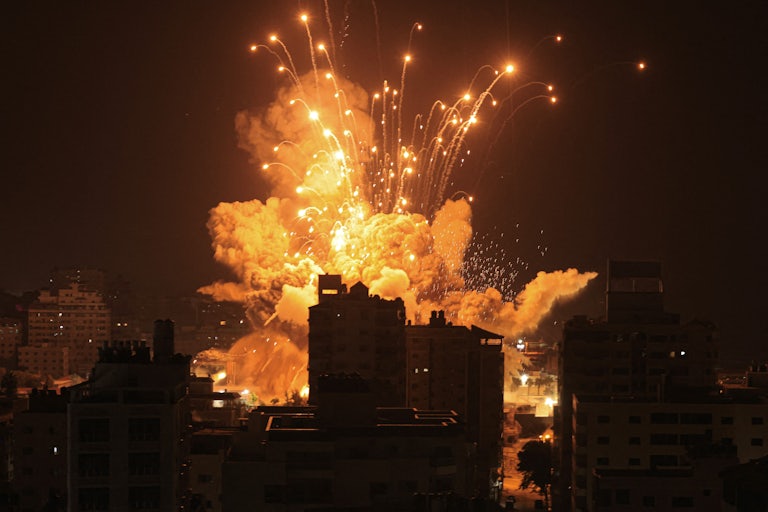 MAHMUD HAMS/AFP/Getty Images
State Department officials warned diplomats not to use words such as "ceasefire" in a memo released shortly after the Israeli government ordered over one million Gazans to evacuate their homes within 24 hours late Thursday.

Staff were specifically asked not to publish press pieces containing the phrases "end to violence/bloodshed," "restoring calm," and "de-escalation/ceasefire," according to HuffPost.

A State Department official refused to comment on the internal communication. Nevertheless, the memo itself suggests that the Biden administration will do little—at least publicly—to encourage Israel to de-escalate or to reduce airstrikes that have already claimed hundreds of civilian lives.

U.S. Secretary of State Antony Blinken hoped to address Hamas's militant attacks in Israel while visiting the country on Wednesday. "The United States has Israel's back," Blinken said, shortly after Hamas terrorists killed more than 1,000 Israelis, including a number of children and hundreds who were attending a music festival.
Defense Secratary Lloyd Austin met with Israeli leaders on Friday and said that Israel has the right to defend itself when asked about the likelihood of civilian casualties in Gaza after Israel's evacuation orders, the Associated Press reported.

Israeli attacks on Gaza have killed at least 1,800 people this week, according to the Palestinian health ministry on Friday.