Hillary Clinton has unveiled a plan for tackling climate change—or, more accurately, part of a plan, with the promise of additional announcements in the coming months. The Democratic presidential frontrunner detailed a plank of her environmental platform on her website Sunday night, for making the United States "the world's clean energy superpower." But on fossil fuels, where environmentalists have remained the most skeptical of her intentions, Clinton's plans remain vague.
Clinton announced two ambitious goals:
"Have more than half a billion solar panels installed across the country by the end of Hillary's first term"—a 700 percent increase in solar capacity that would power 25 million homes.
"Generate enough renewable energy to power every home in America within 10 years of Hillary taking office," which would require expanding renewables (wind, solar, geothermal, and hydropower) enough to power 33 percent of the U.S. electricity sector by 2027, up from just 13 percent today.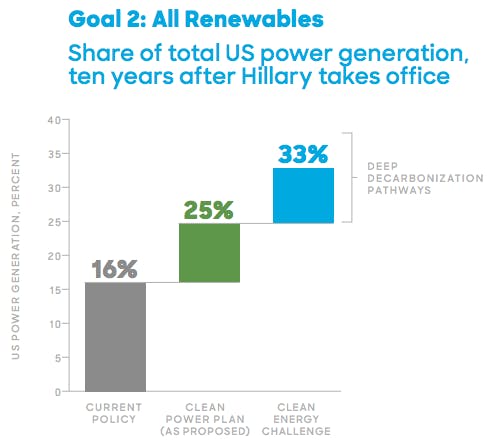 Campaign chair John Podesta, a former White House senior adviser on climate change, characterized the plan as historic. "Her proposals provide incentives for businesses and individuals to gain access to renewable energy and lower their monthly bills," he wrote Monday. "It pairs national action with a commitment to provide more resources to the groundswell of states and cities that are taking innovative actions above and beyond federal policies."
The League of Conservation Voters and Democratic billionaire donor Tom Steyer both praised Clinton's announcement, but she hasn't satisfied all environmentalists' demands for a comprehensive climate action plan. Clinton hasn't said where she stands on the Keystone XL pipeline, tar sands oil extraction, natural gas, fracking, and Arctic drilling. Surely, Clinton's position on these areas will be more controversial than her targets for clean energy. Climate Hawks Vote said in a statement that "Clinton's climate plan is remarkable for what it does't say, yet: no effort to keep fossil fuels in the ground, no price on carbon; no word on Keystone XL, Arctic oil, or other carbon bombs; no word on fracking; no call for adaptation."
But by releasing a plan for clean energy, Clinton has achieved two things.
First, it helps to blunt environmentalists' criticism of Clinton for her relative silence on the issue. Former Maryland Governor Martin O'Malley has a plan to achieve 100 percent renewable electricity by 2050—what "real climate leadership looks like," his campaign declared in a memo to reporters before Clinton's announcement. Senator Bernie Sanders hasn't announced a climate change plan yet, but has supported bills for rooftop solar, opposes Keystone, and overall has (by at least one count) the best environmental record of any senator.
Second, Clinton has answered Steyer's challenge. On Friday, the green donor set his first expectation for candidates wanting his support in the 2016 election, requiring that they first lay out a plan to reach at least 50 percent renewables in the electricity sector by 2030. The Clinton campaign noted on Twitter that it passed Steyer's test, if you count existing nuclear energy, at 19 percent. Steyer's campaign arm NextGen Climate counts nuclear in its 50 percent tally:
And Steyer is satisfied with Clinton's answer, for now. 'Today, Hillary Clinton emerged as a strong leader in solving the climate crisis and ensuring our country's economic security," he said in a statement. "Clinton laid out an ambitious framework to put our nation on a path to a clean energy economy that will create millions of jobs—and in the coming months we look forward to hearing more details about her proposals to tackle climate change."
But Clinton's climate plan can't ignore more difficult questions on how much to rely on fossil fuels during the transition to cleaner power. As Vox's Brad Plumer notes, electricity accounts for 38 percent of U.S. carbon emissions—transportation, buildings powered by gas, industry, and more make up the rest. There's also methane, a particularly potent emission that is on the rise in agriculture, landfills, and the oil and gas sectors.
Until she rolls out the rest of her climate platform, Clinton's still vulnerable to criticism from progressive environmentalists. Friends of the Earth spokesperson Ben Schreiber said that "while it is great that Secretary Clinton has recognized the importance of renewable energy, the reality is that her plan will not lead to the transformation that we desperately need. If we are going to avoid the worst impacts of climate change we are going to need an Apollo program for renewable energy, not just the corporate stimulus that Secretary Clinton has offered."