Book Bans Are a Conservative Plot to Destroy Public Schools, Says Randi Weingarten
The teachers union head denounced the "extremist strategy," which also includes voucher campaigns and manufactured outrage over critical race theory.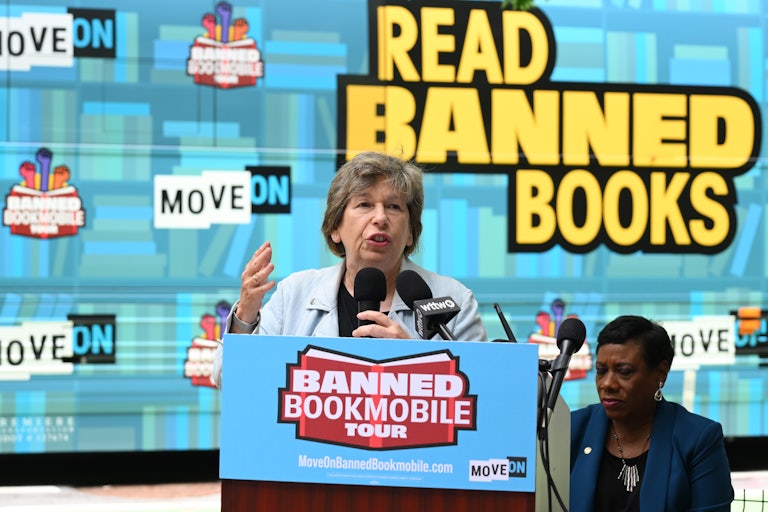 Daniel Boczarski/Getty Images for MoveOn
Teachers union head Randi Weingarten says that the campaign by conservatives to ban books isn't about the books at all, but part of a broader strategy to destroy public schools—one that was supercharged by the pandemic.
"You take the agita and the anxiety that people had at Covid, that fear, and you combine it with a right wing who has wanted to kill public schools for years and take that money for vouchers, and you have the scenario we have," Weingarten, the president of the American Federation of Teachers, said Wednesday at The New Republic's Stop Trump Summit.
Vouchers, which use public education dollars to fund private and religious school attendance, are just one pillar of the conservative campaign to "undermine, destroy, and defund" public schools, she said. The other two are book banning and manufactured outrage over critical race theory.
Weingarten pointed to conservative activist Chris Rufo and a comment he made at Hillsdale College, a Christian nationalist school, in which he admitted that focusing on these issues was all part of a master plan to promote universal vouchers: "To get to universal school choice, you really need to operate from a premise of universal public school distrust."
In an interview with TNR after the event, Weingarten explained the "extremist strategy" Rufo and other conservatives have used to defund public schools. "The hook was trust. If you really create as much distrust as possible in public schooling, then parents will look at privatization as an option," she said.
That's where critical race theory comes in.
"[Rufo] tried to make a term that nobody knows so toxic, so that you can weaponize it and make fear," she said. "Conversations about hard subjects became weaponized as indoctrination. Which is patently ridiculous, and dangerous."
Race, as well as gender, is the subject conservatives have focused on in their campaigns to ban books in public schools and libraries.
"What [Republican Governor Ron] DeSantis is doing in the so-called 'war on woke,' is exactly part of their playbook—to make people afraid of books, and afraid of what we do in school," Weingarten said. According to Pen America, Florida passed 15 "educational intimidation" bills in the last two and a half years.
The "parents' rights" movement is made up of a loud minority, Weingarten said, and actively undermines what most parents want. "What we see in Florida is that 60 percent of the book banning has been done by 11 people," she said.
The AFT has partnered with The New Republic in fighting back against such bans. TNR's Banned Books Tour has been delivering thousands of banned books across the country this month, most recently in Florida.