Democrat Abigail Spanberger Secures Key Win in Virginia
Republicans were expected to take Spanberger's seat, but she held on to it.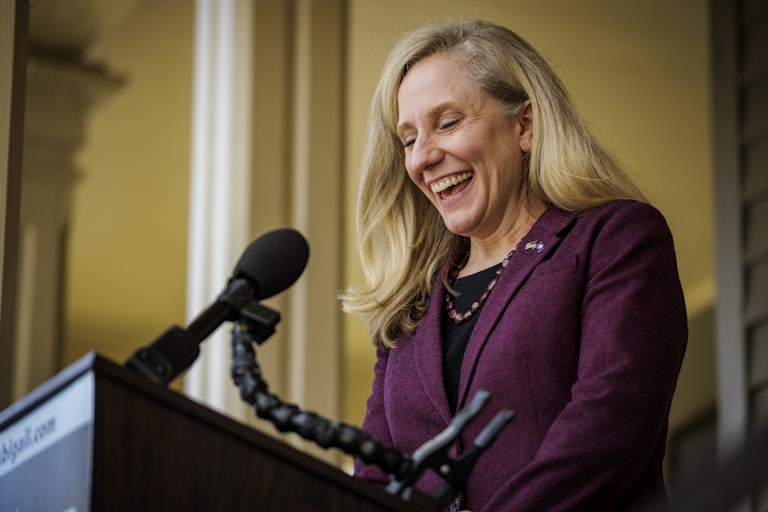 Samuel Corum/Getty Images
In Virginia's 7th congressional district, Democrat Abigail Spanberger was projected the winner in a tough and very closely watched race.
Her Republican opponent was Yesli Vega, who supported a nationwide abortion ban and other far-right positions. A Fredericksburg newspaper, in endorsing Spanberger, wrote of Vega: "Not only is Vega dangerously uninformed about rape and its consequences, she is making clear what other extremists are now pushing—a total nationwide ban on abortion in the U.S."

Spanberger's win is a huge emotional lift for Democrats. The GOP put a big target on her, gerrymandering her district to make it more Republican and even moving it around such that the house where she lives was no longer in the district. This was a seat the GOP fully expected to take.
Assuming this holds, Democratic incumbents end up holding two of the three seats Republicans were licking their chops about. Jennifer Wexton in northern Virginia also appears to have fought off a challenge from Hung Cao, who was advertising heavily on Washington DC TV in the campaign's closing weeks. But it does appear that Elaine Luria of Virginia Beach will lose to GOP challenger Jen Kiggans (another extremist). Luria made her work on the January 6 committee defending democracy a centerpiece of her campaign. It would have been great to see Luria pull that out.
But Spanberger's win is huge. And she ran in part on the infrastructure bill—that is, she didn't run away from Joe Biden's agenda. Two out of three in Virginia, especially when one of the two is a candidate the Republicans really thought they could take out, is a very big deal.