Trump: Thank Me If Republicans Win, Don't Blame Me If They Lose!
The figurehead of the GOP pretends he's not the figurehead of the GOP when it comes to the election.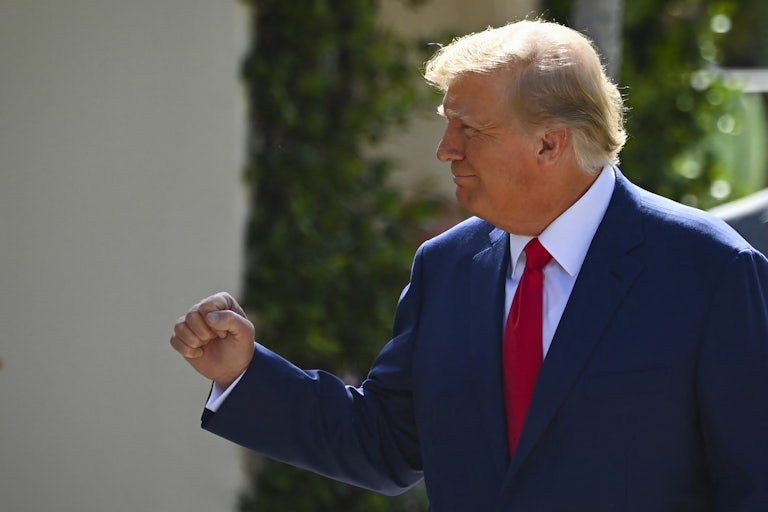 EVA MARIE UZCATEGUI/AFP via Getty Images
In an interview Tuesday evening, former President Donald Trump said that if Republicans he endorsed do well, he should "get all the credit"—but if those candidates lose, he "should not be blamed at all."

The serial fraudster and inciter-of-riots complained that he always seems to be the one who takes the heat if things go awry for Republicans. "Usually what would happen is when they do well I won't be given any credit, and if they do badly they will blame everything on me."
Though Trump may complain, he has still enjoyed playing kingmaker for the party, inviting candidates across the country to beg his favor. "In many cases I told people to run, and they ran and they turned out to be very good candidates," Trump said.

If Republicans do suffer losses this election, Trump does deserve some of the blame. On Monday, he declared he may announce his 2024 bid for president as soon as November 15.
He is self-obsessed enough to flirt with a presidential announcement in the lead-up to a midterm election that is already meant to be a slam dunk for Republicans. He's spending time at candidate rallies testing new nicknames for possible primary opponents, including Florida Governor Ron DeSantis. All that only serves to remind midterm voters why they voted him out of office just two years ago.