We Won't Get Immediate Election Results in Nevada, Georgia, or Arizona
Three battleground states will take longer to count their votes—and then come the conspiracy theorists.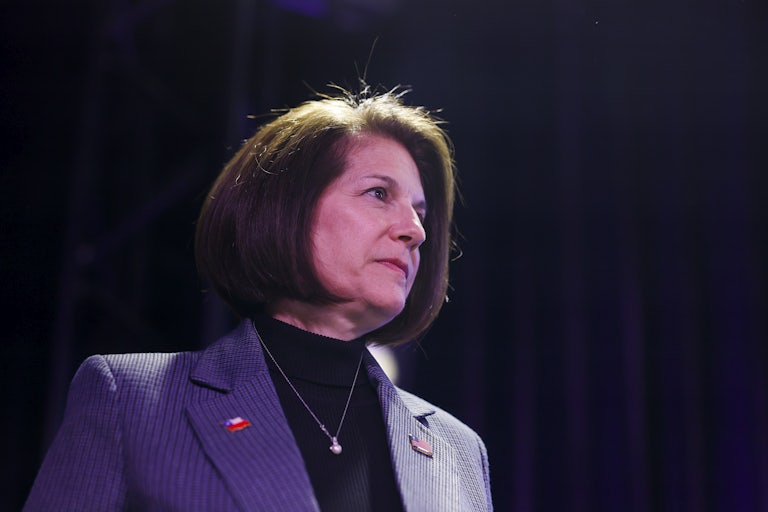 Anna Moneymaker/Getty Images
Nevada Senator Catherine Cortez Masto
Add Nevada to the list of states where the results of top ticket races may not be called tonight. That's according to Jon Ralston, the indispensable Nevada journalist.

Ralston tweeted Tuesday evening that mail-in ballots dropped off in Clark County, the biggest county in the state, won't fully be counted tonight and may not be until Thursday.

It was highly unlikely that control of the Senate would be decided Tuesday night. Georgia's Senate race was expected to go to a run-off between incumbent Senator Raphael Warnock and Republican Herschel Walker..

But as election results came in Tuesday night, political strategists and candidates began to caution that election results will also not be immediately clear in Nevada and Arizona. Arizona counts ballots slowly, a Democratic official cautioned. There was also a problem with tabulating machines in Arizona's Maricopa County, raising the possibility that a winner in the Senate race or governor's race would not be announced Tuesday.
That three battleground states will likely have undecided Senate and gubernatorial races on Tuesday means that there will be inevitable lawsuits and scrutiny over counting the remaining ballots. And unfortunately, the conspiracy theorists will abound as well.