With Sweeping DeSantis and Rubio Wins, Florida Was a Bloodbath for the Democrats
The Florida Democratic Party is a total and utter disaster.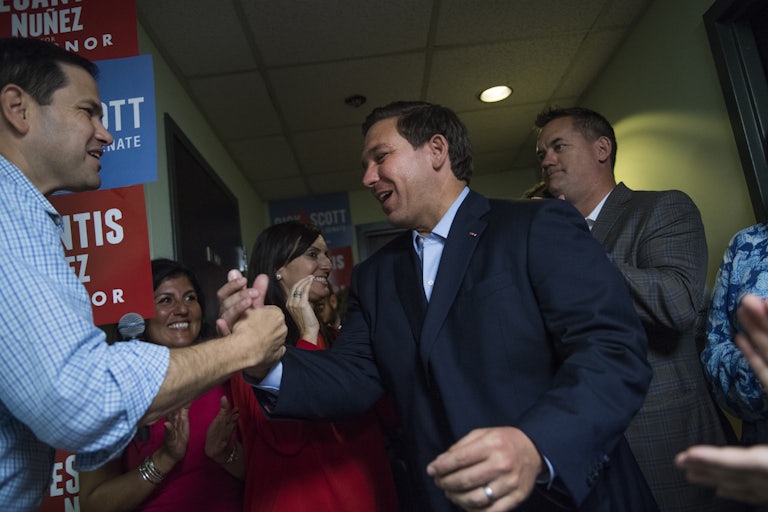 Tom Williams/CQ Roll Call
The instant the polls closed in Florida, the calls were made: Ron DeSantis, projected winner in the governor's race; Marco Rubio, projected winner in the Senate race. Neither was a surprise, but the Senate race was a bit of a disappointment, because Democrats thought they had a good candidate in Represenative Val Demings, and months ago, the polls were pretty close.
On MSNBC, Alex Wagner, Carlos Curbelo, and David Plouffe remarked on what a train wreck the situation was for the Democrats in Miami-Dade, where the swing from Democrat to Republican was on the order of 20 points, maybe more. Could that be real?
Apparently, yes. Under state party chairman Manny Diaz, the Florida Democratic Party has just vaporized. Politico reported back on October 28 that there were "already plenty of signs that Nov. 8 is going to be a rough night for Florida Democrats."
Diaz got in the middle of some local races between Democrats, and one intra-party critic, Tom Kennedy, charged that "the party was 'non-existent' on Spanish-language media and Democrats are getting 'eaten up' in early voting."

How does a major party—in south Florida—become "non-existent" on Spanish-language media? And how does the national party let that go on?
This is a collapse that's beyond epic. If the state Democratic Party can ever come back from this, it'll take a decade. And until it does happen, Democratic presidential candidates can kiss 29 electoral votes goodbye.
Some Good News From Florida