Republicans Are Literally Laughing at the Pelosi Attack
The violent attack left Paul Pelosi with a skull fracture. Republicans somehow find that funny.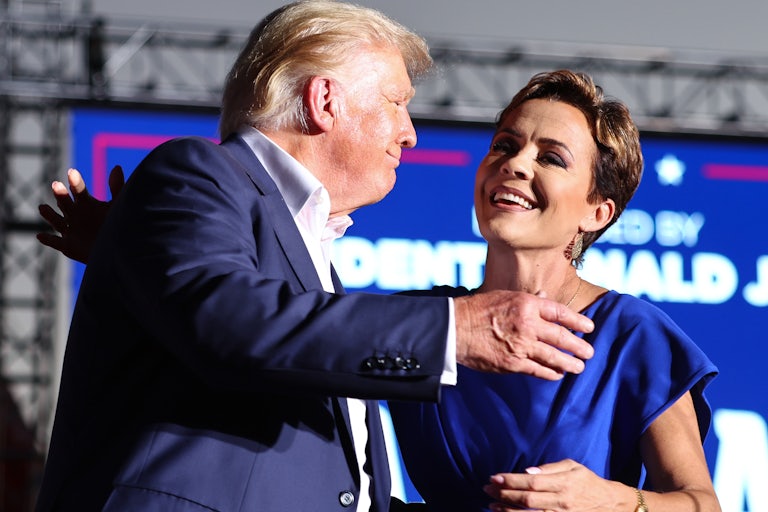 Mario Tama/Getty Images
Donald Trump and Kari Lake
Since the attack on Speaker Nancy Pelosi's husband last week, Republicans have shown themselves to be even crueler and more conspiratorial than expected. As Paul Pelosi recovers from a skull fracture, Kari Lake, Ted Cruz, Donald Trump, and countless others have mocked the violent attack.
Arguing that schoolchildren should have as much armed protection as lawmakers, Arizona gubernatorial candidate Kari Lake took the opportunity to off-handedly joke about the attack.
"Nancy Pelosi—well, she's got protection when she's in D.C. Apparently her house doesn't have a lot of protection," she said on Monday, spurring zealous laughter and applause from the audience. Disturbingly, even the event moderator—Lionel Lee, an ER doctor in Arizona—shook in laughter at the violent assault.
Other Republican reactions involved memes making light of attempted murder on a member of Congress' spouse.

Representative Clay Higgins shared an anti-LGBTQ conspiracy theory that the man who attacked Pelosi was actually a gay prostitute:
Ever the chaser of his father's approval, Donald Trump, Jr. posted a crude photo of a hammer and men's underwear on his Instagram, with the caption "Got my Paul Pelosi Halloween costume ready"—echoing Higgins' anti-LGBTQ smear:

Conservative blogger Matt Walsh called it "absurd" to describe a man—whose blog featured antisemitic comments, concerns about anti-white racism, and pleas to former President Donald Trump to choose Tulsi Gabbard as his VP—as "some kind of militant right winger." Senator Ted Cruz, who spends more time owning liberals online than doing his actual job, reposted Walsh's tweet, calling it "truth."
Donald Trump also waded into the attack, saying it was "a terrible thing." He then went on to the more predictable conservative hits—that the attack embodies violent crime in cities "far worse than Afghanistan," and that police officers don't have enough dignity and respect to save this "out of control" country.
Whether they spread conspiracy, make light of violent assault, or simply do not engage with reality, these reactions are all deeply alarming. Because these are not comments from people on the fringe. They are from elected officials, candidates, and popular media figures—those at the very core of the Republican Party.