MAGA Candidate J.D. Vance Wins Ohio Senate Race, In Huge Blow to Democrats
Vance beat Tim Ryan and maintained Republican control of the seat.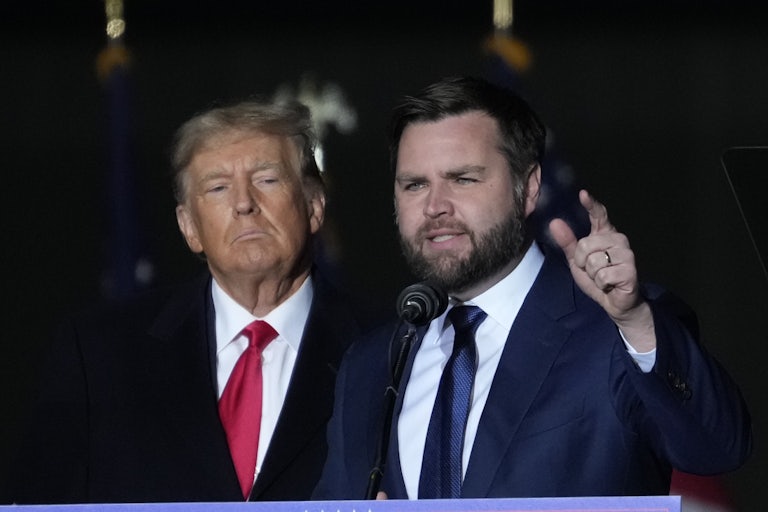 Drew Angerer/Getty Images
MAGA Republican J.D. Vance was elected Ohio senator Tuesday in a tight race against Democratic Representative Tim Ryan, according to a projection from NBC.
Vance leads Ryan 53.5 percent to 46.4 percent, with 87 percent reporting.

Ohio has long been viewed as a swing state, but it went solidly for former President Donald Trump in 2016 and has continued to shift farther right ever since.
But the competition between Ryan and Vance to replace outgoing Republican Senator Rob Portman was surprisingly tight, leaving many analysts unsure of which way it would go until the results came in.
Ryan had served for years as an Ohio representative. Although he is a registered Democrat, on the campaign trail, he sought to cast himself as more of an independent. He agreed with Trump on trade, but supported environmental policy, affordable health care, and legislation to codify abortion access and regulate gun ownership.
Vance, a former venture capitalist and writer, ran on an extreme right-wing platform. He was vague on his plans for issues such as inflation and energy production. But he was clear that he wanted to push back against gun control and to stop granting amnesty to undocumented immigrants.
He said he wanted to finish the expensive and ineffective U.S.-Mexico border wall started under Trump and ban all abortion.
Vance is also a 2020 election denier and wants to end mail-in voting.
His political leaning was a surprise to many, though. Vance rose to prominence with the publication of his memoir Hillbilly Elegy, an examination of the white working class, which quickly became a bestseller and was made into a movie. At the time of publication in 2016, Vance was a conservative Trump-skeptic living in San Francisco.
But when he moved back to Ohio, he made a stark and unexpected shift to the right, endorsing QAnon conspiracy theories and the lie that the 2020 election was stolen. He even traveled to Mar-a-Lago to secure Trump's endorsement of his senatorial campaign.
This piece was updated.