Liz Cheney Endorses Democrat Tim Ryan in Close Ohio Senate Race
This is Cheney's second Democratic nomination this election.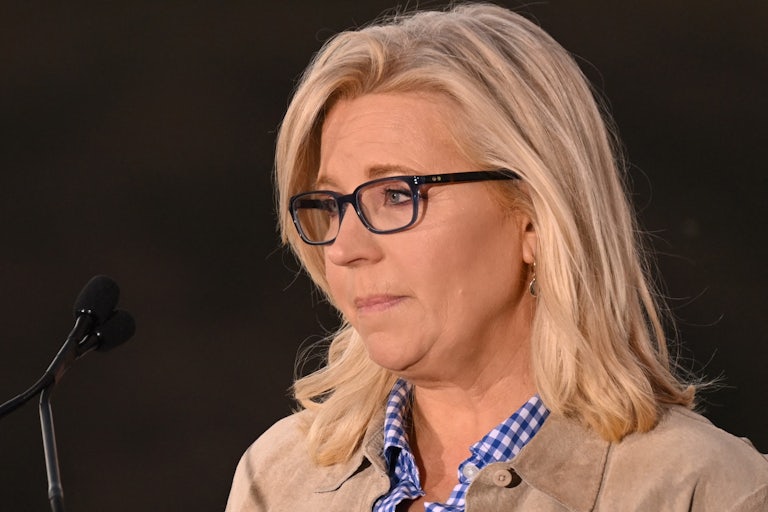 PATRICK T. FALLON/AFP via Getty Images
Liz Cheney endorsed Democratic Ohio Senate candidate Tim Ryan on Tuesday, her second time crossing the aisle ahead of the contentious midterm elections.
Cheney, who lost the Wyoming Republican representative primary after four terms, has now backed both Ryan and Democratic Michigan Representative Elissa Slotkin.
In an interview with PBS' Judy Woodruff on Tuesday, during an event in Ohio, Cheney said, "I would not vote for J.D. Vance," the MAGA Republican candidate.
"So if you were a Buckeye State voter, you'd be voting for Tim Ryan?" Woodruff asked.
"I would," Cheney replied.
Ryan has sought to cast himself as more of an independent on the campaign trail. He agreed with former President Donald Trump on trade but supports legislation such as increased environmental policy and affordable health care.
Vance rose to prominence with the publication of his bestselling memoir Hillbilly Elegy in 2016. At the time, he was a conservative Trump-skeptic.
Since hitting the campaign trail, Vance has made a stark and unexpected shift to the right, endorsing QAnon conspiracy theories and the lie that the 2020 election was stolen.
Cheney has been widely censured by her own party over her decision to certify the election of President Joe Biden and impeach Trump for a historic second time over the January 6 riot. She was stripped of her committee positions and primaried out of her office, but she currently serves as vice-chair of the House committee investigating the insurrection. She has called her work on the Jan. 6 panel "probably the most important thing" she's done professionally.
Cheney stands to make a real impact on the race in Ohio, a state crucial for Democrats maintaining their slim hold on Congress. If enough Ohio Republicans and right-leaning independents are anti-MAGA, Cheney's endorsement of Ryan could push the vote his way.
But her opinion has also sent far-right voters running the other way. On Friday, Cheney released an ad in Arizona attacking the Republican nominees for governor and secretary of state, Kari Lake and Mark Finchem respectively, both of whom are election deniers and conspiracy theorists.
Lake released a statement later that day mockingly thanking Cheney for the "anti-endorsement."
Lake said that since the ad aired, "our campaign donations are skyrocketing and our website nearly crashed from traffic."