A Majority of Israelis Think Netanyahu Should Resign
Ninety-four percent of Israelis believe the government bears some responsibility for Hamas's devastating attacks, while a slight majority think the prime minister should step down after the conflict ends.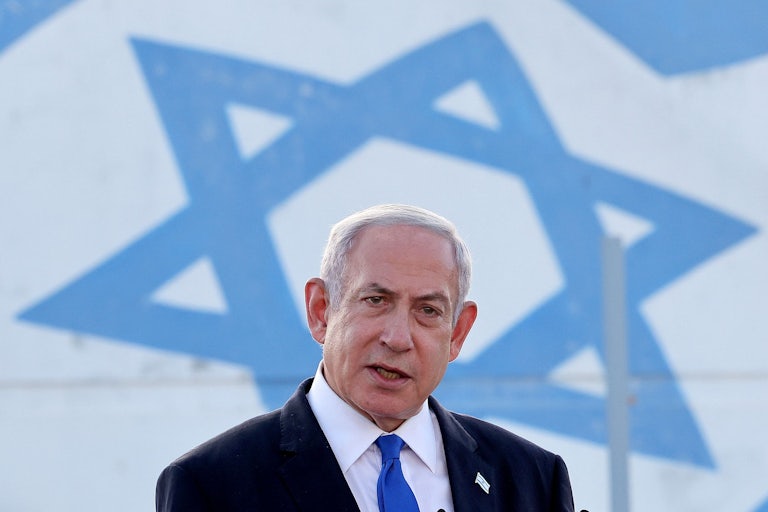 Photo by JACK GUEZ/AFP/Getty Images
Israeli Prime Minister Benjamin Netanyahu earlier this year
An overwhelming majority of Israelis blame their government and Prime Minister Benjamin Netanyahu for Hamas's invasion last week, according to a new poll.
A recent survey by the Dialog Center found that out of 620 Israeli Jews polled, 86 percent felt that the surprise attack from Gaza was the fault of Israel's government. Seventy-nine percent of coalition supporters also agreed, a damning assessment of Netanyahu's leadership.
Nearly all of the respondents—a whopping 94 percent—said the government was responsible for the lack of security that led to the infiltration of Israel's south, reported The Jerusalem Post.

But that doesn't mean Bibi's time as prime minister is in imminent jeopardy. A smaller majority, 56 percent, of Israelis polled said that Netanyahu should resign after the current conflict ends, with only 28 percent of coalition supporters feeling the same way.

The war between Israel and Palestine, sparked on Saturday when the Palestinian militant group Hamas launched a three-pronged assault on Israel's southern border with Gaza, has so far killed at least 1,400 people in Palestine and another 1,200 in Israel, ABC reported. At least 27 Americans have also died in the escalating conflict, per reports.

Gaza, a small strip of land sandwiched between Israel, Egypt, and the Mediterranean Sea, is one of the most densely populated areas of the world, housing more than two million people, with some 40 percent of the population under the age of 14.

In a press briefing late Wednesday night, Israeli Defense Minister Yoav Gallant claimed that Israeli military forces would "wipe [Hamas] off the face of the Earth." Since the initial assault, Israeli defenses have launched more than 6,000 bombs over Gaza, and leadership has cut off access to electricity, fuel, and humanitarian aid.
"Humanitarian aid to Gaza? No electric switch will be turned on, no water tap will be opened, and no fuel truck will enter until the Israeli abductees are returned home," said Israel Katz, Israel's minister of energy, on Thursday.
The fallout of that decision has caused what Gaza's authorities describe as a "humanitarian crisis," plunging the country into total darkness as it runs out of water and food.

But the front line is shifting. Early Thursday, Israel sent a large number of the 300,000 Israeli reserve soldiers to the country's northern border with Lebanon, fearing a possible attack from the Iran-backed Hezbollah, reported the BBC.
While there was a great deal of speculation in the immediate aftermath of the attacks that Netanyahu's government would be strengthened, that does not seem to currently be the case.