Michael Cohen Stares Down Trump and Drops Fraud Trial Bombshell
Donald Trump's former fixer has testified against him in the New York fraud trial.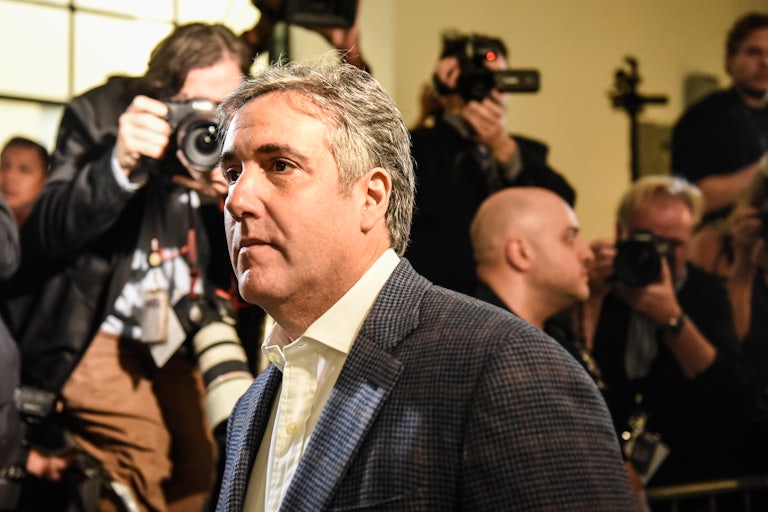 Stephanie Keith/Bloomberg/Getty Images
Steps away from his former boss for the first time in five years, Michael Cohen on Tuesday dropped a giant bombshell during Donald Trump's New York fraud trial.
While Trump scoffed and shuffled, Cohen described at length how Trump made up numbers and then told Cohen to artificially inflate the real estate mogul's net worth, sometimes by as much as billions of dollars, in order to broker better deals with banks and insurance companies.
"I was asked by Trump to increase total assets based upon a number he arbitrarily elected, and my responsibility was to reverse engineer and increase those assets to achieve the number Trump had tasked us to," Cohen told the court on Tuesday.
Cohen said that, at times, Trump would summon him and Trump Organization finance chief Allen Weisselberg to claim he was "not worth four and a half billion dollars" but rather "worth more of six," according to the Associated Press.
The former Trump crony also said that Trump's eldest children, Donald Trump Jr., Ivanka Trump, and Eric Trump, would share information about their projects to inflate the former president's financial statements, reported Axios.
Outside of court, Trump shirked Cohen's testimony, claiming that Cohen was a "proven liar."
"I'm not worried at all about his testimony," Trump said. "He's not a credible witness."
Judge Arthur Engoron issued a summary judgment in September that found New York Attorney General Letitia James had already proved Trump misvalued his properties and committed business fraud, soon after canceling the business certificates of Trump's companies. What remains to be seen in the trial is whether Trump violated other laws and, ultimately, what kind of financial penalty he might have to pay.
Cohen held several significant roles in Trump's sphere, including as personal counsel to Trump, vice president of the Trump Organization, co-president of Trump Entertainment, and board member of the Eric Trump Foundation, and he served as deputy finance chairman to the Republican National Committee between 2017 and 2018. He also once pledged he would "take a bullet" for Trump.