Guess Which Group Ron DeSantis Just Banned from Florida Campuses
Florida Governor Ron DeSantis is launching an attack on students who care about Palestine.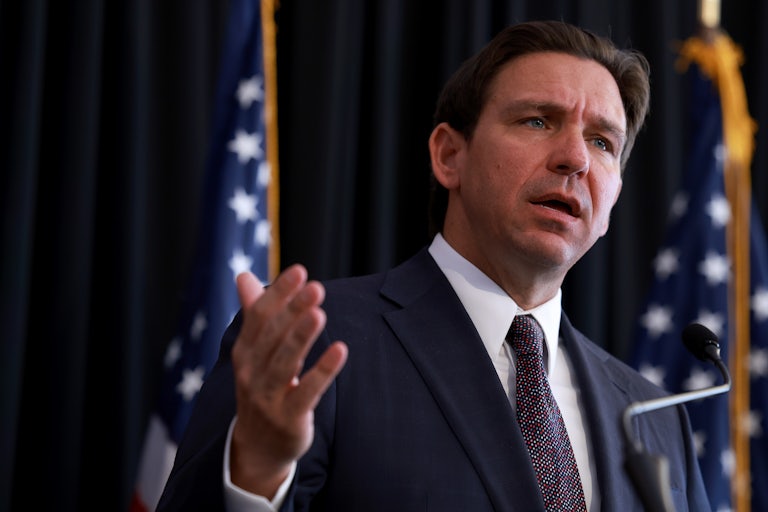 Joe Raedle/Getty Images
The head of Florida's public university system has called for the statewide shutdown of Students for Justice in Palestine on all campuses.
In a letter released on Tuesday, Chancellor Ray Rodrigues argued that all chapters of the pro-Palestine group must be "deactivated." The letter also stated that the new directive was issued "in consultation with" Governor Ron DeSantis.

The letter pointed to a tool kit released by the national student-led organization, "which refers to [Hamas's October 7 attack] as 'the resistance' and unequivocally states: 'Palestinian students in exile are PART of this movement, not in solidarity with this movement.'"
This tool kit, Rodrigues wrote, shows that SJP is linked to "a terrorist led attack." The letter also noted that under Florida law, it is a felony to "knowingly provide material support … to a designated foreign terrorist organization."

The SJP has two active chapters in the state: at Florida State University and the University of North Florida.
Numerous instances of harassment and assault have occurred on college campuses following Hamas's attack on Israel on October 7 and Israel's ongoing bombardment and siege on the Gaza Strip.

DeSantis has not helped cool down any of these tensions. On October 15, DeSantis claimed Palestinians "are all antisemitic," while arguing that the United States should not take in Palestinian refugees.

"You have Israelis being held hostage, as well as Americans being held hostage, but I don't think they are under an obligation to be providing water and these utilities while those hostages are being held. Hamas should return those hostages before any discussions are had," DeSantis told CBS's Face the Nation.
DeSantis's latest move is already under attack by free speech advocates. The Foundation for Individual Rights and Expression has called Rodrigues's demands "dangerous" and "a threat to free speech."
"There's no indication from the chancellor's letter that any action from Florida's Students for Justice in Palestine groups went beyond expression fully protected by the First Amendment," FIRE wrote in a statement.