Last Wednesday, Cindy Hans put on sneakers and exercise pants and went looking for voters in Chandler, Arizona. It was a mere 80 degrees outside—far preferable to what Hans, a former teacher and current state Senate candidate, had endured during the summer, when she and her team sometimes had to drive door to door because the heat topped 110 degrees.
Since it was a midweek morning, many of the homes on the canvassing list for the day were unoccupied. This did not deter Hans, a Democrat who reckons she's knocked on around 5,000 doors during her campaign in the 13th legislative district; she would stick a packet of information about her candidacy into the screen door and move on. At last, one of her knocks paid off: A woman opened the door, and Hans introduced herself first as an educator, then as a candidate. When the woman acknowledged that she was a first-time voter, Hans beamed. "Yay! I love first-time voters," she said. The occupant accepted Hans's literature, and promised to vote.
The day's efforts were not about convincing potential voters per se, but reminding them to mail in their ballots. Arizona has allowed early vote by mail for decades, and it's popular: In 2020, 89 percent of ballots were cast early. But this year, Republicans who believe the lie that the 2020 election was stolen from President Trump have been casting unwarranted doubt on early voting and ballot by mail, instead encouraging people to vote in person on Election Day.

Republicans hold a one-seat majority in the Arizona Senate and a three-seat majority in the House. According to the States Project, a progressive organization that recently poured $60 million into battleground states to support legislative candidates, it would have taken just over 2,000 votes to flip the state Senate in 2020 and around 1,000 to flip the state House. But after recent redistricting, Arizona has fewer than 10 competitive legislative districts, mostly in the Phoenix area, including Hans's district.
Arizona's elections have drawn national attention this cycle, particularly its Senate and gubernatorial races. Democratic Senator Mark Kelly is up for reelection, a crucial contest that could determine whether Democrats maintain their tenuous majority in the U.S. Senate. Democrat Katie Hobbs and Republican Kari Lake are vying for the governor's office. Lake, a charismatic former TV reporter endorsed by Trump, leads a slate of Republican statewide candidates who deny the results of the 2020 election.

The competitive gubernatorial race places even more weight on legislative campaigns like Hans's. Just a few Democratic victories could flip the balance of power in Phoenix entirely—or at the very least serve as a check on a potential Governor Kari Lake, who could not enact much of her agenda without Republican control of the legislature.
Hans outlined the benefits of a split legislature, arguing that it would do more to end partisan gridlock than enable it. "It forces everybody to come to the table. It forces everybody to listen. It forces everybody to reach across the aisle, because nobody's going to get their way," she said in an interview in her campaign office.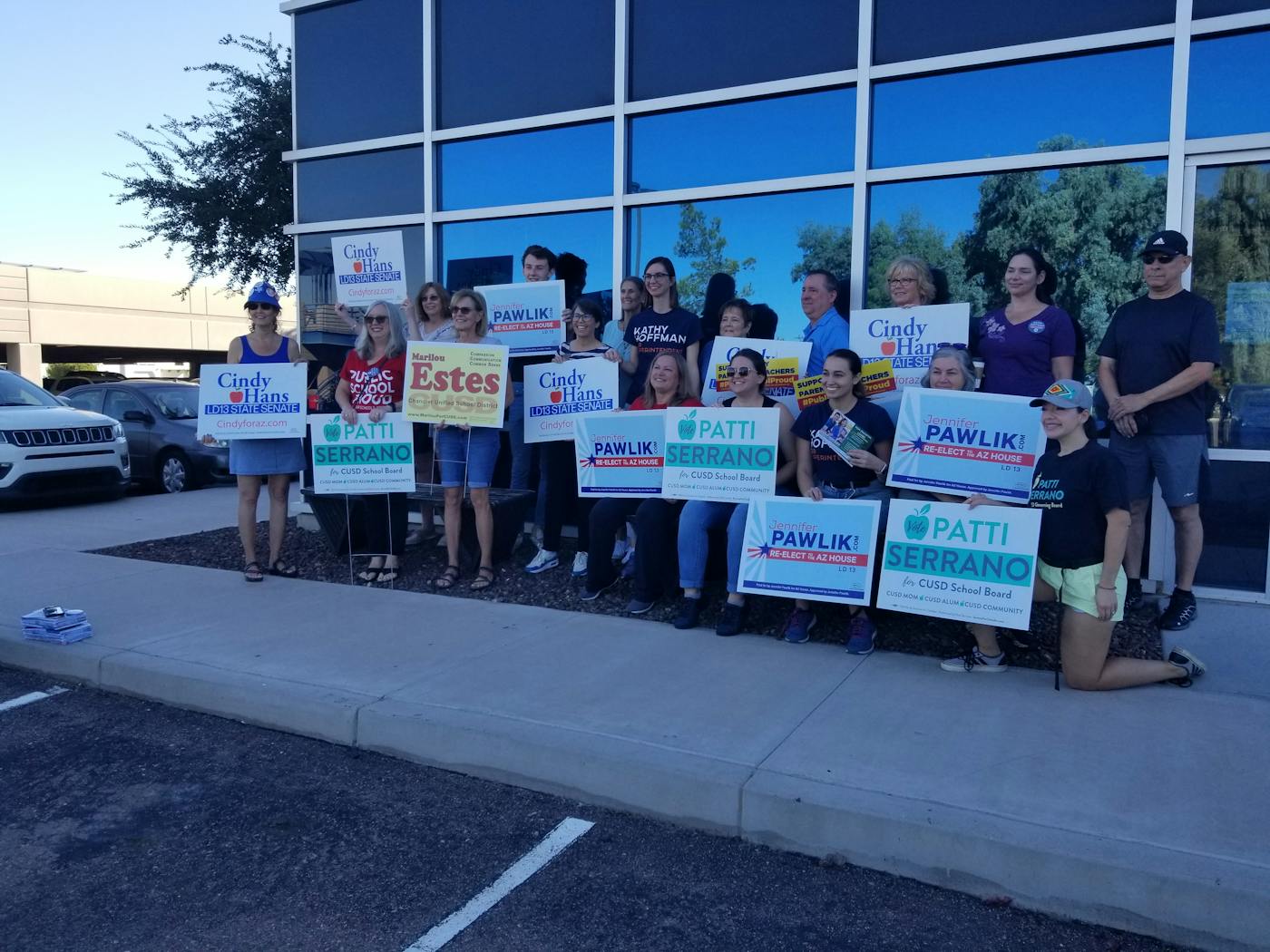 The state legislative races could determine, among other things, the success or failure of measures to weaken the state's long-standing vote-by-mail system, as well as whether the state continues to restrict or moves to protect abortion rights. If the races up the ballot draw interest (and money) away from the state legislature races, that could be problematic for candidates like Eva Burch, a state Senate candidate running in the competitive 9th legislative district.
"We always worry about the extra attention that is given to the larger statewide races and whether or not that is impacting the down-ballot candidates and issues. I think that we are trying to not be hyperfocused on those races but have consistent, quality messaging that we know resonates with our community," Burch told me.

When I asked Democratic state legislature candidates about the most important issues candidates are encountering on the trail, they cited issues that could motivate voters in any state, like inflation and abortion rights, and more Arizona-specific topics like funding for public education and water access. Secondary concerns include gun safety and voting rights.

Although polling indicates that abortion may be losing its salience as a motivating issue, the candidates I spoke to insisted that it was still critically important to the voters they were connecting with in their campaigns. "I just heard about it yesterday," Hans told me, when asked if abortion was still an issue voters cared about. Burch said she thought it would be a "deciding factor" for some voters.

Even so, candidates face an uphill battle in convincing voters to turn out in an off-year election, and voters are less likely to be informed about the races that, ironically, may affect their daily lives the most.
"When I retired, I became a poll worker. And in 2020, we had three big elections, and I worked all three of them. And people would vote, and then we would say, 'Thank you for voting,' and they would go, 'We'll see you in four years,'" Hans said. "And I'd be like, 'No! Mm-mm! Come back in two years!'"

---
The first thing you notice when driving through a suburb of Phoenix is the overwhelming number of signs along every road, packed so closely together that it's nearly impossible for any particular message to make an impression in the 30 seconds a car sits at a stoplight. There are signs for legislative candidates, for ballot measures, for school board elections, for City Council contests, and for the larger statewide races. A sign condemning one candidate will stand right next to another promoting them.

When I canvassed with Laura Terech, a state House candidate for the 4th legislative district, on Thursday morning, we passed several such patches of signs driving to a neighborhood in Scottsdale. Like Hans, Terech is a former educator—a kindergarten teacher. Every legislative district has two House seats, and Terech is adopting a "single-shot strategy" in campaigning, trying to convince voters to support her alone, rather than the two Republican candidates also vying to represent the district. The Arizona House has been in Republican hands since 1966, making it even more of an uphill battle for Democrats to reclaim the chamber.

"We think of competitive districts as 50 percent Republican, 50 percent Democrat, and that's just not the case anymore," Terech told me. Her district is almost evenly split among Republicans, Democrats, and independents—though Republicans make up a little more than a third. So even if Terech obtained every Democratic vote, it wouldn't put her over the top. Both Burch and Hans told me this is also roughly the partisan breakdown in their districts; as of the August primary, Maricopa County, home to all three of their districts, was around 30 percent Democratic, 34 percent Republican, and 35 percent "other."

If Terech's supporters only vote for her, that will not add any votes to Republicans, and she has a better chance of winning. This strategy was successfully used by a few other Democratic legislative candidates in previous years who, like Terech, were up against two Republican opponents; in 2020, Judy Schwiebert defeated a Republican incumbent to become one of the two representatives in what was then the 20th legislative district, but now she faces a challenging reelection effort in the newly drawn 2nd district.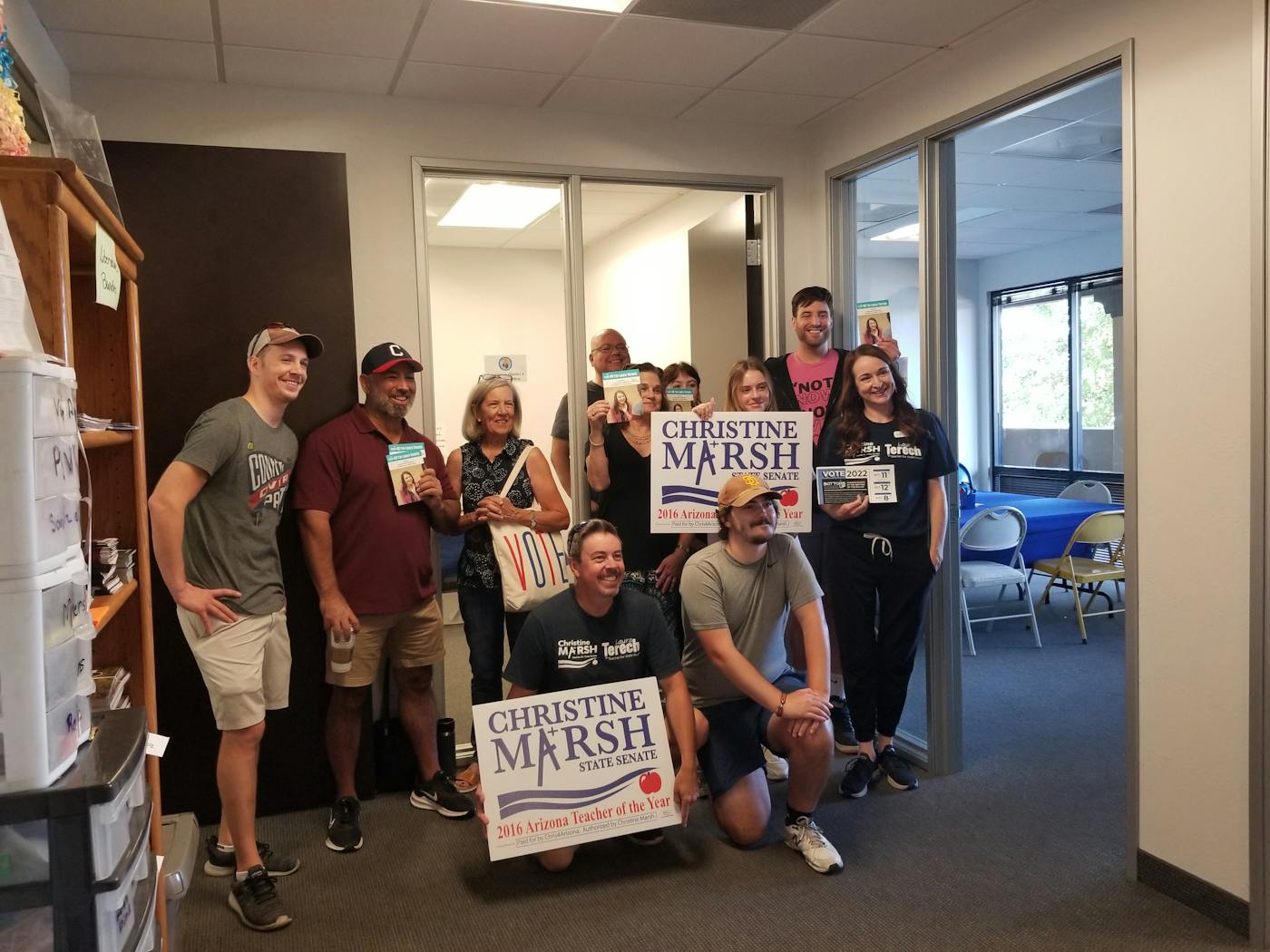 When I canvassed with her last week, Terech had more success in reaching voters at home than Hans had done the day before. An older man answered the first door, stepping out of the house in his socks to hear Terech better while a dog barked inside. But the man was uninterested in her pitch, turning back into his house after Terech mentioned wanting to increase funding for public schools.
Elsewhere, a potential voter took Terech's packet of information but was unable to talk for long because his dog was having a conniption. A resident of another house told Terech that everyone living there had already voted.
"This is how these races are won, with these really strong ground games," Terech told me. "When you're able to get to the doors and talk with [voters] about, 'Hey, if you care about water, if you care about your child's school, if you care about whether or not the legislature would be able to overturn a presidential election'—those are all reasons that you should vote in your local races."