December Jobs Report: Unemployment Rate Is the Lowest in 50 Years
The Labor Department report found that the unemployment rate is 3.468 percent, a level not seen since 1969.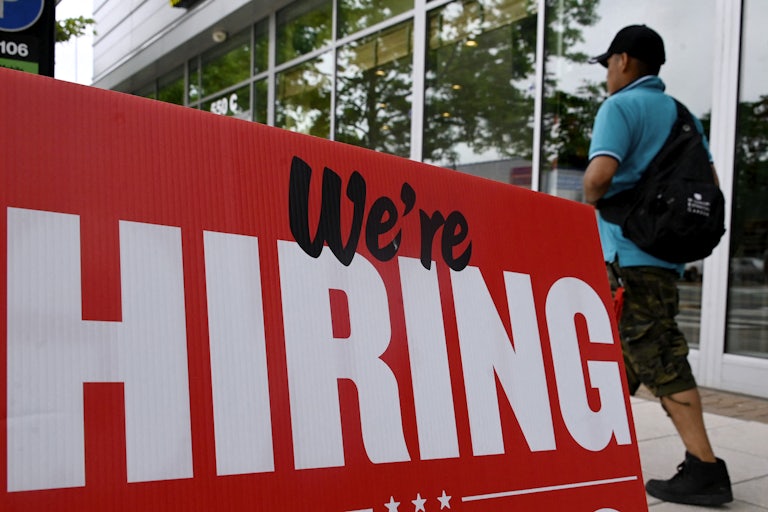 OLIVIER DOULIERY/AFP/Getty Images
The U.S. labor force is starting 2023 on a high note, with unemployment reaching its lowest point in 50 years in December, according to a report released Friday by the Bureau of Labor Statistics.
Nonfarm payrolls added 223,000 jobs in December, bringing the unemployment rate to 3.468 percent, the lowest level since 1969 (albeit by a very slim margin, the third decimal point). Comparatively, the unemployment rate in February 2020—just before the pandemic began in earnest in the United States—was 3.5 percent. In December 2019, the unemployment rate was 3.6 percent.
The sectors that added the most jobs were leisure and hospitality, health care, and construction. Employment in retail held steady, while state education employment declined by 24,000 jobs. University employees have gone on strike in recent months over workplace conditions. One of the biggest demonstrations took place throughout the entire University of California system and saw tens of thousands of academic workers walk out to demand pay increases.
The low unemployment rate isn't the only piece of good news: The national average gas price, a sore spot for President Joe Biden, has also fallen lower than in January 2022.
National gas prices have dipped lower than they were a year ago. As of Friday, the national average price per gallon was $3.30, according to AAA.

Both the employment gains and the falling gas prices are huge wins for Biden, who has been under fire since he took office for sky-high inflation and unemployment, first due to Covid-19 and then Russia's invasion of Ukraine.
Inflation finally seems to be cooling, as well, and the Federal Reserve eased off its massive rate hikes at its December policy-setting meeting. The U.S. central bank is eager to achieve a so-called soft landing, or a decrease in inflation without tipping the economy into a recession.

The fact that the labor market has remained strong overall has caused concerns that the economy has not slowed sufficiently to avoid a downturn, but Dean Baker, the senior economist at the Center for Economic Policy and Research, put the chances of a recession at "less than 50 percent."
"I think the overall picture suggests the economy can keep growing at a healthy pace," he said of the December jobs report, but that will depend on the Fed maintaining a slower pace with rate hikes.