Environmental, Native Groups Slam Biden's "Immoral" Approval of Willow Oil Drilling Project in Alaska
"Biden approved Willow knowing full well that it'll cause massive and irreversible destruction, which is appalling."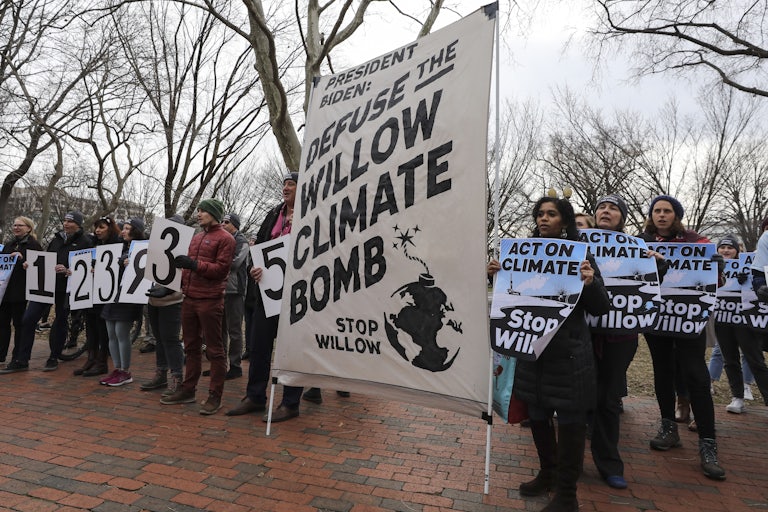 Celal Gunes/Anadolu Agency/Getty Images
Climate activists gather to demand President Biden stop the Willow Project, at Lafayette Square in front of the White House on January 10, in Washington D.C.
"No more drilling on federal lands. No more drilling, including offshore. No ability for the oil industry to continue to drill. Period. Ends."

That was Joe Biden's promise in 2020. He again repeated the promise two days before the 2022 midterms.

And now, on Monday, Biden's administration formally approved Willow, a massive oil drilling project in Alaska. The $8 billion project spearheaded by corporate giant ConocoPhillips is slated to produce over 600 million barrels of crude oil over 30 years, which will produce the equivalent of roughly two million cars' worth of carbon pollution every year.
The project is set to infiltrate one of the country's largest expanses of public land.
Last week, former Vice President Al Gore said it would be "recklessly irresponsible" for Biden to sign off on the project. "The pollution it would generate will not only put Alaska native and other local communities at risk, it is incompatible with the ambition we need to achieve a net-zero future."
And Gore, who warned in his An Inconvenient Truth about how the climate crisis necessitates us "having to change the way we live our lives," is certainly not alone.
"Instead of sticking to his own goals and listening to the millions of young people who carried the party for the last three cycles, President Biden is letting the fossil fuel industry have their way," said Sunrise Movement executive director Varshini Prakash, who noted that Willow will emit more pollution annually than 99.7 percent of all single-point sources in the country.
Other environmental activists had similar words of condemnation for the project, which is expected to be challenged in court.
"Biden approved Willow knowing full well that it'll cause massive and irreversible destruction, which is appalling," said Kristen Monsell, a senior attorney at the Center for Biological Diversity. "People and wildlife will suffer, and extracting and burning more fossil fuel will warm the climate even faster. Biden has no excuse for letting this project go forward in any form. New Arctic drilling makes no sense, and we'll fight hard to keep ConocoPhillips from breaking ground."
"Today's decision completely contradicts not only the administration's climate goals but also its commitment to consider Traditional Ecological Knowledge in federal policymaking," said Jade Begay, director of policy and advocacy at Indigenous advocacy organization NDN Collective. "The Native Village of Nuiqsut has repeatedly voiced their concerns around how the project will impact local ecosystems—including caribou, which they rely on for subsistence. This immoral decision will have devastating impacts on the livelihood of the people of Nuiqsut and beyond."

Just last year, a monthlong natural gas leak from Conoco's oil drilling near Nuiqsut, Alaska, prompted hundreds of people to evacuate. Now the company is marching back into the area for an enormously wider mission.
Meanwhile, the Biden administration announced Sunday it would ban drilling or (mostly) limit drilling in other parts of Alaska and the Arctic, ostensibly as an attempt to soften the blow of completely flipping on Biden's pledge not to allow further drilling into our earth.

"It's insulting that Biden thinks this will change our minds about the Willow project," said Monsell. "Protecting one area of the Arctic so you can destroy another doesn't make sense, and it won't help the people and wildlife who will be upended by the Willow project. We need to protect the entire Arctic and stop building massive oil and gas developments that will contribute to greenhouse gas emissions for years to come."