New House Speaker Once Blamed Abortions for Social Security, Medicare Cuts
Mike Johnson tried to justify Republican cuts to the social safety net in the most inane way.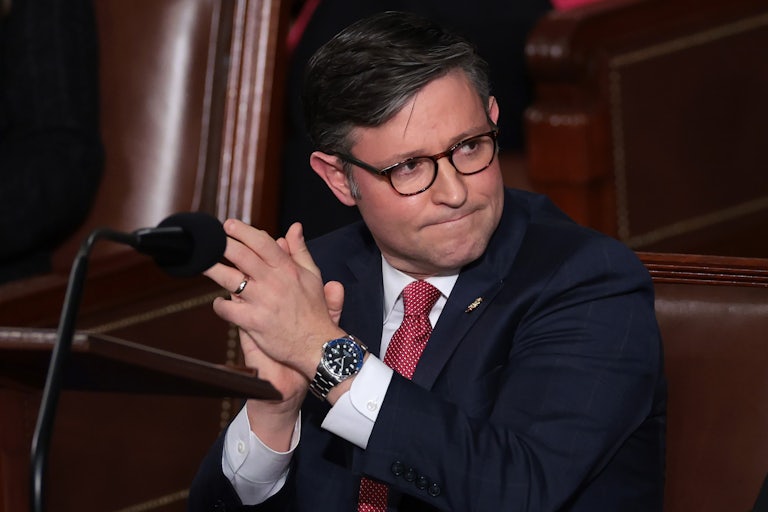 Win McNamee/Getty Images
The new House speaker, Mike Johnson, has touted some extremely controversial opinions as a member of the far-right House Freedom Caucus—but few as unsavory as his apparent hatred for a woman's right to choose, sizing a woman's worth up as her ability to create more workers for American businesses.
In a clip that surfaced Tuesday, Johnson put the onus of Republican cuts to essential programs on unborn children, claiming that if American women were producing more bodies to churn the economy then Republicans wouldn't have to cut essential social programs like Medicare and Medicaid.
"Roe v. Wade gave constitutional cover to the elective killing of unborn children in America," Johnson said, during a House Judiciary Committee hearing.
"You think about the implications of that on the economy; we're all struggling here to cover the bases of Social Security and Medicare and Medicaid and all the rest. If we had all those able-bodied workers in the economy, we wouldn't be going upside down and toppling over like this," he added.
Johnson has also co-sponsored at least three bills hoping to ban abortion at a nationwide level, including the Pain-Capable Unborn Child Protection Act, the Protecting Pain-Capable Unborn Children From Late-Term Abortions Act, and the Heartbeat Protection Act of 2021, all of which carry criminal penalties of up to five years in prison for physicians who perform abortions.