Biden Signs Landmark Bill Protecting Same-Sex Marriage
The president officially signed the Respect for Marriage Act, which protects same-sex and interracial marriage.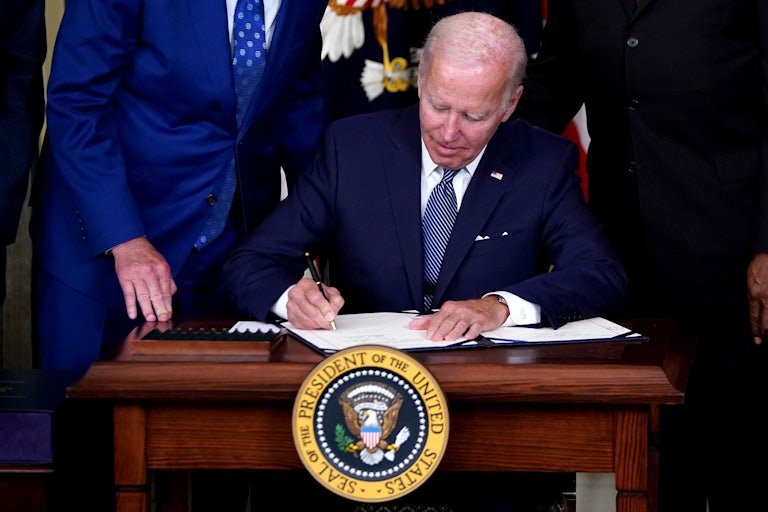 MANDEL NGAN/AFP via Getty Images
President Joe Biden on Tuesday signed a historic bill enshrining the right to marriage equality into law.
The Respect for Marriage Act, which applies to both same-sex and interracial marriage, would require that two people be considered married so long as their marriage was legal in the state in which it was performed. The act also repeals a 1996 law defining marriage as between a man and a woman, which has remained on the books despite being declared unconstitutional by the Supreme Court in 2015.
Many civil rights activists had warned that after the Supreme Court overturned Roe v. Wade in June, same-sex marriage may be next on the chopping block.
About 2,000-3,000 people attended the signing ceremony on the White House lawn, according to spokesperson Karine Jean-Pierre. The event opened with a performance by the Gay Men's Chorus of Washington, D.C. The singers wore silver sequin scarves and sang "Harmony's Never Too Late," an original piece.
Senate Majority Leader Chuck Schumer highlighted how personal the bill is for him, as his daughter and her wife are expecting their first child. "Yes, this is about making life better for millions of LGBTQ Americans…but it's also [for] the countless children and families who will be protected by this bill," he said.
Outgoing House Speaker Nancy Pelosi highlighted the numerous wins for the LGBTQ community over the years, including the repeal of Don't Ask, Don't Tell at the end of her first term as speaker.
Musicians Sam Smith and Cyndi Lauper performed their respective songs "Stay With Me" and "True Colors." Lauper opened her song by saying, "This time, love wins," and punctuated the grand finale calling out, "Power to all the people."
Gina and Heidi Nortonsmith, one of the seven couples who sued the state of Massachusetts for marriage equality in 2001, gave a speech celebrating how much progress has been made but acknowledging how much farther there is to go.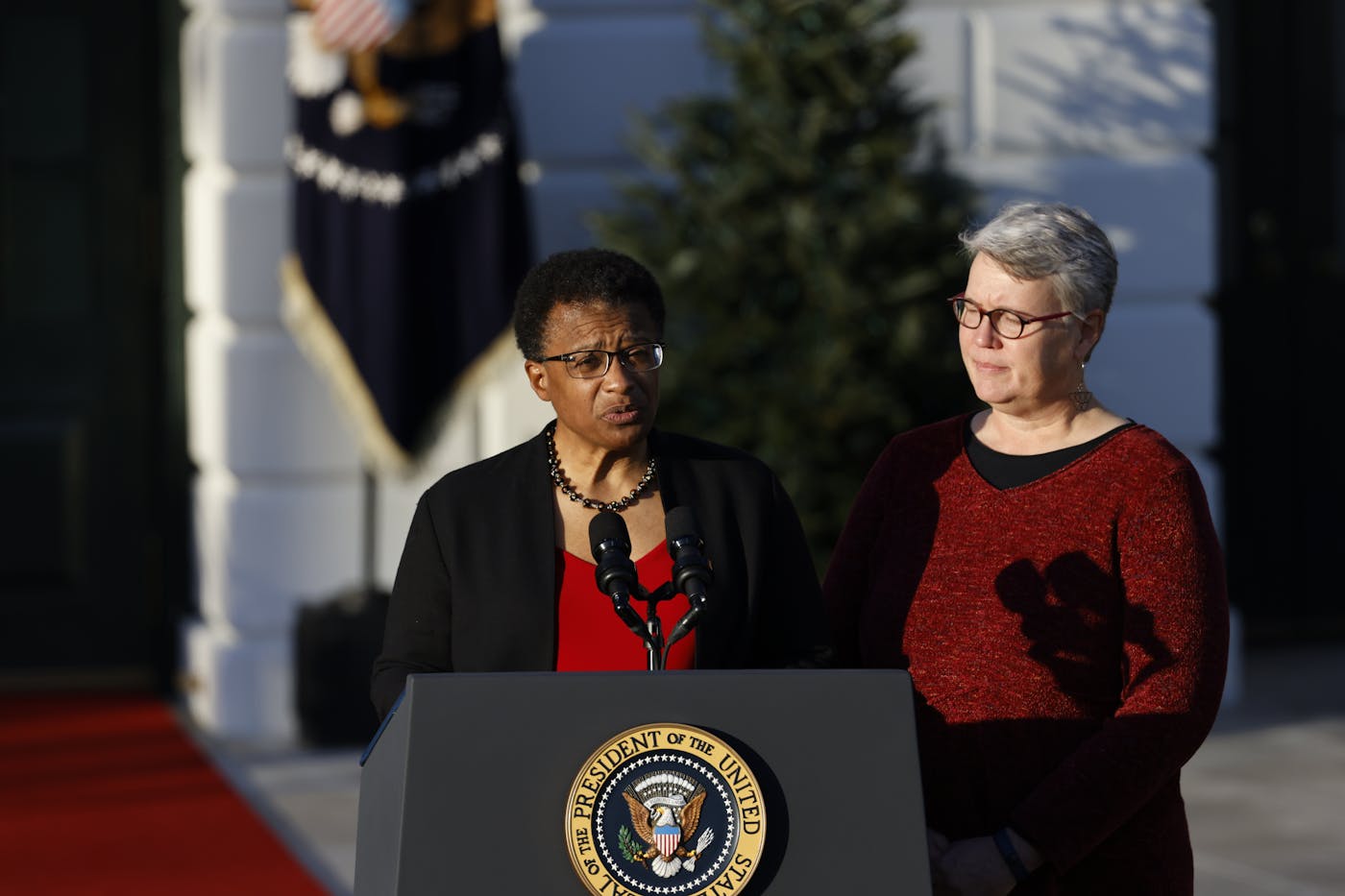 Finally, Biden stepped up to the podium. He thanked all the activists and members of the LGBTQ community whose work helped bring the legislation to pass.
"It's one thing for the Supreme Court to rule on a case," he said. "But it's another thing entirely for the elected representatives of the people to take a vote on the floor of the United States Congress and say loudly and clearly, love is love. Right is right. Justice is justice. These things are fundamental things that America thinks matter."
Biden also warned about the "extreme" Supreme Court, which rolled back the nationwide right to abortion and has threatened to do more. He decried the attacks on spaces that affirm gender and sexual orientation.
The House of Representatives voted 258-169 last week to pass the final bill to Biden's desk. At least two Republican House members, Representatives Vicky Hartzler and Glenn Thompson, voted against the bill despite having LGBTQ family members.* Thompson had also voted against an earlier version of the bill this summer, just three days before attending his son's same-sex wedding.
The Senate voted 61-36 two weeks ago to pass the bill. One of its opponents was Republican leader Mitch McConnell, who is in an interracial marriage.
Critics of the bill have said, though, that it does not go far enough with LGBTQ protections. Part of the amendment says that religious organizations do not have to marry same-sex couples, which would allow groups to continue to be homophobic, and the bill does not require all states to actually issue same-sex marriage licenses.
* This article originally misstated the voting records of Hartzler and Thompson.