New House Speaker Kicks Things Off With Crass Remark About His Wife
Representative Mike Johnson made a gross gaffe about his wife in his acceptance speech.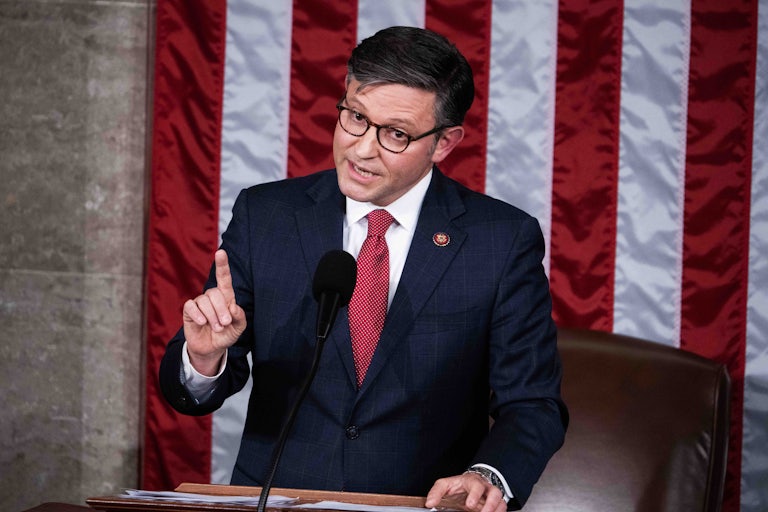 Tom Williams/CQ-Roll Call, Inc/Getty Images
Usually when a new speaker of the House is elected, they have major plans to unveil, recontextualizing the House's work. Speaker Mike Johnson, however, had some other priorities. First thing on his agenda? Make a weird joke about his wife.
Shortly after the little-known congressman won the title that he claimed he never sought, Johnson took the podium to thank the hard work of the congressional staff, Speaker Emeritus Kevin McCarthy, and his wife.
"I want to thank my dedicated wife of almost 25 years, Kelly. She's not here, we couldn't get a flight in time. This happened sort of suddenly," Johnson said.
"She's spent the last couple of weeks on her knees in prayer to the Lord. And, um, she's a little worn out," Johnson smirked.
"We all are," he added.
Johnson, a legislator with a track record of anti-LGBTQ, anti-abortion, and anti–election integrity initiatives, won the speakership with a unanimous GOP vote on Wednesday. It was a feat that several of his more prominent colleagues had failed to accomplish in the last three weeks since McCarthy was ousted, and which some speculated may even be impossible.
Johnson's ascension to a post second in line for the presidency has been the fastest in modern U.S. history, according to The Atlantic. The 51-year-old, who began his congressional career in 2017, was mentored by the likes of House Majority Leader Steve Scalise and Representative Jim Jordan. The head-down congressman has also closely aligned himself with Donald Trump, fighting tirelessly during 2020 to help overturn the presidential election results and becoming what The New York Times described as the "most important architect" of the 2020 Electoral College objections on January 6, 2021.