The Republicans' Ballooning 2024 Field
PLUS: How to save democracy, according to David Pepper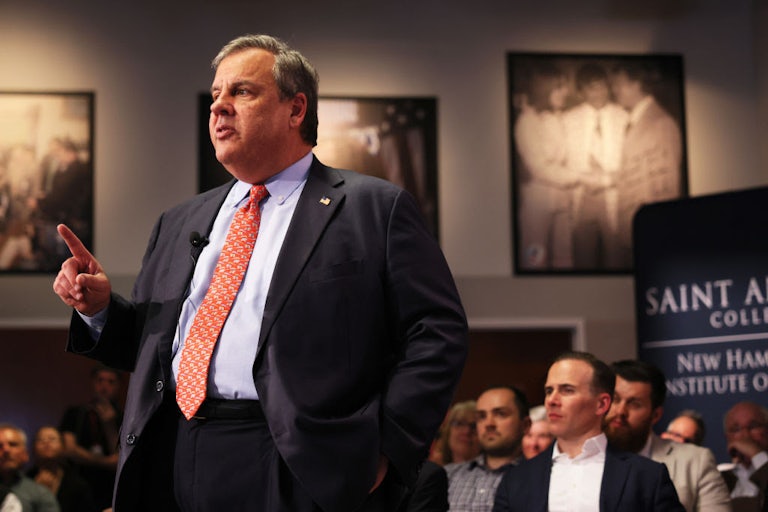 Michael M. Santiago/Getty
Former New Jersey Governor Chris Christie
The top
Three Republicans jumped into the presidential race this week. Playbook fittingly called it "Longshot Week": New Jersey Governor Chris Christie, former Vice President Mike Pence, and North Dakota Governor Doug Burgum may be the latest Republicans to join the field, but they most likely won't be the last—there are always wild cards and unexpected additions in any modern-day presidential field. Their repercussions are generally marginal, however.
Not this time. For months the consensus has been that a larger field of candidates is actually better for Donald Trump. There's evidence for this thinking: Pollsters say again and again that his base simply doesn't move from him, regardless of the former president's actions or scandals. Actually that understates Trump's hold on his supporters: The more embattled he is, the more they circle the wagons around him. Given the various lawsuits in which Trump is embroiled and the constant complaints he makes about how there's some kind of vast conspiracy against him, his supporters are circling him very closely.
That leaves only a chunk of the Republican electorate for the ever-increasing number of candidates to fight over.
"Nikki Haley got in, Tim Scott got in, [Ron] DeSantis got in, and we didn't see a lot of erosion at all from Trump," said Monmouth University pollster Patrick Murray. "In fact in some ways his support got stronger with every announcement. So really it's basically once we went from two viable contenders to three, it doesn't matter [at] this point because everyone who's coming in [as] the fourth, the fifth, the sixth, and the seventh are all, as of right now, fighting over the same group of non-Trump supporters."
As the field of non-Trump candidates grows, however, is there one behind whom the anti-Trump bloc of the Republican primary electorate could coalesce? Maybe a Scott or a Christie?
"No, it's not clear at all," Murray said. "They represent about 30 percent of the Republican electorate—the people who want to move on from Donald Trump. And it's whoever the non-Trump candidate is. If there's one, that's who they'll get behind. If there's more than one, then [the vote] just splits up. It's not like one in particular has a better chance than others. Except for Ron DeSantis, but his support has eroded significantly over the past few months."
Democratic pollster Zac McCrary put it this way: "It's not that complicated. I do think a bigger field helps Trump," he said. "We saw this in 2016; I think we're going to see this in 2024: Trump is most vulnerable in a one-on-one head-to-head race.… The math is pretty straightforward in that regard. I think Trump probably pops a bottle of—I wouldn't say champagne—but probably pops a bottle of Diet Coke at Mar-a-Lago every time a new Republican gets in."
Trump and his team seem aware of this dynamic. Trump ominously wishes each new candidate "good luck" when they enter the race.
"Good luck to Senator Tim Scott in entering the Republican Presidential Primary Race," Trump said after Scott formally announced his candidacy. "It is rapidly loading up with lots of people, and Tim is a big step up from Ron DeSanctimonious, who is totally unelectable."
The irony here is that all these other candidates are fighting to make sure Trump isn't the Republican nominee again, although most of them refuse to directly say that.
The rest of the primary field has another problem: They need to figure out how to distinguish themselves from each other in addition to Trump.
"What is it that you have that is so unique relative [to] anyone else jumping into the race?" Republican pollster John Couvillon said. "In other words, if you're a Doug Burgum or a Perry Johnson or Asa Hutchinson or one of those guys, you're going to have to find a way of standing out in regards to catching the attention of donors and voters."
That fact alone highlights another motivator. Some of these candidates aren't really running to be president. They're running for visibility or a Cabinet position in the next Republican administration. But there too, if Trump is president again, the fact that they challenged him will be a pretty big mark against them.
Burgumentum
Unless you live in North Dakota or are deeply invested in its politics, Burgum's announcement that he is running for president may have been the first time you heard of him. While Christie and Pence are long shots, they at least have the national name recognition that Burgum lacks. In terms of the old-school Republican campaign Burgum appears to be launching, with a heavy emphasis on American leadership and energy policy, his closest analog in the primary may be Hutchinson, the former governor of Arkansas. Burgum could be even less well-known nationally than Hutchinson, who some will recall was a House manager during President Bill Clinton's impeachment, but he does have one significant advantage: money, and lots of it.
Before entering politics, Burgum was a successful software executive. With a net worth of more than $1 billion, he largely self-funded his gubernatorial campaign, and can replicate that strategy in a presidential primary. Money isn't everything, but it's not nothing! "One of the contexts in which campaign cash can be very helpful is early on in a primary when the candidate is not very well known," FiveThirtyEight's Nathaniel Rakich writes. Even if this presidential bid is unsuccessful—as it is very likely to be—Burgum can spend enough money to boost his name recognition, making him a politician to watch for in future elections.
North Dakota Senator Kevin Cramer told TRU that Burgum has a "great personal story," as well as "the resources to tell that story in a few important early states." Cramer has endorsed Burgum, and continued that he believed the governor could appeal to voters with his low-key style. "I guarantee it won't be loud and screaming, and it won't be offensive to anybody, and it may not be sexy enough to break through, but if everyone else kills each other, there will be a very good story to tell," Cramer said.
Burgum told The Forum of Fargo-Moorhead in May that "there's a value to being underestimated all the time," noting that he handily won the 2016 gubernatorial election despite being an underdog without any state party support in the primary. Cramer said admiringly that Burgum was "a turd in the punch bowl in North Dakota," a political outsider who advanced from the business world to the governor's office.
Trump's team remains unimpressed. "Unlike Ron DeSantis, Doug Burgum doesn't have to point to relatives to claim Midwestern credentials. He was born and raised there," Karoline Leavitt, spokesperson for the Make America Great Again PAC, said in a statement. "However, like Ron DeSantis, Doug Burgum will waste millions of dollars only to lose to President Donald Trump in Iowa."
But Cramer argued that observers shouldn't count Burgum out just yet. "He will almost certainly exceed everybody's expectations," Cramer said. "Now, you can't have expectations much lower than people have right now for him."
Trivia, tips, and pet pics
We want to hear from you! Which Republican presidential candidate do you predict will drop out first? What did you think of New Hampshire Governor Chris Sununu's decision to stay out of the presidential race? What's your most anticipated TV show of the summer (Grace is particularly looking forward to Justified: City Primeval)?
Or do you want to enter our weekly dog and cat photo contest (winner at the bottom)? Email us: dstrauss@tnr.com and gsegers@tnr.com.
David Pepper's guide to saving democracy
The former chair of the Ohio Democratic Party, David Pepper, is out with a new book on how to approach the crises that have beset the country's democratic system. He spoke with TRU about Saving Democracy: A User's Manual for Every American and his thoughts on the country's future. This interview has been condensed and edited for clarity.
The Run-Up: Why do you think democracy is in danger and needs to be saved?
David Pepper: If you take a close look at what's happening in all these states—if we saw that same set of events happening in another country, we would recognize it as a full-fledged assault on democracy. And the kind of steps we're seeing in these states, whether it be censorship or attacks on rule of law, rigging elections so the outcomes are guaranteed, empowering a minority to do what it wants, even if the majority disagrees—I mean, all those things are five-alarm fires when it comes to basic notions of a healthy democracy.
TRU: You argue that the factions subverting democracy in order to maintain power succeed because they are constantly on offense. Given that the opposite faction, the small-d democracy faction, is often on defense, how do you go on offense without resorting to those same tactics of gerrymandering or voter suppression?
D.P.: Going on offense means get to where the battle is, and fight it all the time. The battle is not just a few swing states during federal years, it's power at the state and local level, especially the statehouse, whenever there are elections there, and in between those elections gearing up for that.
Where we need to get much stronger is taking steps that when they break the law, when they do things that are just unacceptable politically, we do a lot better job of aggressively holding them accountable. Whether that be local prosecutors taking on lawlessness like we're seeing in Georgia, whether it be private lawsuits, whether it be people losing their bar license because they're lawyers who violate ethics rules—we can go on offense without becoming what they've become. But going on offense means doing it in different places, being far more aggressive, and seeking accountability wherever we can.
TRU: In your book, you say that everyday Americans should incorporate democracy into personal mission statements. Could you talk a bit more about that dynamic, about saving democracy as an individual versus as a collective society?
D.P.: Collectively is how we'll do it. But the power of the collective effort will only come when enough people decide, "This is part of who I am." Once you've made the commitment, "Hey, this is part of who I am, I'm fighting for democracy, I'm an American, I want to live up to that"—it's really, I hope, empowering to people, because then they can see, "Wow, there's so much more that I can do."
Once you have enough people saying, "It's part of who I am," then all of a sudden, every workplace, every nonprofit, every geographic location, like an apartment building, can be a hub of democracy.
It's only too late if we don't see the threat for what it is. Or if we quit, or if we don't change our strategies to actually deal with it. But if we do all that, especially if enough Americans step up and say, "This is going to be part of my core mission," I think we certainly can win the day long term and just keep fighting for democracy.
TRU: What gives you hope for democracy?
D.P.: It's always a continuing battle. The 2022 election was a great moment where certain pieces of the right kind of infrastructure succeeded.
2022 hopefully shows a lot of people that there is an infrastructure building, [but] it needs to be scaled up. If it just stays static, it's not good enough. We need to scale it up. But there's momentum around the right approach that some are building. It's happening organically from the grassroots on up. But '22 should give people hope, that if we keep building in the directions that '22 showed success, we actually I think can make progress in the final thing.
If we simply keep doing what we're doing, and only focus on a few swing states and the presidential—then I think we squander a good opportunity. I do think there is a moment of time right now that we can take advantage of, if we're really smart about it and we're willing to adjust some of the way we do things.
Document of the week
This week's document is a fundraising invite for DeSantis's campaign, in two weeks in Washington D.C. We noticed that multiple headliners have ties to Florida or even the last Florida governor who ran for president (Jeb!). The fundraiser underscores how DeSantis is leaning on his home field advantages in these early days of campaigning.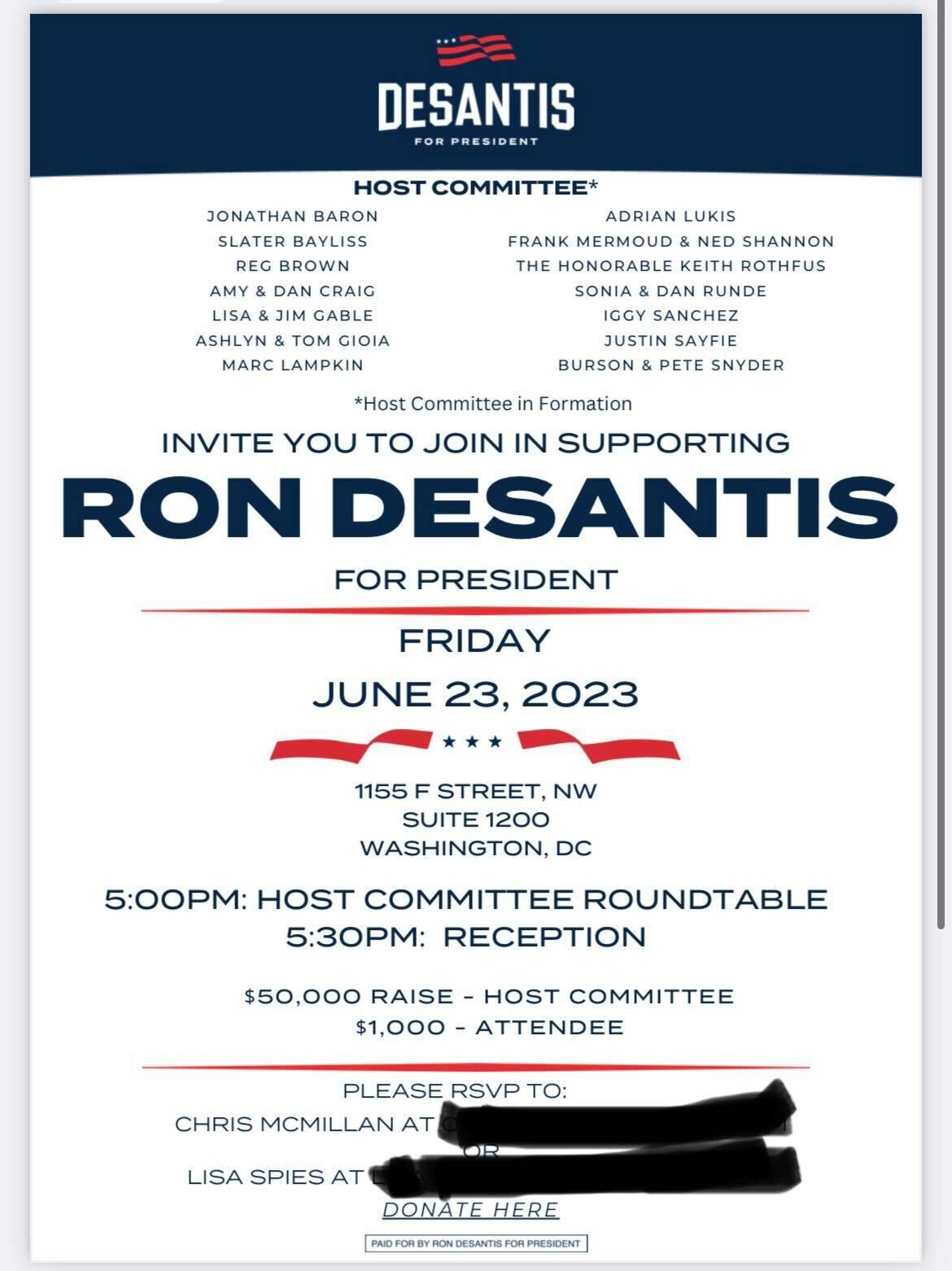 News and views
Local flavor
'This law specifically targets us': Idaho families sue to block trans health care ban, by Ryan Suppe in the Idaho Statesman
Long reads
Ron DeSantis' joyless ride, by Mark Leibovich in The Atlantic: "DeSantis is the ultimate performative politician when it comes to demonstrating outrage and 'kneecapping' various woke abuses—but not so much when it comes to the actual in-person performance of politics."
After missteps with some Hispanic voters in 2020, Biden faces pressure to get 2024 outreach right, by Will Weissert and Adriana Gomez Licon in the Associated Press: "Biden is hardly the first politician to strike a sour note trying to connect across cultural lines, but the blowback he encountered illustrates a bigger challenge facing the president and his party as he seeks a second term next year."
BFFFFs (Best Furry Feline Friends Forever)
This week, we're honoring Brodie (left) and Maddie (right), submitted by Luke Kraemer and Pat Morgan. After they adopted Maddie this February, the two cats became instantly inseparable. According to their humans, they do something new every day—including, today, being featured in this newsletter!