The 2024 Election Cycle Has Entered Its Summer of Discontent
It seems like the primaries are over before they even began—and people are feeling unsatisfied.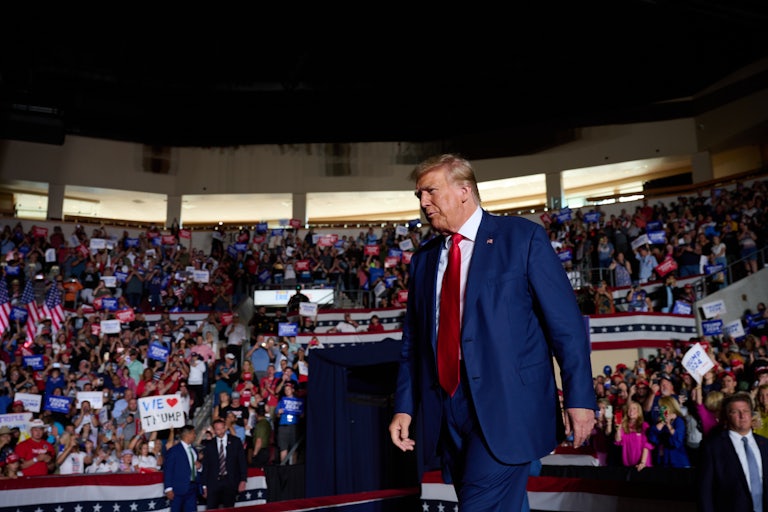 Dustin Frank/Getty Images
On a good day, our two-year-long presidential election cycle often seems like a lengthy road trip spent in the company of the world's most insipid people. But it's especially dull in the August before the presidential primaries, when the novelty of all the pre-primary activity has worn off but the most substantive and consequential days are far ahead.
"So what are we going to talk about?" says the bored passenger to his dull-witted driver, having exhausted what little interest there is to be had in, say, the quixotic bid of anthropomorphic Reddit comment thread Robert F. Kennedy Jr. and the even less interesting political peregrinations of centrist nincompoops No Labels, who still somehow have deep-pocketed donors left to fleece. "Well," the driver responds, "we could just accept the fact that this looks like it's going to be a rematch between Donald Trump and Joe Biden."
The endgame has slouched into view way earlier than anyone wanted it, and people are restless, testy, and dissatisfied. To wit: This week, thanks to Dean Phillips, we were made to endure yet another round of discourse over whether Joe Biden is too old to be running for president. Wait—who is Dean Phillips?
So asked everyone. It turns out he's a three-term Democratic representative from Minnesota who spent the weekend "meeting with Democratic donors in New York City … to explore a run for the White House" and then, I guess, made a point of telling some reporters that he'd met with some donors in New York City to explore a run for the White House.
Phillips has been going on about Biden's age for some time now, apparently. He told Politico's Jonathan Martin in February, "If he were 15-20 years younger it would be a no-brainer to nominate him, but considering his age it's absurd we're not promoting competition but trying to extinguish it."
So why aren't Democrats trying to sabotage their incumbent presidential candidate? While I share the broad concerns about Biden's age, the time to resolve this conundrum was back in 2015, when many younger Democrats were champing at the bit to be president. Democratic elites took stock of what was on offer and swung behind Biden; voters proclaimed their support for him soon after. Credit Phillips for consistency—he endorsed the comparatively younger Amy Klobuchar during the last primary. But another bed got made back when it mattered, and there's no choice but to lie in it.
And so, I'm sorry to say, the die is cast: Biden has the best chance of any Democrat to win right now, and no one who might have a shot at the Democratic nomination in 2028 is going to burn bridges with the party pursuing a 2024 campaign that is likely to fail and hurt Biden's chances. If Dean Phillips and his donors want to mount a campaign and ride a single percentage point all the way to becoming the answer to a pub trivia question in the years to come, they can be my guest.

Here's some good news for Democrats, however. Joe Biden is definitely aging better than this quote: "What is the downside for humoring him for this little bit of time?" That line was spoken by a "senior Republican official" who, on November 8 of 2020, didn't really see a problem with Donald Trump's constant stream of "baseless assertions that fraud had cost him the election"—after a week in which the former president was indicted for a series of alleged criminal activities that led to the January 6, 2021, attack on the U.S. Capitol. Which brings us to this week's New York Times/Siena poll showing that Trump is eviscerating his primary competition—including Florida Governor Ron DeSantis, who trails him by a cool 37 points.
Why isn't DeSantis faring better? Probably because his candidacy is a knotty tangle of contradiction and nonsense. TNR's Grace Segers deftly summarized the DeSantis campaign's raison d'être like so: "I'm not Trump, but I'm like Trump, but Trump has baggage, but he also won the 2020 election, but I'm better than Trump, but Trump was also an incredible president." This will fit real nice on a bumper sticker.
As I wrote back in April, this was the obvious contradiction at the heart of the candidacies of Trump's rivals: Few have reconciled their support for Trump's stolen-election claims with their desire to supplant him. So the people who should be fighting to tear Trump down have instead bestowed on him the sheen of an incumbent, and the Republican base has, to no one's surprise, followed these cues. As my colleague Alex Shephard noted this week, this latest polling underscores just how deeply entrenched the idea of Trump's Avignon presidency has become—and how it remains a third rail for challengers like DeSantis.
Still, all things being equal, you'd rather have the Democrats' problems (that Biden is extremely old) than the GOP's. (And here I should belatedly add that Trump, in addition to being a one-man wrecking ball of criminality and corruption, is also really frigging old.) Besides, as TNR contributor Osita Nwanevu once noted, Biden's most important campaign promise is that he'll beat Trump, and should he succeed again, there's nothing stopping him from getting re-inaugurated, taking Jill out for a few spins on the dance floor, and then waking up the next morning to resign from office. That would resolve the concerns of Democrats swiftly and handily. And Republicans might wish for Biden to beat Trump in 2024 as well, because let's face it—the only thing that's likely to solve their Trumpism problem is a savage, election-year shellacking.
This article was adapted from one that first appeared in Power Mad, a weekly TNR newsletter authored by deputy editor Jason Linkins. Sign up here.