Trump and His Big Mouth Violate Gag Order—and It'll Cost Him
Donald Trump will be fined for breaking a court gag order.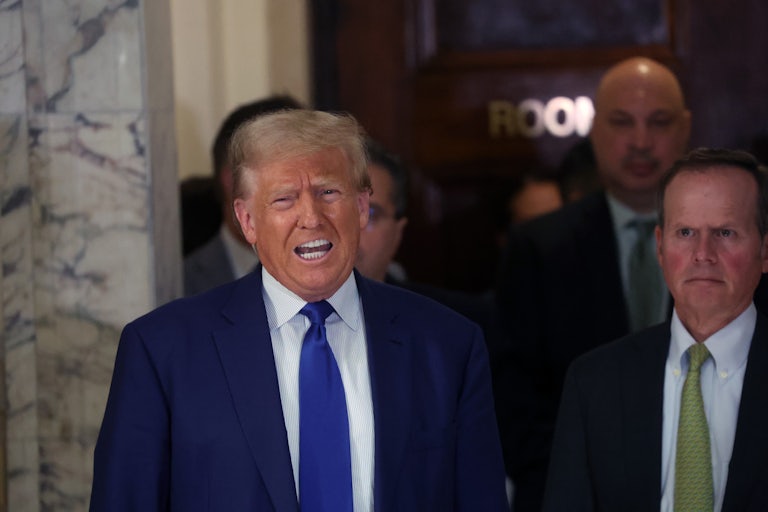 Spencer Platt/Getty Images
Donald Trump has crossed the line in Judge Arthur Engoron's courtroom—again.
On Wednesday, the former president was fined $10,000 for violating his gag order in his $250 million New York fraud trial, the second such incident in less than a week. Engoron has threatened more severe sanctions should Trump continue to break the order, including the possibility of jail time.
At issue was an offhand remark Trump made to reporters during a break, apparently criticizing Engoron and his law clerk.
"This judge is a very partisan judge with a person who is very partisan sitting alongside him, perhaps even much more partisan than he is," Trump said.
Once back in the courtroom, Engoron called on Trump to testify under oath about who he had been referring to.
Trump claimed he was referring to Michael Cohen, but when pressed by the judge on whether he'd previously called his law clerk "partisan," Trump said "maybe" he had called her unfair, adding that she's "very biased."
"Why should there not be severe sanctions for disobeying a clear court order?" Engoron said.
About 45 minutes after the judge levied the fine, Engoron denied a motion on a separate issue brought forward by Trump's team. Then, surprising everyone, Trump got up and stormed out of the courtroom, reported NBC News.
The gag order stems from the second day of Trump's fraud trial, after the former president went on a social media campaign, lambasting Engoron's principal law clerk, Allison Greenfield, and baselessly claimed that the legal adviser was in a relationship with Senate Majority Leader Chuck Schumer. Trump also shared Greenfield's Instagram details, effectively ushering a scourge of far-right sympathizers onto her social media accounts.
"Consider this a gag order on all parties with respect to posting or publicly speaking about any member of my staff," Engoron said at the time. "Personal attacks on members of my court staff are unacceptable, inappropriate, and I won't tolerate it."