Withering June sunshine shimmied off the rural asphalt, but tiny Reynolds, Georgia, population 926, basked in the rays of a different star: Stacey Abrams, the gubernatorial candidate and Nobel Prize nominee, who was visiting for a Saturday campaign rally. "We don't have things like this in Reynolds," said a Tim's Fireside Grill server as she watched first responders' vehicles gather at the town's center. Reynolds has one grocery store, one gas station, a Dollar General, and four funeral homes. The Taylor County Courthouse is eight miles west in Butler, medical care even farther. Residents' median age of 47 is 10 years higher than the state median. The town, whose population has dipped 14 percent since 2010, is close to half white and half Black. There's no central square, but on an otherwise empty block, Baptist and Methodist churches sit like boxers in their corners, squaring off over souls. Abrams's rally occupied a gazebo and tree grove between the churches.

If Reynolds was in unmistakable decline, Abrams's fortunes were on an opposite trajectory. The daughter of Methodist ministers, Abrams entered politics in 2006, won a state House seat, and later became House minority leader. She cultivated strong relationships with community members, whom she enlisted to make inroads for her. Capitalizing on a growing Black middle class and an influx of better-educated, non-native Georgians who favored Democrats, Abrams founded Fair Fight and the New Georgia Project for outreach and registration. In 2018, Abrams was the nation's first Black woman to secure a party nomination for governor.
"After the primary, Stacey unleashed a never-before-seen-in-Georgia organizing infrastructure, with people on the ground everywhere," political strategist Dasheika Ruffin told me, her admiration plain. "Stacey's one of the most diligent people I've ever met in my life." According to Andra Gillespie, a political scientist at Emory University, Abrams believed that polarization required new perspective. In statewide races, Democrats were traditionally moderate to conservative; being pro-gun was a typical rightward nod. Abrams, on the other hand, developed "a more base-focused strategy that recognized the middle had shrunk so much, it probably wasn't worth the attention," Gillespie said.
The closeness of the 2018 race heightened Georgians' interest. FiveThirtyEight estimated that participation shot 21 points higher than its 1982–2014 average. After Republican Brian Kemp won by just 1.4 percent, or 55,000 votes, it was alleged that he had gamed the system. As secretary of state, he had, since 2010, scrutinized the New Georgia Project, questioned paperwork, and canceled over 1.4 million registrations, 534,000 of them on one July night in 2017.
Despite losing, Abrams was everywhere, on talk shows and cable news. Her name was floated for the Democratic Party's 2020 vice presidential candidacy. And while she didn't join the ticket, she was a vital organizer for Georgia's surprising Democratic flip, in which Raphael Warnock and Jon Ossoff respectively became the Peach State's first Black and Jewish U.S. senators and Joe Biden narrowly won Georgia's 16 presidential electors.
Now Abrams is challenging Kemp, her former rival, in a state that in the 2022 contests may be more emotionally important to Democrats than any other. With democracy itself hanging in the balance, the stakes feel nothing less than dire. Around the nation, new redistricting and election laws, described by some Democrats as "Jim Crow 2.0," have limited voter participation. Democrats hold a slim nine-seat advantage in the U.S. House and trail by two seats in the Senate, though a pair of independents often vote with them. Legislative action is nearly deadlocked. Should Republicans prevail in November, Democrats can read the tea leaves from GOP gains in 1994 and 2014. With congressional control, Republicans will likely shift their focus away from the January 6 insurrection and voter accessibility and toward culture war issues; no doubt they will besiege President Joe Biden with spurious investigations. Meanwhile, the Supreme Court has issued a relentless stream of conservative victories, with indications of more to come. It's hard not to see Georgia as Democrats' last great hope; if the party can prevail in the ruby-red Deep South, the thinking goes, all might not be lost.
Stacey Abrams's visit to Reynolds was symbolically important, said University of Georgia professor Charles S. Bullock III, because of an election more than 70 years ago: the 1946 state Democratic primary. In July of that year, after World War II Army veteran and Taylor County sharecropper Maceo Snipes defied Jim Crow and voted, vigilantes shot Snipes in the back. The victim walked more than three miles before someone took him to a hospital, where he was denied a transfusion for lack of "Black blood" on hand. Days later, he died; his accused murderers were exonerated.
Abrams's nearby appearance consecrated Snipes's still-unmarked grave. Soulful gospel music rang from the PA system as attendees fanned themselves in the dappled shade. "I had to witness this," said Bernita Saunders, who left Reynolds in 1969. She had traveled all the way from her home in Rochester, New York, for the rally. "It's like a historical movement. We're looking forward to whatever areas could be picked up for our race."
Freda Hankerson, who'd traveled from Villa Rica, Georgia, two hours northwest, said she liked Abrams's "tenacity." Hankerson's friend, Oglethorpe City Council member Jill Harrison, drove 20 miles north to Reynolds. She had found out about the rally from state Representative Patty Bentley, who was now greeting the 130 nearly all-Black attendees with exuberance. Down front, a gentleman rose from his rolling walker's seat and engaged her with call-and-response rooted in Sunday pews.
"We're in rural Georgia," Bentley shouted. "We praise the Lord down here." As Lee Greenwood's "God Bless the U.S.A." rang from the speaker cabinets, a lineup of local elected officials waved U.S. flags. Attendees without flags waved open hands overhead.
Following an introduction by a demure high school salutatorian, Abrams spoke. She described her familiarity with poverty, the need for educational and medical access. She touted her establishment of rural Wi-Fi access, her efforts to make Covid-19 vaccines available, and her payment of the negotiated medical debt of 68,000 Georgians. She mentioned the necessity of an emergency insulin program for Georgia. "That's why on day one as the next governor of Georgia, my mission is to expand Medicaid in the great state of Georgia," she announced to cheers. It would be an economic measure, she said, that would ensure 64,000 jobs and clinch $3.5 billion in public funds.
Her oratory rose and fell in cycles, then climbed to a final crescendo. After obliging a smattering of introductions and photographs, she climbed into a black SUV for the respite of a drive to Atlanta.
Stacey Abrams is not the only Georgia politico shouldering Democratic hopes this year. The Senate seat of Raphael Warnock, in whose victory Abrams played such a pivotal role, also stands on the line. If he can't defeat GOP nominee and former University of Georgia football star Herschel Walker in November, Republican congressional power grows, and the ability to restore rights removed by the Supreme Court will be lost.
Like Abrams, Warnock grew up the impoverished child of pastors. He arose from Savannah public housing to follow the Reverend Martin Luther King Jr.'s academic and professional path, earned a doctorate, and then led the flock at Atlanta's Ebenezer Baptist Church as the youngest senior pastor in its history. His political course intertwined with that of Abrams: For three years, he chaired the New Georgia Project; she endorsed his Senate run. Like her, he pushed for Medicaid expansion.
Unexpectedly, sorrow provided a key moment in Warnock's senatorial quest. When universally revered human rights icon and 34-year U.S. House veteran John Lewis passed away in July 2020, the funeral service took place at Ebenezer, an epicenter of the civil rights movement. At the same pulpit where King once held sway, Warnock presided over Lewis's dignitary-laden ceremony, attended by three former presidents; Barack Obama delivered the eulogy. Warnock's oratorial poise showed why several nationally renowned Democrats endorsed him in the Senate race against Republican Kelly Loeffler. "Here lies a true American patriot who risked his life and limb for the hope and promise of democracy," Warnock said of Lewis. "He loved America until America learned to love him back."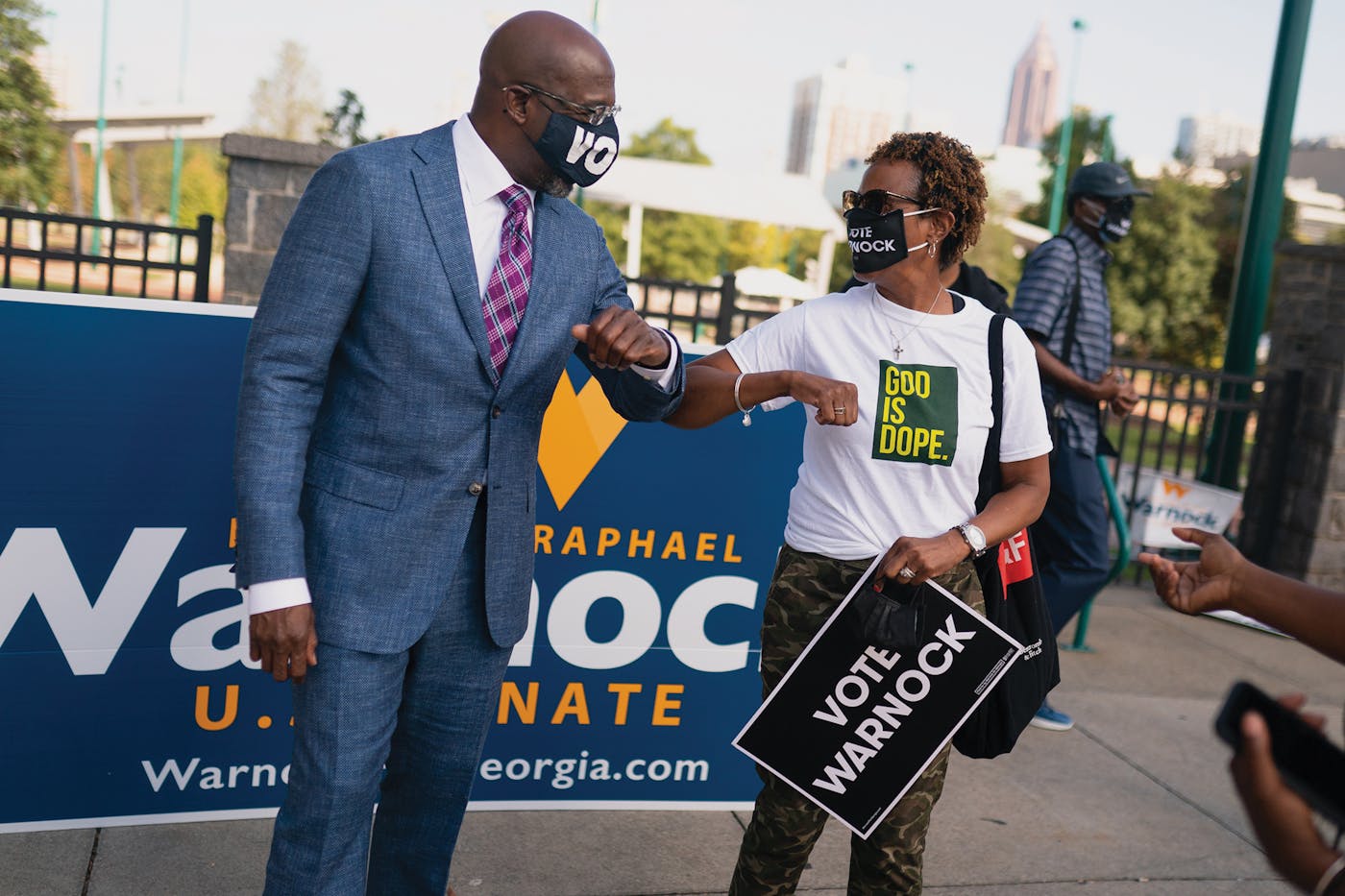 In 2020, two months after the general election, Warnock and Ossoff both forced their Republican opponents into special runoff elections. And as the presidential race dragged through weeks of recounts and contested results, Georgia's Democratic Senate nominees kept at the stump. "Georgia got a tremendous amount of national attention, not just because it was a key swing state in transition, but at that point, it was the only thing going on," said Alan Abramowitz, a professor emeritus at Emory University whose political models have correctly predicted every presidential election from 1988 until 2016. When Warnock's race was called in his favor—roughly 45 minutes before midnight on January 5—he became the first Black Democratic senator from the former slaveholding Confederacy. Ossoff secured his seat hours afterward. In their victories, it seemed as if the two had pushed aside the Old South. But within 12 hours, a violent mob brandishing Confederate flags invaded the U.S. Capitol, seeking to topple constitutional order. Dixie's darkness had tracked the new senators to Washington.

In the South, politics have an undeniable ethnic slant, a skew that provides insight to Georgia's now-seismic political landscape. Pew Research polls show that white Georgians identify as 59 percent Republican, 25 percent Democratic, and 17 percent independent. Black Georgians lean in the opposite direction: 73 percent are Democratic, 15 percent independent, and 12 percent Republican.
The state's changing demographics help explain its political shifts. Georgia's non-Hispanic white population dropped from 70 percent in 1980 to 50.1 percent in 2020, per the census. The Atlanta metro area has the fourth-largest Black immigrant population in the United States, according to The Atlanta Journal-Constitution; its metro holds more than half of the state's 10.7 million residents. One of the nation's largest metropolises, it boasts the world's busiest airport and a Democrat-friendly ethno-socio-demographic profile, in effect a blue impact zone rippling across political maps.
"Atlanta has made the difference the last 20 years," Bullock said. Before 2004, metro Atlanta had just three blue counties. Since 2016, there have been nine—or "10, once Fayette County flips," Bullock added. All four of the largest counties in Georgia (Fulton, Gwinnett, Cobb, and DeKalb) now vote Democratic, and the Democratic share of votes in Gwinnett and Cobb has been increasing every election since 2014. The shift in these counties was incredibly rapid, even "shocking," Abramowitz noted. In 2012, they were Republican by double-digit margins; by 2020, they were Democrat by a similar proportion. Some smaller cities, including Albany, Athens, Columbus, Macon, and Savannah, have also been dependably Democratic, and the agricultural Black Belt girdling middle Georgia is tinged blue, too.
According to Abramowitz, the growing numbers of Black, Asian, and Hispanic residents in the state have been key to its Democratic transformation. The other thing that helped Democrats in 2020, Abramowitz said, was the reaction many white, suburban, college-educated voters had to Trump. Washington Post exit polls showed 54 percent of women voting for Biden, and 55 percent of men voting for Trump. As always, race was an important factor: Almost 70 percent of whites voted for Trump, while 88 percent of Black voters and 62 percent of Hispanic/Latino voters picked Biden.
However, not all Georgia Republicans were necessarily Trump fans, a key to Biden's unexpected win. In the five counties with the largest Republican margins of victory, Republicans increased their overall numbers, but Trump fared worse in 2020 than 2016. Georgia Secretary of State Brad Raffensperger testified before Congress that 28,000 voters who cast ballots for down-ballot Republicans didn't vote for Trump. Biden won by fewer than 12,000 votes.
Lagging interest wasn't solely a Republican issue. Despite Abrams's historic efforts, a New York Times analysis found that the Black share of the electorate fell from 2016 to 2020, too. If Democrats want to maintain their narrow hold, that trend will need to be reversed. "We can't declare Georgia blue yet," Gillespie said. "Honestly, we can't continue to declare Georgia purple until we have more data points."
Like most fast learners, Abrams has had her share of missteps and unexpected difficulties. Her quick rise left bruised egos among some more established players. Bullock, the University of Georgia professor, felt that the reaction was partly "jealousy," that Abrams's resources had allowed her to "roll over" anyone else. Abrams, Bullock noted, had criticized Michelle Nunn's and Jason Carter's 2014 campaigns (when Nunn was running for the Senate and Carter for the governorship); she felt that these scions of older politicians—Georgia Senator Sam Nunn and former President Jimmy Carter, respectively—left too many pockets of marginalized voters.
Others believe that Abrams, however inadvertently, has simply overshadowed the predecessors who facilitated her success. Political strategist Richard McDaniel, who worked for both Obama's and Hillary Clinton's Georgia campaigns, argued that her rise was the result of a true grassroots program that continually closed margins from 2012 to 2018. He called U.S. Representative Nikema Williams's husband, Leslie Small, a "mastermind" for his longtime work organizing Democratic voters. "We took the same tools about teaching people how to sign up for the Affordable Care Act, or violence prevention, or immigration rights, and put those organizing tactics to it," McDaniel said. He credits Abrams for building "a hell of a machine" to complement the prior work.
Nevertheless, her polling lags with Black men, as McDaniel acknowledged. When it comes to that demographic, he said, "We just have a trust problem, period. Always have." He spoke of Black men feeling exploited and ignored by Republicans, and Democrats forgetting Black men's concerns after elections conclude. "Look at the Ahmaud Arbery situation and the George Floyd situation. Those happened, and we're nowhere closer to criminal justice reform or police brutality." Indeed, in 2016, Trump got at least 12 percent of Black male votes, and the proportion of Black men voting for Republicans in Georgia has slowly increased over the last few election cycles.
The gender gap, however, predates Stacey Abrams and isn't limited to Georgia, as Gillespie pointed out. Experts are unsure about its cause, but Gillespie suggested that adherence to "traditional gender roles" was a factor. Other cultural issues are also touchy. "Abortion will work in metro Atlanta, but you get to the rest of the state—" McDaniel trailed off. "And you can't talk about guns to rural Georgia. This is the South, and there are probably more Black women at the gun range now than ever before."
Abrams can fault Kemp for not expanding Medicaid, but a solution isn't simple; she can't unilaterally change it, Bullock said. Abramowitz agreed: "At one time, but not anymore. She can argue she will push hard to get it to the legislature, no matter who controls it." (Abrams's and Warnock's camps declined interview requests for this article.)
Former running back and MMA fighter Herschel Walker, Warnock's competition for the Senate seat, won more than a national championship and a Heisman Trophy playing football at the University of Georgia 40 years ago. He gained divinity in Peach State lore. That's why his campaign appearances triple the standard duration: The Republican nominee has indulged football fans with photos and autographs for hours. Whether these efforts will translate into votes, of course, is another matter. "He's doing a great job with his retail politics, but no matter how many of these he does, he can't meet the millions of Georgians turning out to vote," Bullock said.
Initially, Walker's candidacy wasn't taken seriously. He was endorsed by former President Donald Trump last September, but the endorsement soon devolved into curiosity, as both candidate and booster argued about whose idea the campaign was. It didn't help that Walker's past was problematic, to say the least. He openly discussed his dissociative identity disorder. He claimed to have played Russian roulette. He threatened multiple people with blade and gun. He said he finished atop his college class when he had a B average and didn't graduate. He falsely posed as law enforcement. He inflated his records as a businessman. He claimed to have led a nonprofit for veterans, when in reality he was only paid for a celebrity endorsement. His frequent condemnations of absentee fathers became ironic when, after a Daily Beast story, Walker revealed a clutch of clandestine offspring—multiple sons and a daughter.
"You get the feeling when you hear him that he's not ready for prime time," Abramowitz said. Indeed, in his TV appearances, his statements were often opaque. After the Uvalde, Texas, school shooting, he fielded an impromptu query about gun policy with a rambling, barely decipherable monologue: "People see that it's a person wielding that weapon, you know, Cain killed Abel, and that's the problem that we have. And I said, what we need to do is look into how we can stop those things. You talk about doing a disinformation. What about getting a department that can look at young men that's looking at women, that's looking at their social media? What about doing that, looking into things like that, and we can stop that that way?"
Warnock, meanwhile, has capably touted his work to cap prescription drugs, suspend the federal gas tax, and halt price gouging. Pro-Warnock outside groups, according to Abramowitz, are prepared to use "actual clips of Walker saying pretty crazy stuff." It seems likely, in any case, that Warnock will argue that his "better command of the issues," as Gillespie put it, and his ability to "talk about them cogently" make him the better candidate. He has challenged Walker to three TV debates, in Atlanta, Macon, and Savannah, invitations to which Walker has given cursory agreement but no specifics. Walker skipped his Republican primary debates. "Warnock is a very accomplished speaker," Bullock noted. "When it comes to substantive knowledge about public policy, Walker better bring his A-game."
Walker's strategy will likely involve speaking to voters' dissatisfaction with the current administration. Gillespie expects him to try and shackle Warnock to Georgians' distaste for Biden, and maybe shave away socially conservative Democrats. "But if there continues to be a [Walker] scandal or gaffe every week, or every other week, I think it could erode confidence," Gillespie said.
It may be dangerous to treat Walker as anything less than a formidable candidate, however. One political strategist noted, for instance, his recent remarks about destigmatizing mental illness when asked about his past behavior. "It was a good answer," the strategist said, one that also dovetails with the Republicans' emphasis on improving mental health as a solution to mass shootings. As a warning, she pointed to Alabama, where in 2017 Democrat Doug Jones faced Republican Roy Moore in a special Senate election. Moore, who was accused of preying on underage women, lost by only 1.5 percent.
The rural South can puzzle modern Democrats. Limited opportunity and rampant poverty in the region make it seem ripe for Democratic outreach, but its conservative culture poses a stumbling block. A special touch is needed to reach an electorate that feels forgotten.
Freddie Powell Sims, a state senator in Georgia, knows the territory, both strategically and geographically. The former teacher and school principal said it takes 90 minutes to cross her 12th District, where 156,000 residents are scattered over 11 counties. The issues Sims's constituents care about don't much resemble those emphasized by her colleagues in the Democratic Party. For example, "abortion isn't a hot topic in southwest Georgia," the 18-year legislative veteran said. "I never get asked about it." Rural voters care more about "kitchen table issues": the expensive gasoline required by farm equipment, the drought that's compounding problems. "They're going to get a double whammy," Sims said. "Yields will be lower simply because they can't afford needed irrigation."
As Sims well knows, rural Georgia is hemorrhaging population. That's why a state Senate seat in the area is disappearing. "My district lost three or four hospitals the last decades," she said. And jobs supplying health care insurance are rare.
In such a context, pragmatism is of utmost importance. "We have learned to work across the aisle with Republicans, independents, anybody that wants to improve the economic conditions of our small municipalities and counties," Sims said. "We are there, at the table." In many ways, the situation plays to Abrams's strengths. She knows how to "code-switch," as Gillespie put it, how to lean on "bread-and-butter issues." Sims agreed. "Stacey understands the farmer's plight, the plight in these small towns. She understands the broadband, health care, and educational issues."
"In my field, I call it deracialization," Gillespie said. The term emerged in the 1990s to encompass a stylistic approach that avoids racial polarization by skirting race-specific issues in favor of universal concerns. For Abrams, that entails stressing educational, economic, and medical access. In 2018, she won seven of the 11 counties in Sims's district.
Informed by the razor-thin margins of previous campaigns, experts anticipated close races for Abrams and Warnock, and early numbers have followed their predictions. A RealClearPolitics aggregation of five polls between April and July 11 showed Warnock with a 2.8 percent lead. An early July Data for Progress poll gave Walker a 2-point advantage. In the gubernatorial race, RealClearPolitics and FiveThirtyEight have Kemp with a lead. Quinnipiac called the governor's race a "dead heat." The Cook Political Report listed both races as a toss-up. The outlier was a Quinnipiac University poll in late June that showed Warnock 10 points ahead.
Abramowitz was initially skeptical of the Quinnipiac numbers, but its other components sounded accurate to him. "They had the governor's race tied and Biden's approval at 33 percent, so it didn't look unreasonable from that standpoint," he said. His hunch is that Warnock's lead has built thanks to Walker's continual blunders, along with reports from Walker's own staff depicting him as an unpredictable and untrustworthy candidate.
It is a maxim of the political universe that steep competition attracts funding, and Georgia's tight contests provide proof. The 2018 gubernatorial match spent more than $100 million. As of early July 2022, Abrams reported $30.5 million in direct contributions, while Kemp disclosed $29.5 million. As of June 30, the Federal Election Commission showed Warnock with an $85.5 million cumulative total; Walker's war chest was $20.2 million. "We expect hundreds of millions of dollars will be spent during this state's 2022 cycle," Gillespie said.
Kemp's likely campaign strategy isn't hard to predict. Abramowitz thinks Kemp will take credit for strong job creation, low unemployment, and surplus state budgets, then blame inflation on Democrats. That said, the mere presence of strong Black candidates like Warnock and Abrams could spur enough Democratic turnout to make a difference. "The magic numbers are 30 and 30," Abramowitz explained. "You need African American voters to make up at least 30 percent of the total vote. Then you have to get close to 30 percent of the white vote."
In decades past, "up to 15, 20, 25 percent of voters would split their ticket," according to Abramowitz; these days, the percentage is in the single digits. Despite that, he won't be surprised if victory in this election is shared between Republicans and Democrats and Kemp and Warnock take their races.
"Brian Kemp is making all the right moves, which scares me," McDaniel said. If Republicans take control of state politics, they will dictate voter participation, access to the polls, and Electoral College participation. It was state-level officials, after all, who spurned Trump's coup scheme, aimed at unlawfully replacing electors.
Gillespie is blunt about what's in play. "Georgia is important because control of the Senate is at stake," she said. If Democrats maintain control, they will be able to decide federal judiciary appointments and level off the bench's recent rightward tilt. If they don't, little will stem the conservative tide. Georgia has been a longtime conservative state in a recalcitrant region once willing to sacrifice all to uphold chattel slavery and American apartheid. To flip such a place to liberal leadership just once was remarkable. Maintaining it as a Democratic foothold could be a reprieve from a dark future, a star's hopeful glimmer against the night's gloom.